Which college Model UN teams are the best on the circuit? There are many definitions of success in Model UN, and awards are not the purpose of Model UN. Nevertheless, awards have existed in Model UN for many years and serve to recognize individual students for their accomplishments in leadership, research, public speaking, resolution-building, negotiation, and diplomacy. The college rankings are meant to recognize entire teams for their efforts in preparing more students to succeed at more conferences, thereby improving and expanding the Model UN activity.
The North America college Model United Nations community is informally divided into two circuits, named on this website the National Division and the World Division. The National Division teams tend to be led by faculty advisors, focus on the academic and educational aspects of the conference, and attend about 2-3 organization-hosted conferences per year that give out many school awards but de-emphasize competition by usually not formally giving out individual awards. The World Division teams tend to be led by college head delegates, focus on the competitive and social skill aspects of the conference, and attend on average 5 or more college-hosted conferences per year (many of them crisis simulations) that give out many individual awards but only a few school awards. More details about both divisions can be found here.
Methodology
The Weighted Score Methodology is the same as in previous years with minor modifications in weightings to reflect attendance this year. The article above also provides insight into the purpose and philosophy behind the rankings. Conferences included in the calculations are listed below and grouped with their approximate peer conferences in terms of weighting. Awards data were provided by the conferences.
HNMUN
UPMUNC
ChoMUN, McMUN
NCSC, CMUNNY
UCBMUN, SCSY, NYUMUNC, BarMUN
LAMUN, VICS, &MUN
WPMUNI, TrojanMUN, FCMUN, UNCMUNC, MUNE, AggieMUN, DISCon, SBIMUN, PUNC, BUCS
A total of 134 North American teams had individual awards on the circuit this year. Placement below should be compared to the 2014-2015 Final Rankings as opposed to the 2015-2016 Fall Rankings. Also, please note that while in the past WorldMUN has been included in these rankings, the conference has stated that due to the largely non-North American makeup and non-competitive nature of the conference that they would not participate in rankings, so WorldMUN awards are no longer reflected here.
Special thanks to Serena Frechter for her work in sourcing awards data and reaching out to schools for their quotes!
2015-2016 North American College Model UN: World Division Final Rankings 
1. University of Chicago
For the third consecutive year, the University of Chicago is the #1 team on the North American college circuit. The University of Chicago has continued their tradition of travelling to only 5 conferences, all 5 of which are some of the most competitive conferences in the country. UChicago took home the Best Large Delegation awards at HNMUN, CMUNNY, and UCBMUN. They also won the Outstanding Large Delegation at UPMUNC and NCSC. The University of Chicago finally closed out the season for the circuit by hosting the largest-yet ChoMUN. Although the team was not undefeated, they proved to be the best by winning gavels in seven committees — more than double of any team — at the most competitive conference on the circuit, HNMUN.
Led by President and Head Delegate Michael Millman, as well as Head Delegates Maddy Stanich, Miriam Bial, and Greg Adams, the University of Chicago team is very happy to have closed out a successful year. Regarding their season, Michael and Maddy had this to say: "Leading our Team has been a rewarding and humbling experience. Each new class of delegates presents its own diversity of talents, and learning side-by-side with our fellow team mates has been incredibly fulfilling. Thanks to our members' resolve, stamina, and thoughtfulness, our team has fostered an unforgettable atmosphere of friendship and positivity to help us through those cold Chicago winters. We will deeply miss Model U.N., but know that the team is firmly in good hands next year."
Miriam Bial, incoming President and Head Delegate for the upcoming academic year, said, "this past year, the team has put a lot of effort into decreasing barriers to participation and I'm happy to see that inclusiveness doesn't have to come at the cost of competitiveness. I'm so proud of all the progress we've made in keeping UChicago Model UN welcoming, successful, and fun, and I'm tremendously excited to continue that work this coming year. Our graduating seniors are going to be sorely missed, but I'm sure our growing team will be up for the challenge."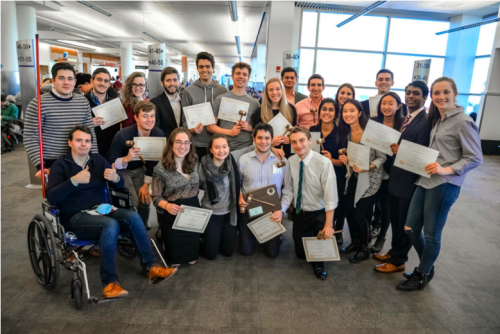 2. Georgetown University
Georgetown finished their season with both the most individual awards and gavels of any team on the circuit, and came very close to UChicago for the #1 rank this year. Their most dominating performance came at McMUN, where they won the Best Large Delegation with 20 awards, which was 13 more awards than their next closest competitors (Michigan State and George Washington). Georgetown also won Best Large delegation at UPMUNC, ChoMUN, BarMUN, WPMUNI, an Outstanding Large at NYUMUNC, and finished in the top ten at CMUNNY. Georgetown and the University of Chicago were the dominant forces of the circuit this season- both hosting the biggest crisis conferences (and winning at each others'), and collectively bringing home the Best Large Delegation award from nearly all of the most competitive conferences on the circuit this year.  
Head Delegate Mike Sliwinski led the Georgetown team this year.  Looking back on the 2015-2016 year, Mike said, "It's been such an incredible year watching our team travel and succeed. We have adjusted our strategies for both big and small committees and worked hard to build strong delegates across our four classes, all while keeping our principal goal of enjoyment and team spirit as high as possible. Across the board, our team has seen a much more collegial sense of competition evolve on the circuit, and I hope that this pattern of positivity and excellence can continue both in and out of committee. After an unprecedentedly successful year, Georgetown looks set to continue its standard of excellence going into next year."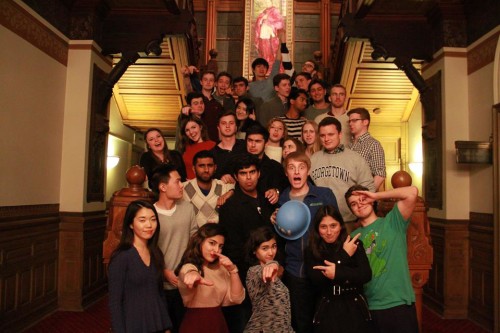 3. Harvard University
Harvard closed out its year with the second-most total awards on the circuit despite taking a two-month hiatus from traveling between January-February to host conferences. Harvard won the Best Large Delegation at NCSC and NYUMUNC, an Outstanding Large Delegation at CMUNNY, and a Best Small Delegation at UCBMUN. The team also contended for delegation awards at UPMUNC, ChoMUN, and BarMUN, finishing third or fourth in weighted score each time. Overall, the team seems to perform strongest at the mid-sized conferences. Harvard hosted HNMUN Boston and HNMUN Latin America in Mexico City, and Harvard students also hosted WorldMUN in Rome this year with a speech from Pope Francis! 
Head Delegates Charlene Hong and Rohan Pidaparti said about their season "This year, Harvard took on a strong freshmen class that has greatly contributed to the cohesion and fun-loving spirit of our team. Our training reforms, geared towards increased accessibility to institutional memory and advice from experienced upperclassmen and alumni, bore fruit when we won delegation awards at almost all of the conferences we attended this year. The Harvard team prides itself not just on being a substantively excellent team that can really bring it to the committee room but also on being a down-to-earth group that prioritizes inter-team and inter-circuit bonding. Not only did our team become more tight-knit this year, but we also established strong relationships with several other collegiate teams. We are looking forward to building even more friendships on the circuit under the leadership of the new Head Delegates, Andrés López-Garrido and Daniel Montoya."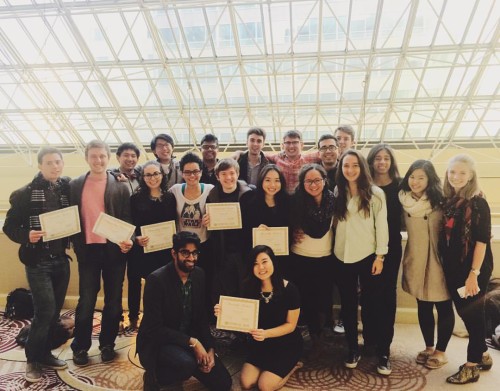 4. Florida International University
This season, FIU showed that they are possibly the Best Small Delegation on the circuit. FIU is also one of the only teams to win awards in every region of North American Model UN this season- FIU went to the South and won awards at UNCMUNC, the Northeast with awards at UPMUNC and HNMUN and Best Small Delegation at CMUNNY, the Midwest with Best Small at ChoMUN, the West Coast by winning awards at UCBMUN, and Canada by winning Best Small at McMUN. FIU has shown themselves to not only be consistent performers, but strong performers as well with third or fourth place finishes at competitive conferences such as HNMUN and UPMUNC. This is their third year in a row in the Top 5. 
Program Director Ethan Roberts has this to say regarding the season: "This year was all about team for FIU. There were successes. Winning Best Small Delegation at CMUNNY, winning Best Small at McMUN and ChoMUN for the first time in our history and continuing to expand membership and opportunities to travel to new students. These things are evidence of the hard working and talented students that our program is comprised of.  It was a year full of success, and the success was great. But it was the disappointments that contained the real lessons and that defined this year for us moving forward. Thanks to all the amazing programs that hosted us and competed with us, thanks to the leadership of head delegates Michael Carabello and Jessica Brito, and to guidance of Dr. John F. Stack Jr. FIU MUN had another great year, and we cannot wait to see what next year will hold!"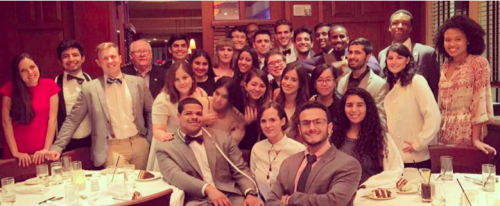 5. New York University
The one word to best describe NYU's Model UN year? Busy. NYU won awards at 13 different conferences this season, making them the busiest team on the circuit this year and defending their P5 status. The team started out the year by winning Best Small at BarMUN as well as Outstanding Small at both SCSY and NCSC. This Spring, NYU won Best Small at VICS, Best Delegation at PICSIM, Outstanding Small at UCBMUN, and Outstanding Large at ChoMUN. NYUs team also took home awards from UPMUNC, CMUNNY, FCMUN, WPMUNI, McMUN, and HNMUN this season, in addition to hosting NYUMUNC.
Outgoing President & Head Delegate and College All-Star Azizjon Azimi, who deserves a long nap, had the following to say: "This past competitive season was absolutely remarkable for NYUMUN's travel team. Not only did we defend our top 5 ranking from previous year, but we went above and beyond expectations by winning our first large delegation award in over a decade at ChoMUN. Such immense success was paralleled with institutionalization of new initiatives and reforms in the club over the past year including the Training Initiative, which allowed for consistent matriculation of new members into the team throughout the year. Most impressively, our team continued striking a unique balance between competitiveness and positive team culture, coping intense weekly training sessions with almost daily collective coffee chats. I would like to especially thank spring Deputy Head Delegates Natalina Schappach and Jack Barker, as well as fall Head Delegates Robert Hankins and Maria Martin Lopez. This success would not have been possible without their tireless effort in conducting the weekly trainings and leading the team at conferences. To above and beyond, Habibi Squad!"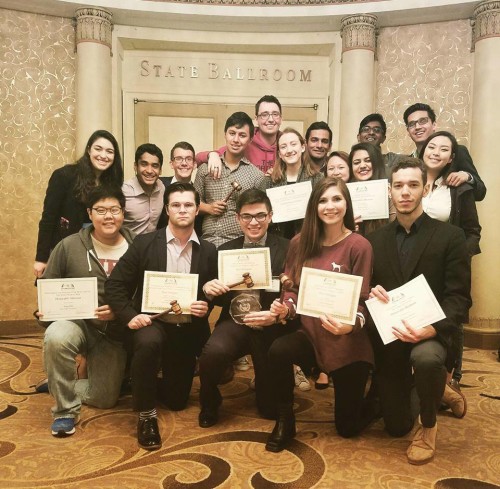 6. Yale University
If NYU's season is defined by their busyness, Yale's is defined by their efficiency. With a #6 ranking, Yale attained their rank from a more narrow selection of conferences  than any other team in the Top 25! Yale's performance at just three of the most competitive conferences on the circuit catapulted them nearly into the Top 5. Yale finished the Fall Season at #7 with a third-place finish at UPMUNC and awards at CMUNNY, in addition to hosting SCSY. This Spring, Yale won Outstanding Large at HNMUN, raising them to #6, up four spots from the end of last year. This speaks volumes to the high quality of Yale teams at the most competitive conferences, and the team is again a contender for Top 5 status. 
Regarding their season, Yale's head delegate Andrea Fleming had this to say: "This year heralded some of Yale's finest Model United Nations accomplishments in recent memory. With an incredibly talented new member class, and a uniquely dedicated group of graduating seniors, the team saw an unparalleled level of commitment and drive. Our Outstanding Large Delegation award at HNMUN represented the culmination of a year spent fully immersed in the educational growth of each member. Next year, we hope to continue to foster an environment of inclusion and a love of competition, while striving to recruit from a broader cross section of backgrounds so as to enhance our world view as a team."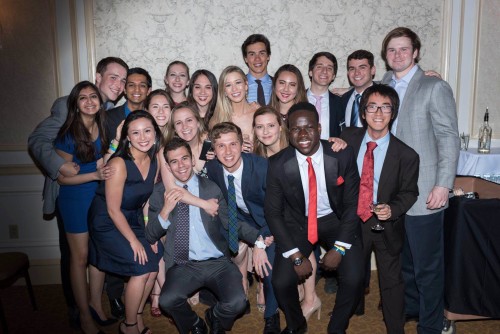 7. University of California, Berkeley
Berkeley's season has maintained their title as the top West Coast team on the circuit, with delegation awards on both coasts helping them to rise one place in the rankings since last year — this is now their new highest ranking ever. UCBMUN won Outstanding Small Delegation at UPMUNC this Autumn and brought home awards from CMUNNY and TrojanMUN. During the Spring season, UCB hosted UCBMUN and won awards at HNMUN and ChoMUN, in addition to home-state wins of Best Large at LAMUN and Outstanding Delegation at AggieMUN. This season had UCBMUN win the fourth-most individual awards on the circuit, and likely a new Frequent Flyer status for all their travel-heavy team members.
Berkeley's head delegate Grayson Dimick had this to say about their season: "As a self-funded, West Coast team, the UC Berkeley Model UN team faces enormous logistical and financial challenges. This year, UCBMUN has risen to the challenge, with team members demonstrating exceptional dedication and enthusiasm. This has made possible the highest number of individual awards we've ever had in a single season, the highest number of members participating in conferences, and multiple delegation awards, including our first ever delegation award at UPMUNC. Beyond any awards, however, we're most proud of the team spirit of UCBMUN. In an activity that is often seen as individual, our delegates see each conference, committee, and award as a team effort, and the support and guidance they give to their fellow members has been instrumental to our success this year on the circuit. We hope to continue our growth and our values of hard work, inclusion, and constant fun next year."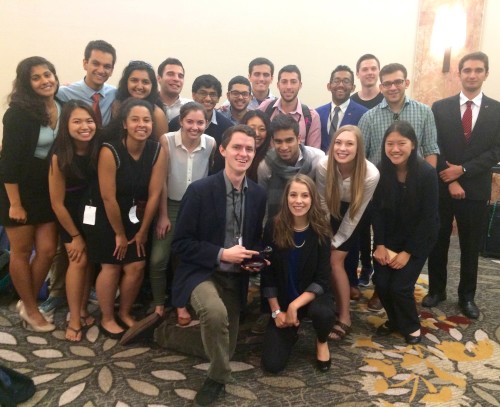 8. The George Washington University
Since this Autumn, GW has moved back into the Top 10 teams with solid performances across 8 conferences and one of the highest award-to-gavel ratios of any team on the circuit. GW started the season with awards at NCSC, CMUNNY, and UPMUNC, and closed out the Autumn at #11. Since last Spring, the team has risen one spot in our rankings, largely due winning Best Large Delegation at &MUN (with 5 out of 9 gavels), an Outstanding Small Delegation at NYUMUNC, and awards at the three most competitive conferences this semester, HNMUN, ChoMUN, and McMUN. 
GW Model UN Team Coordinator Kara Zielinski shared with us that "The George Washington University has consistently been reliant on its underclassmen to push the team forward and this year has been no exception. Our Colonial Cadet freshman training program welcomed its fifth class this fall and it has proved itself as one of the most successful classes with many freshmen taking home gavels. Our upperclassmen have also begun to take a larger role in the team and their continued dedication to the team this year has proved invaluable. We had a slow start in the fall, but had quite a packed spring schedule. Our team was lucky enough to send a team to WorldMUN on top of its usual spring conference schedule. We won Outstanding Small Delegation at NYUMUNC and won Best Large Delegation at &MUN for the fourth year in a row. I hope that the team continues to stay motivated to work harder and take home more gavels!"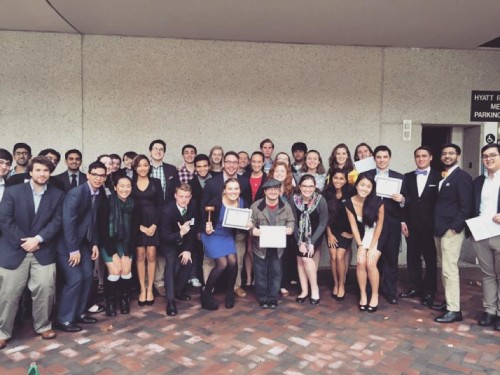 9. University of Pennsylvania
The University of Pennsylvania has re-entered the Top 10 teams in North America after consistent performances at some of the most competitive conferences on the circuit in the spring. Though UPenn didn't win any delegation awards this year, they were in the Top 10 teams at HNMUN and came in 3rd place at VICS, NYUMUNC, ChoMUN. UPenn also won awards at CMUNNY, NCSC, and BarMUN, and hosted UPMUNC in the fall. Their strong spring semester helped them rise ten places in the rankings since December. 
Outgoing Head Delegate Ashish Sharma had the following to say about their season:"This has been a year of complete overhaul and renewal for the Penn team, as we restructured the way we recruit and train delegates to break out of our yearlong slump. While it has certainly been a long and sometimes frustrating journey, I found myself consistently humbled and inspired by the resilience that this young team has shown. We are incredibly proud of the formidable class of freshman delegates who have emerged and will no doubt continue this momentum for years to come. Of course, this note would not be complete without a big hug and thank you to our evergreen seniors, Dhrupad Bhardwaj and Sasha Klebnikov. It has been an unforgettable year for me personally, and I am excited to see where the next year will take us under the leadership of our incoming Head Delegate, Santosh Vallabhaneni."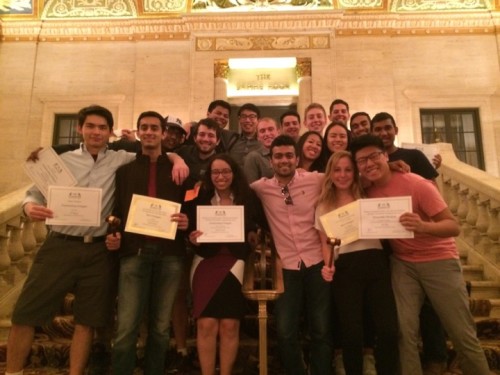 10. United States Military Academy at West Point
With a relatively young team, the United States Military Academy at West Point has managed to defend their place in the Top 10 teams due to consistent success at mid-sized conferences and above. Kicking off the year by winning Best Large with 5 gavels at SCSY, and going on to win Outstanding Small at CMUNNY, West Point started the season with a major lead over many other teams on the circuit. West Point went on to win awards at NCSC, UPMUNC, McMUN, HNMUN, UCBMUN, and ChoMUN. West Point also reprised WPMUNI this Spring, a conference attended almost exclusively by Top-Ranked teams.
Incoming Head Delegate Jack Bagdadi had the following to say about their season: "This year was a continuation of a rebuilding and restructuring process which began in 2014. This year, under the leadership of outgoing senior Megan McNulty, our team was proud to take home a few delegation awards and place consistently in the higher tiers – despite having a team composed mostly of new delegates. In 2016-2017, I am thrilled and proud to assume command of a program and a team filled with more experienced delegates who have had the chance to grow. As Cadet-in-Charge and Head Delegate, I hope to continue and build upon Megan's tradition of excellence by focusing on training and the values of honorable competition, substantive contribution, and determined intent for which West Point delegates are known for. I, along with the ladies and gentlemen of the West Point Model UN team are excited to see everyone again next year, and wish them good luck when we meet."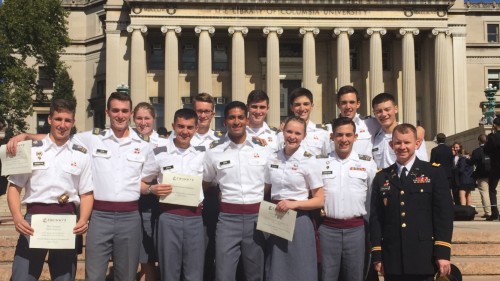 11. University of California, Los Angeles
And the Most Improved Delegation Award goes to…. UCLA! UCLA has had an incredible season and has launched themselves to #11 after not even making the Top 25 last year. UCLA was a powerhouse of West Coast conferences this year, hosting LAMUN and winning Best Large at AggieMUN, Best Small at TrojanMUN, Outstanding Delegation at SBIMUN, and Outstanding Large Delegation at UCBMUN (second only to UChicago). This means that the team won delegation awards at every West Coast conference this year except for their own, challenging UC Berkeley for the title of "Best West Coast Team." UCLA also travelled to HNMUN and then ChoMUN, where they closed out the season tied with the second most gavels of any team there. Three UCLA delegates were named to the Best Delegate All Star Team this year, a clear demonstration of the growth of this program.
UCLA's Travel Team Director has this to say about their season: "The UCLA Travel Team put in its best performance in history in the 2015-2016 MUN calendar, winning multiple individual and delegation awards on the east and west coast. Alongside President Siddhant Khemka, Head Delegates Rohit Reddy and Utkarsh Pandey led the team on a golden run of unprecedented success in every conference that UCLA attended, leaving a legacy that they hope will be continued in the years to come. After four years of relative anonymity on the circuit, UCLA has once again distinguished itself as a force to be reckoned with on both coasts. Even though they have spent years building a formidable team, graduating seniors Rohit and Utkarsh insist that they owe the entirety of their success to the dedication, grit, and passion that the past and present members of the UCLA Travel Team have displayed."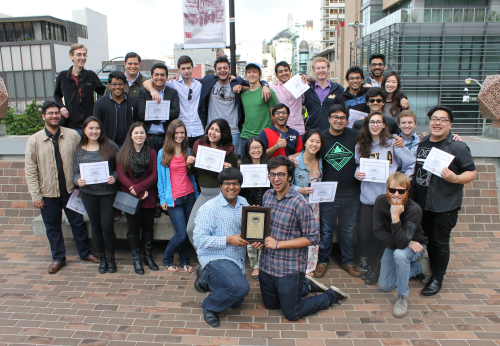 12. University of Miami
The University of Miami fields one of the Best Small Delegations on the circuit, demonstrated by their Best Small awards at both HNMUN and UPMUNC, two of the most competitive conferences on the circuit. The "U" also competed for awards at NCSC, CMUNNY, VICS, and ChoMUN this season, and is among the cadre of Florida teams sweeping the circuit. The University of Miami fielded a very young this season, and will be looking to reenter the Top 10 with a more experienced team next season.
The University of Miami Head Delegate Josh Zuchniarz shared with us that "This year we strove to ensure our team's vitality by taking on an exceptionally large and strong freshman class and by traveling to more conferences than ever before. We have also made strides to make Model UN more accessible to newcomers by changing aspects of our training and recruiting models. Further, we put additional emphasis on using the platform of Model UN on campus to bring awareness to local, regional, and global issues, carrying the skills and knowledge gained through this activity into the real world. We are confident and excited for next year, and can't wait to see this very young team grow in skill and numbers in the years to come."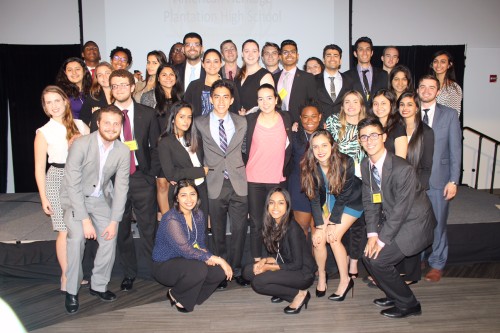 13. Boston University
Behind Yale, BU is the #2 "Most Efficient" team on the list this year, taking home awards from just 4 conferences to secure their Top 15 spot. After hosting BarMUN in the Fall, BU had Top-10 performances at UPMUNC and McMUN, as well as awards at HNMUN. Boston University closed out the season on a high note by winning the Outstanding Small Delegation at ChoMUN, which helped them rise from five spots in the rankings since last year, and nine since the Autumn.
Boston University head delegate Jessica Mansur said, regarding their season: "This past year the BU team has really formed a bond with one another that extends beyond weekly meetings and Model UN conferences. The team has worked hard this year, and ChoMUN saw that hard work rewarded. Moving forward, we have a strong core group of members that we'll be able to build off of. The underclassmen want to learn, and our returning members are eager to show them the ropes. With the proper dedication and training, I'm sure that the BU team will come back next year stronger than the circuit has seen from us in a while."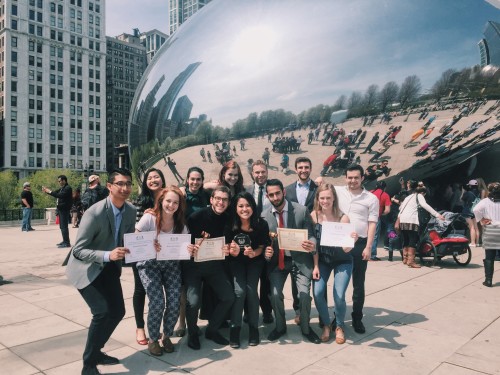 14. Vanderbilt University
Vanderbilt had by far its best season in recent memory, raising 9 places in the rankings since last Spring. Vanderbilt had Top-10 performances at CMUNNY, BarMUN, and SCSY this Autumn across three consecutive weekends. This Spring, Vanderbilt showed that it can be one of the most dominant teams across Southern conferences, with awards at MUNE, winning Outstanding Small at VICS, and winning Best Large and a majority of the gavels at UNCMUNC. Vanderbilt's quick rise in the ranks accompanies a larger trend of Southern teams rising in the rankings, with schools from the South (including Florida) now making up 8 of the Top-25 teams in the rankings.
Vanderbilt Head Delegate Will Stewart, regarding their season, told us: "Vanderbilt's rise over the past two seasons has not been something that happened by chance. It is the result of the concerted effort of dozens of dedicated individuals who have worked tirelessly to transform this program from a Model UN club into a Model UN team. Three years ago this was a program that did not train their freshmen, did not hold practices, and did not attend conferences with the intention of winning awards. This year we placed 10th in the nation after the fall semester and went on to win two delegation awards in the spring. Special recognition must be given to our underclassmen; it's easy for one class to try to change the way things are done, but it falls to their successors to carry on that tradition, and I'm proud to say that the freshmen and sophomores have taken up the new competitive drive with even more fire than their elders. As good as this year was, we look to top it next year with a team that can go even further and be a consistent threat on the circuit."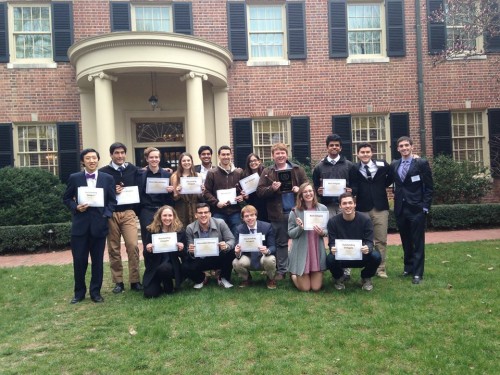 15. Columbia University
Columbia had a busier-than-usual season this year, competing at 8 different conferences across the US and internationally. Columbia started their season on a strong note with the second-most awards at SCSY, and then hosting the largest-yet CMUNNY in New York City. Columbia then went on to win awards at UPMUNC, McMUN, ChoMUN, and UCBMUN. Their best performance of the year, however, came at cross-town NYUMUNC, where they won Best Small Delegation at the most competitive NYUMUNC yet.  Columbia has a young team and looks to grow next year.
Columbia Head Delegates Simone and Frank, reflecting on their season, said: "Both of us are incredibly proud of the Columbia team's performance over the past year. With a strong showing especially from the freshmen members of the team, we traveled to a total of eight conferences. The two of us have stressed an inclusive program with a no-cut try-out policy in which try-outs are used only for initial skill-level assessment; additionally, members of the team are guaranteed to travel at least once per academic year if they regularly attend practices. Overall, this has allowed us to cultivate a practice environment and curriculum which incorporates a wide range of experience levels and reinforces our club's social support network. We are honored to have spent the last year with our delegates and know that the team's future will be even brighter next year when it will be led by Juliana Moraes-Liu and Albert Park."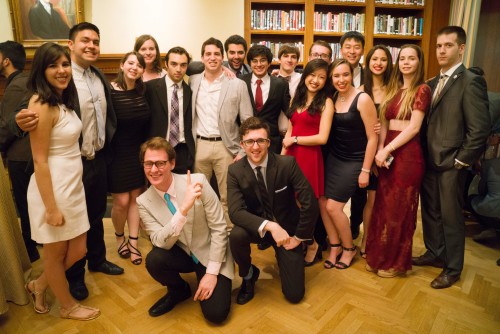 16. Michigan State University
Michigan State completed their strongest season on record, re-entering the Final Top-25 with gusto after a brief hiatus. The top Big-10 Team and second place Midwestern team in the rankings, Michigan State's enormous caravan-travelling team competed at five conferences across the country this year. Starting with an Outstanding Large Delegation award at BarMUN in the Autumn, MSU went on to win awards at UPMUNC, MUNE, and ChoMUN. Their best performance, however, was in winning Outstanding Large Delegation at McMUN, where they came in second only to Georgetown. 
MSU Head Delegate Ben Monticello shared his thoughts with us: "This was a great year for MSU, led by a fantastic group of seniors and strengthened by a promising freshman class. We solidified ourselves as a competitive force on the circuit, adding a fifth conference to our schedule and winning two Outstanding Delegation awards, including one at McMUN. We also came together as a team and a family to ensure that competing has been above all fun. The future is bright for MSU."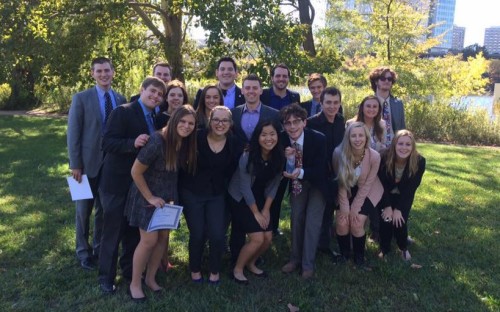 17. Clark University
Though Clark's performance at each conference was significantly different this year, Clark retains their place as the #17 team in North America. During the Autumn semester, Clark won awards at BarMUN and UPMUNC, as well as the Best Small Delegation awards at NCSC, beating Top-10 teams for the title. Clark then went on win awards from HNMUN, ChoMUN, and McMUN and the second-highest score at FCMUN. Normally a team that capitalizes on their HNMUN performance, this year Clark demonstrated their ability to compete across a broader range of conferences which could bode well for the future of their program.
Clark's Secretary-General, Cory Bisbee, shared with us that "Clark University attends eight conferences annually. This past year the travel team was unable to attend CMUNNY but came back from that by beating out New York University for Best Small Delegation at NCSC and by attending ChoMUN instead. The team performed well and won awards at a number of other conferences too, including BarMUN, UPMUNC, McMUN, and HNMUN, and also earned the second-highest score at FCMUN. All of this in addition to hosting two conferences on Clark's historic campus in Worcester, Massachusetts. Clark retained its place as the #17 team in North America and this year demonstrated its ability to compete across a broader range of conferences which could bode well for the future of the program. In the next academic year, MUN at Clark is looking to expand by recruiting more actively and by becoming even more of a presence on the high school circuit as a conference organizer and host; Clark plans to put more resources into and significantly grow its high school conference, ClarkMUN VII, which will take place on Saturday, November 19, 2016."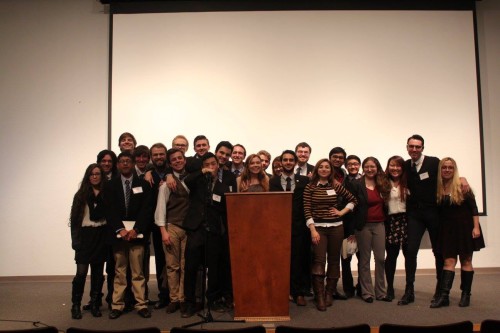 18. University of Virginia
The University of Virginia has once-again posted it's best end-of-year ranking after entering the rankings for the first time last year, with strong performances across 6 different conferences. UVA picked up the Best Delegation Award and four of the nine gavels at DISCon during the autumn, along with awards from CMUNNY and NCSC. In the Spring, the University of Virginia hosted VICS, put together a Top-10 performance at ChoMUN, won the Outstanding Large Delegation Award at UNCMUNC, and placed second overall at &MUN.
University of Virginia Head Delegates Liam Kraft and Maggie Zhang said of their season: "We are incredibly proud of the strides this team has made over the course of the last year. After the success of making it to the Top 25 for the first time last year, we worked hard to continue our upward push. This year we have had phenomenal fourth years leave behind valuable wisdom and amazing underclassmen additions to our team that we believe will form the core of our team in future years. Finally, we are proud of increasing our competitiveness, while maintaining our inclusiveness and reputation as the most fun team on the circuit. Thank you to all the amazing delegates we've had this year, and we can't wait to get back out there in the fall!"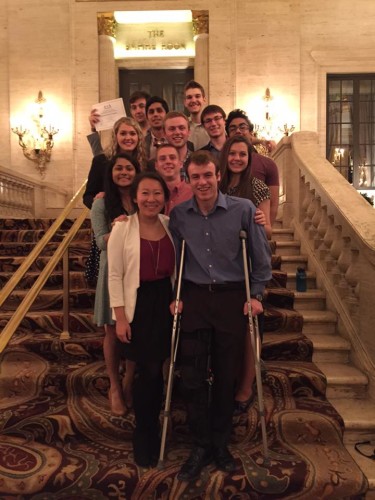 19. Florida State University
Finishing two places higher than last Spring, Florida State has shown off a strong team with top-tier performances across several conferences this year. FSU kicked off the year by winning Outstanding Small at BarMUN, however they also won 3 gavels and the highest weighted score of any team present at the conference. FSU went on to win awards at NCSC to close out the Autumn. This Spring, FSU cleaned up on the trophies with an Outstanding Large Delegation at VICS, an Outstanding Delegation at WPMUNI, and a Best Small Delegation at MUNE.
Head Delegate John Maksimik, reflecting on the season, shared with us that: "Over the past year Florida State University's MUN team has seen tremendous growth and success from the program as a whole. Individually we have seen excellent, debut performances from our underclassmen and are looking forward to seeing their growth as delegates. We have had many incredible moments as a team on the road and at conferences, but it all goes back to why we do this: building relationships and a community with a new generation of leaders and great thinkers. I'm so proud of our team's accomplishments 2015-2016 and I am eagerly looking forward to the continued success in all our endeavors in the coming year."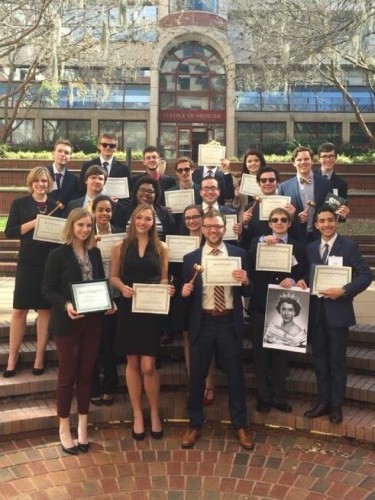 20. Princeton University
Princeton's team has continually risen through the rankings for the past few years, this year representing their best performance yet. Princeton is also one of the busiest teams on the circuit, second only to NYU for number of conferences attended. Princeton started their year with a Top-5 finish at SCSY along with second-most gavels, and went on to win awards at CMUNNY, DISCon, and UPMUNC during the autumn. This Spring, Princeton also won awards at McMUN, HNMUN, UNCMUNC, NYUMUNC, &MUN, and WPMUNI. They also took home the Best Delegation at FCMUN. This season has been the busiest schedule we've ever seen from Princeton, and their consistent awards across conferences could serve as a base for Princeton to continue to rise through the ranks.
When asked about the team's strong performance this year, Princeton head delegates Natalie Fahlberg and Diego Negrón R​e​ichard said, "We're thrilled by the team's performance this year. We know that it is as much a product of better training and recruitment as it is of the commitment, knowledge, and talent demonstrated by the team, especially by our freshman members. All of these factors have brought us to where we are today. We've learned that individual development is key, and we're hoping to make that the focus of our training efforts in the future."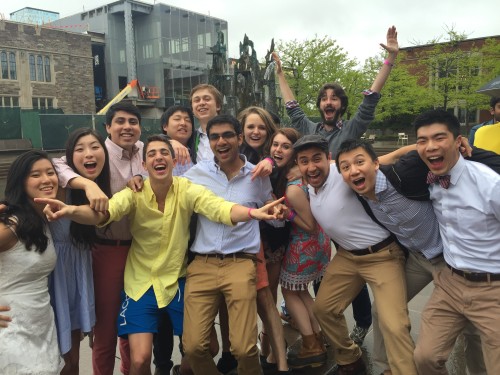 21. American University
For the first time, American University has entered the Final Top 25 for a Model UN season after consistent performances at some of the most competitive conferences in North America this season. During the Autumn, American won awards at NCSC (with a Top-10 finish) and UPMUNC. American went on this Spring to have a Top-10 performance at McMUN, a Top-5 performance at NYUMUNC, and several gavels at WPMUNI. American's team is still very young, and will look to continue to build their rank next year.
Reflecting on the best Model U.N. season in program history, outgoing Head Delegate Caroline Rose shared that "The American University MUN team really found its niche as a rising star on the circuit this year. We were able to make a considerable leap from top #50 to the top #25 within a single season, but also experienced greater reward in enhancing our team's dynamic, recruiting top-notch delegates of diverse capabilities, attending more conferences, and expanding our circuit network and mentorship relations. Within the program's leadership — despite many internal challenges — Alex and I were able to watch our delegates thrive, striving to be respected individuals in committee and tapping into the thematic  ideology and intellectualism in international relations. But the proudest achievement we've obtained is growing closer; the team is not an assembly of delegates, but one of close friends. I had the time of my life this year thanks to the American University team, and I look forward to the achievements Alex Davis and the team will enact next year!"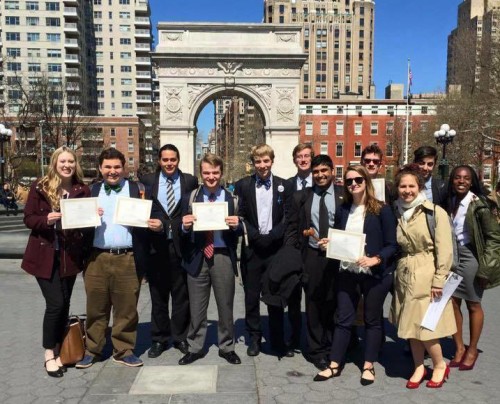 22. Claremont McKenna College
After major changes in their team over the past year, Claremont McKenna went on to continue its Top-25 performances with strong performances across four different conferences. CMC won the Best Large Delegation at TrojanMUN, where they took 5 of the 12 gavels at the conference. This season Claremont McKenna also won awards at HNMUN, UPMUNC, and UCBMUN. While it isn't reflected in these rankings, Claremont McKenna was also the only North American Model UN Team to win a delegation award at WorldMUN in Rome, where they won Best Small Delegation.
The Claremont McKenna incoming President Fiona Bare shared with us that: "The Claremont McKenna MUN program has grown significantly over the past five years and we are so proud to be where we are today. This past year on the circuit has been a year of great fun and learning, as we added many new members to our team and changed our usual conference schedule. After a Best Large Delegation win at Trojan MUN, we continued the momentum with many awards at each of the conferences we attended. The year culminated with a Best Small Delegation win at WorldMUN in Rome and we could not have been happier. Next year, we plan to continue building our program with the same energy, dedication, and unique team culture that has gotten us to this point."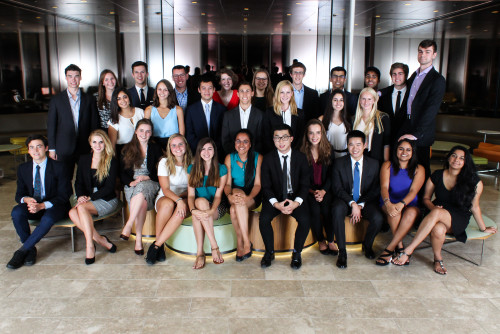 23. Emory University
The Emory Model United Nations Team had a strong year after losing several valuable seniors, and managed to maintain their Fall successes with awards throughout this Spring. Emory started their year with an Outstanding Large Delegation award at SCSY and won awards at NCSC, DISCon, and UPMUNC. This Spring, Emory traveled to McMUN, HNMUN, and ChoMUN, winning awards at each to secure their place once again in the Top-25 teams. Emory also hosted MUNE this Spring, which is quickly becoming a bastion of the Southern circuit.
Emory's Head Delegates Tyler Zelinger and Fernanda Bernaldo said: "The past year has certainly been an exciting and rewarding one for the Emory's Model United Nations Team. Thanks to a combination of leadership and expertise from our graduating class of delegates combined with the talent and energy of our newest traveling members, we've been able to enjoy both great times and competitive successes around the circuit. We're excited to have the opportunity to work with such an impressive group of delegates moving forward, and can't wait to see what Emory's Model United Nations team accomplishes next year."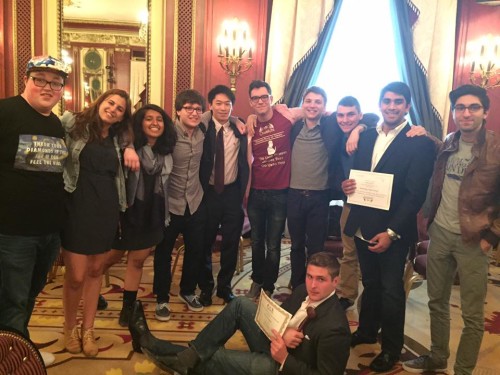 24. University of Florida
Returning to the Top-25 after a brief hiatus this Autumn, the University of Florida's Model UN program had a powerful Spring semester to make up for their loss of several All-Stars over the past few years. They won awards at CMUNNY this Autumn, then this Spring UF went on to win delegation awards at UNCMUNC, where they won Best Small, and VICS, where they won Outstanding Large with the highest weighted score. The University of Florida also won awards at &MUN and at WPMUNI. The University of Florida makes it four Florida schools in the Top-25, more than any other state.
Kelly McGurk, UF Director of Conference Logistics shared with us that: "The University of Florida Model United Nations Organization is a completely student-run organization at the University of Florida that actively competes on the college circuit each semester and hosts two conferences on its own in the Spring. This past semester, the team traveled to four college conferences, sending teams that varied in size from 4 delegates to 32 delegates. UF Model UN hopes to continue the success of this past year by increasing the number of conferences they travel to in the upcoming academic year. The organization also hosts two conferences of its own in the Spring semester."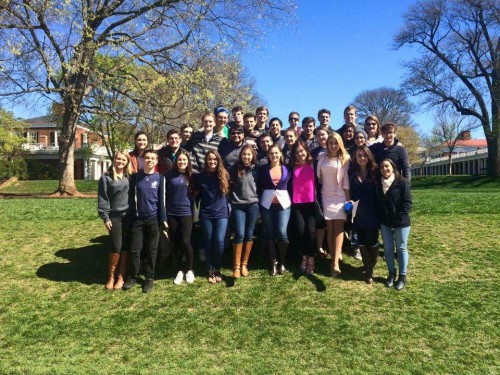 25. University of North Carolina, Chapel Hill
This is UNC's first entry into the Top 25 for the Final Rankings. After a busy season, UNC demonstrated that it is here to stay by bringing home awards from seven different conferences. UNC kicked off the year with a Top-10 performance at BarMUN, and then won the Outstanding Delegation Award at DISCon. This semester, UNC Chapel Hill won awards at McMUN and ChoMUN, won the Best Large Delegation award at VICS, and won Best Small at &MUN. UNC's wins have been a great demonstration of the advantages of travelling "lean"- while UNC rarely had the most raw points in the "Large" or "Small" delegation category, they brought few enough members that each of their awards were extra valuable, granting them several delegation awards this season. UNC Chapel Hill also hosted UNCMUNC this Spring.
Head Delegate Will Stelpflug had the following to say about the season: "we entered this season with a very strong group of seniors, but we were ultimately able to succeed not only thanks to them but also because of a talented group of underclassmen that stepped up to the plate.  So while the class of 2016 will leave a tough gap to fill, we're confident that we've left behind a much stronger team and community that will continue to succeed and soon surpass our accomplishments."
Top 50 (alphabetical order)
These are teams that consistently have individual award winners across several conferences, particularly the larger and more competitive ones, and may have even captured a delegation award at a smaller conference. The five teams closest to the top 25 were: Ohio State, Case Western, McGill, WashU, and Middlebury.
Boston College
Carleton College
Carleton University
Case Western Reserve University
College of William & Mary
Duke University
Georgia Institute of Technology
Gordon College
Ithaca College
Johns Hopkins University
McGill University
Middlebury College
Mount Holyoke College
Northeastern University
Northern Arizona University
Ohio State University
Queen's University
Rutgers University
Stanford University
State University of New York, Geneseo
Tufts University
University of Central Florida
University of Southern California
University of Toronto
Washington University in St. Louis
Top 75 (alphabetical order)
These are teams that occasionally have individual award winners at several conferences or won a few awards at larger conferences.
Bates College
Brown University
College of the Canyons
College of the Holy Cross
Cornell University
Diablo Valley College
Emmanuel College
Fordham University
Marianopolis College
Northwestern University
Pomona College
Seton Hall University
Swarthmore College
Temple University
Tulane University
United States Naval Academy
University of California, Davis
University of California, San Diego
University of Illinois, Urbana-Champaign
Universite de Montreal
University of Cincinnati
University of Texas at El Paso
University of Windsor
Wheaton College
**
Congratulations to all the teams and conferences this year! In addition, congratulations to the graduating seniors — good luck with your next journey! Hope everyone has a great summer and we'll see you back on the circuit in the Fall!