Which college Model UN teams are the best on the circuit? There are many definitions of success in Model UN, and awards are not the purpose of Model UN. Nevertheless, awards have existed in Model UN for many years and serve to recognize individual students for their accomplishments in leadership, research, public speaking, resolution-building, negotiation, and diplomacy. The college rankings are meant to recognize entire teams for their efforts in preparing more students to succeed at more conferences, thereby improving and expanding the Model UN activity.
The North America college Model United Nations community is informally divided into two circuits, named on this website the National Division and the World Division. The National Division teams tend to be led by faculty advisors, focus on the academic and educational aspects of the conference, and attend about 2-3 organization-hosted conferences per year that give out many school awards but de-emphasize competition by usually not formally giving out individual awards. The World Division teams tend to be led by college head delegates, focus on the competitive and social skill aspects of the conference, and attend on average 5 or more college-hosted conferences per year (many of them crisis simulations) that give out many individual awards but only a few school awards. More details about both divisions can be found here.
Methodology
The World Division Rankings uses a Cumulative Weighted Score Methodology. The Weighted Score Methodology is the same as in previous years with minor modifications in weightings to reflect attendance this year. The article above also provides insight into the purpose and philosophy behind the rankings. Conferences included in the calculations are listed below and grouped with their approximate peer conferences in terms of weighting. Awards data were provided by the conferences.
HNMUN
UPMUNC, WorldMUN
ChoMUN, McMUN
CMUNNY, NCSC
BarMUN, NYUMUNC, UCBMUN, SCSY, VICS
LAMUN, WPMUNI, NAMUN
TrojanMUN, DisCON, &MUN, MUNE, SBIMUN, CIAC
UNCMUNC, FCMUN, AggieMUN, FLCS, PUNC
Note: PICSim data can be added once information is available.
Placement below should be compared to the 2015-2016 Final Rankings as opposed to the 2016 Fall Rankings.
Best Delegate staff Conna Walsh, Richard Zhao, Erik Leiden, and Kevin Felix Chan all worked on making this year's rankings possible.
2016-2017 North American College Model UN: World Division Final Rankings 
1. University of Pennsylvania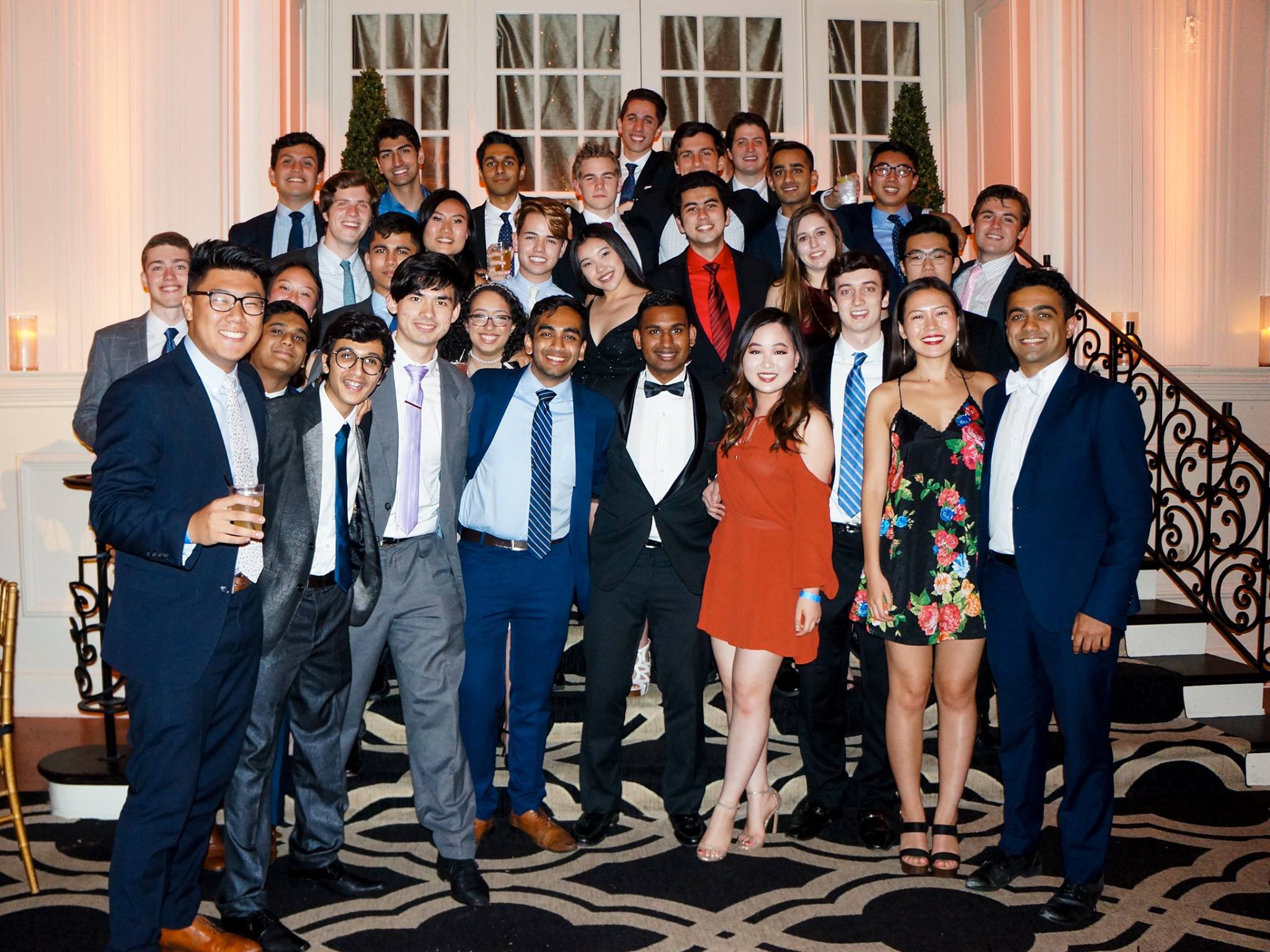 The University of Pennsylvania has reclaimed the title as the best college MUN team in North America. It is its first return to the top spot since the 2012-2013 season, and it came in a season of relative parity on the circuit as the team did not even need to win a delegation award at HNMUN this time to achieve this rank. Intercol, as UPenn's traveling team is known, has reloaded and rebuilt itself over the past few years with a strong group of underclassmen, and the team did spectacularly at numerous conferences this year. UPenn's strong performance during the fall semester should have tipped off its potential this year. The team won the Best Large Delegation award at NCSC and CMUNNY  – and the Outstanding Large Delegation award at SCSY then.
After hosting UPMUNC to end the fall semester, Intercol kept up its fiery momentum with three more delegation awards during the spring semester — it claimed the Outstanding Large Delegation awards at ChoMUN and at NYUMUNC, and the Best Large Delegation at VICS. But its most understated performance came at HNMUN. Although it did not win a delegation award there — Universidad Católica Andrés Bello and Universidad Simon Bolivar took home the large delegation awards in a historic victory for Venezuelan teams this year — UPenn most importantly came in second overall in terms of weighted score and therefore was the top North American team there. Lastly, the team also won awards at BarMUN and WPMUNI. Overall, the team won the second most individual awards on the circuit (tied with Georgetown) and second most delegation awards on the circuit (and the most large delegation awards) this year to edge out Georgetown for the #1 rank on the circuit.
Santosh Vallabhaneni, Director of Intercol, had the following to say about the team's accomplishments: "This past year has been such a successful and fulfilling journey for Intercol. From every delegation award we won to every party we threw – Intercol epitomized a 'work hard, play hard' culture that drove success personally and professionally. I am humbled and honored to have led a team of such passionate, hardworking, and truly loving individuals. With every passing conference, we saw an unprecedentedly young group of people grow into some of the strongest competitors on our team.
"Intercol is more than a competitive Model UN team, it is our family and I would be hard-pressed to find a more tightly-knit and loving group of people. Here's to more successful conferences, crazy moments and strong relationships next year under the leadership of our incoming Head Delegate, Shravan Balaji. To next year's team – know that I will always love you guys! Hurrah for the Red and the Blue!"
2. Georgetown University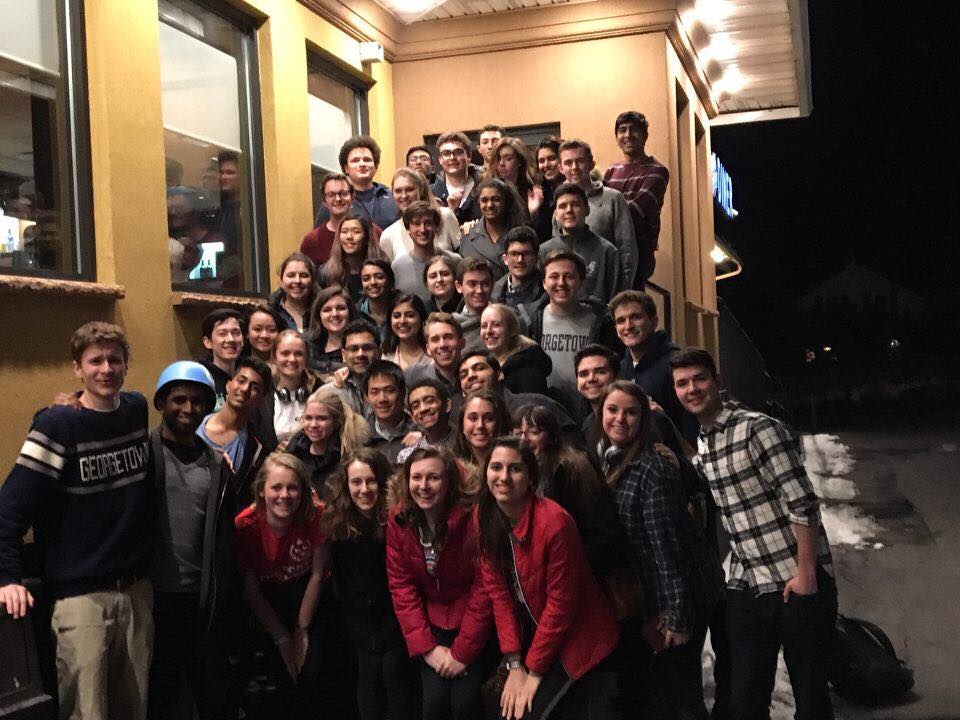 For the 5th year in a row, Georgetown University maintains its unshakeable hold on the #2 spot on the college MUN rankings. The team's mark of success can not be judged by delegation awards this year — it won them at half the conferences it attended — but rather by the consistency of its individual award winners. Georgetown won the second most individual awards on the circuit (tied with UPenn) and the third most gavels this year. Its delegation awards notably included Best Large Delegation awards at two of the most competitive conferences at UPMUNC and at McMUN (where it dominated as usual and more than doubled the weighted score of the next closest team), an Outstanding Large Delegation award at BarMUN, and a Best Delegation award at WPMUNI. The team also won awards at ChoMUN, NYUMUNC, UCBMUN, and CMUNNY. In addition, it hosted NCSC in the fall.
Outgoing Head Delegate Jack Ludtke praised his team for their successful year. "The Georgetown University Model UN team had a fantastic 2016 – 2017 season. Consistently the largest and most inclusive Model UN team on the circuit, the team traveled to eight separate conferences, bringing over sixty delegates in 150 competitive slots. After graduating a large senior class in 2016, the team was characterized by considerable leadership and competitiveness from its younger members. Georgetown brought home delegation awards at BarMUN, UPMUNC, McMUN, and WPMUNI, with strong showings at CMUNNY, UCBMUN, NYUMUNC, and ChoMUN."
According to the team, Georgetown University enjoyed a truly special season marked with considerable growth from everyone involved with the team. Across the board, Georgetown has seen a much more collegial sense of competition evolve on the circuit, and I hope that this pattern of positivity and excellence can continue both in and out of committee. Led next year by Georgina Kenchington, Georgetown is looking to continue its growth as a team and bring a high level of competitiveness during the 2016 – 2017 season.
3. Harvard University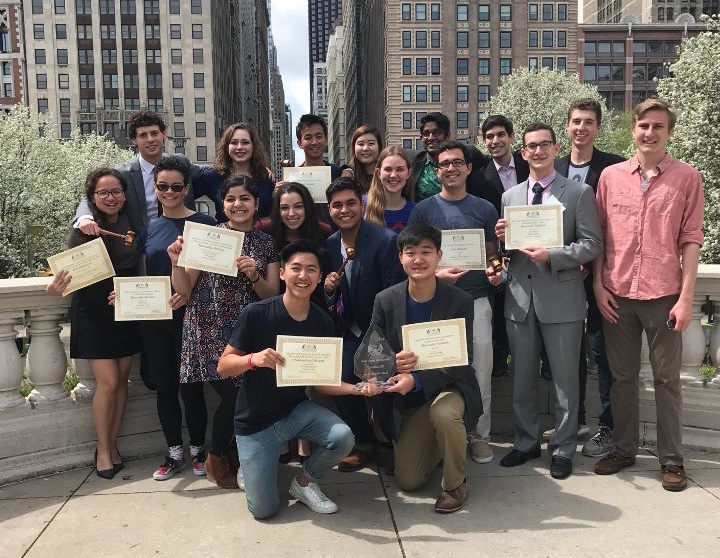 For the 4th year in a row, Harvard University maintained its powerhouse position as the #3 team in the North American college MUN rankings. Harvard's travel team, ICMUN, had a solid fall semester when it won Best Large Delegation at SCSY, contended for a large delegation award at UPMUNC and NCSC — where it finished fourth in terms of weighted score at both conferences — and by winning awards at CMUNNY. After taking its annual break to host HNMUN Boston, WorldMUN in Montreal, and HNMUN Latin America in Peru, the team charged back to do even better during the spring semester. ICMUN almost nearly captured a delegation award at every spring conference it attended, netting the Best Large Delegation award at ChoMUN and at NYUMUNC, and the Outstanding Large Delegation award at UCBMUN. Its near miss was at VICS, where it finished third in terms of weighted score. The second half surge should be a positive sign that next year's team will be capable of consistently contending for best large delegation awards. Despite not being able to compete in two conferences that it hosts, Harvard still won the most individual awards of any team on the circuit this year and had the second most gavels overall.
Outgoing Head Delegates Daniel Montoya and Andres Lopez-Garrido are proud of their team. "This year, Harvard took on an awesome freshman class that integrated wonderfully into both the team and circuit families. We built on Charlene and Rohan's successes to make sure our team was killing it both inside and out of committee. The Harvard team prides itself not just on being a substantively excellent team but also one that prioritizes inter-team and inter-circuit bonding. Not only did our team become more tight-knit this year, but we also continued to establish strong relationships with several other collegiate teams. We are looking forward to building even more friendships on the circuit under the leadership of the new Head Delegates Andrew Jiang and Spencer Ma."
4. Florida International University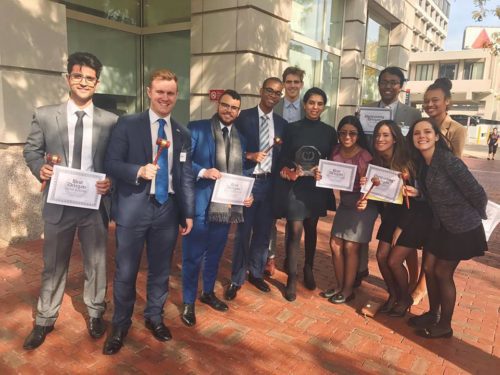 Florida International University has claimed the #4 spot on the final college MUN rankings for the third consecutive year — and this year's senior class is the first to experience being a Top 5 team during their entire four-year college MUN career. FIU invested in attending more conferences than ever this year, and the payout was immediate as it won more delegation awards than any other team on the circuit. The team competed most often as a small delegation, and they did well at large, mid-sized, and small conferences alike. FIU won the Best Small Delegation award at UPMUNC, McMUN, CMUNNY, and BarMUN, and the Outstanding Small Delegation at UCBMUN. It also won an Outstanding Large Delegation award at NCSC and a Best Delegation award at MUNE. The team also put in top ten performances in terms of weighted score at HNMUN (fourth among North American teams) and ChoMUN and won the Best Small Delegation award at &MUN to round out its resume. All those delegation awards were fueled by the team winning many gavels. In fact, FIU won the most gavels of any team on the circuit this year.
Kristen Nyman, the Program Director of FIU's team, had the following to say about this past year: "Looking to next year, FIU will be traveling to more conferences than ever before. As a team, we are so grateful for the work done by every conference secretariat and staff for hosting such incredibly well-run conferences this year. We look forward to competing alongside all of you this season! I personally am humbled by the work these delegates have put into this program and by the work of my predecessor, Ethan Roberts, for elevating the team to new heights. I can only hope to continue to build on the momentum that he fostered and push this team to even greater heights. The best is yet to come for FIU. I would like to thank our outgoing head delegates: Kevin Markowski and Michelle Rodriguez for their selfless hard work and I would like to welcome our incoming head delegates for the 2017-18 season: Michelle Rosario, Syed Adnan, and Stephan Horler. I am so confident in their ability to propel this team with integrity and passion."
5. University of Chicago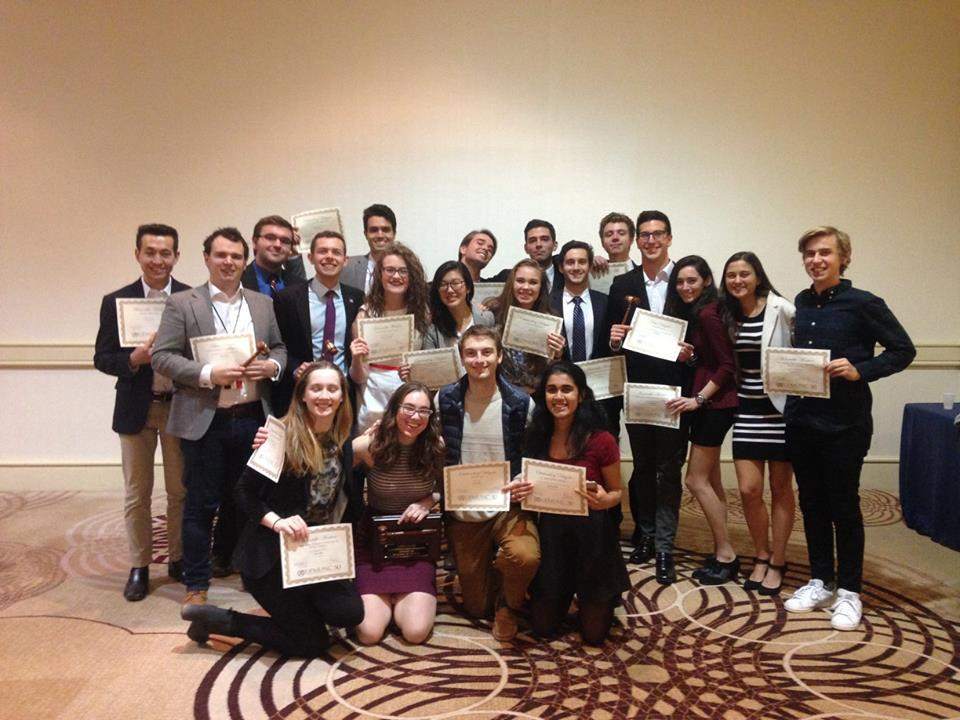 This is UChicago's first time not occupying the top spot in the final rankings since the 2012-2013 season, but the perennially P5 team still put on a solid performance that it should be proud of. The season was characterized with a bunch of near-misses for Best Large Delegation, but it was able to capture delegation awards at two of its first four conferences it attended. These were the Outstanding Large Delegation awards at UPMUNC and at CMUNNY. At NCSC, the team finished tied for first overall in terms of weighted score but missed out on a delegation award by ratio. And at HNMUN, the team finished fifth overall in terms of weighted score, but third among North American teams. But UChicago was finally able to win a Best Large Delegation award at UCBMUN, perhaps jumpstarting its comeback for the top spot next year. UChicago also hosted ChoMUN in the spring.
Outgoing President and Head Delegate Miriam Bial praised her team's hard work. "It's been a wonderful year leading this team to new levels of growth and competition. The dedication and thoughtfulness among the members has continued to amaze as we dealt with new committees,challenges, and friends (competitors?) across the circuit. Ultimately, it's been a year of many successes and the team is excited to reach new heights of excellence and enjoyment under incoming President Corinne Riley next year." Corinne says "I can't wait for next year, because our team's conferences are fun not just for the challenging competition, but also because we get to have fun with everyone on the circuit again!"
6. George Washington University
George Washington University is a regular in the Top 10 now and has tied for their highest-ever final ranking at #6 this year. The GW team started with a solid fall semester, during which they contended for delegation awards at NCSC and BarMUN and put in strong performances at UPMUNC and CMUNNY. Not content to come home without hardware, the team did even better during the spring semester, winning the Outstanding Large Delegation award at McMUN, the Best Small Delegation award at NYUMUNC, and the Best Small Delegation award at VICS. It also contended for a delegation award at ChoMUN and won awards at HNMUN. The Outstanding Large Delegation award at McMUN is most notable, as it is their first time winning a large delegation award at one of the largest conferences. It also came behind only Best Large Delegation award winner Georgetown, showing how close the gap is narrowing between these crosstown teams.
Incoming Head Delegate Kara Zielinski praised her teammates: "The GW Model UN Team has had one of its best years in recent history, and won the most delegation awards that GW has won in a single semester ever. Additionally the team had a record high number of freshmen winning awards in their first year of competing. These improvements are truly a testament to the team's renewed focus on training and camaraderie, mostly speared by the development of a more established upperclassmen training program and a mentor program between upperclassmen and freshmen. The team is so excited to see this hard work pay off in awards, and hope that the trend continues over the next few years."
7. Yale University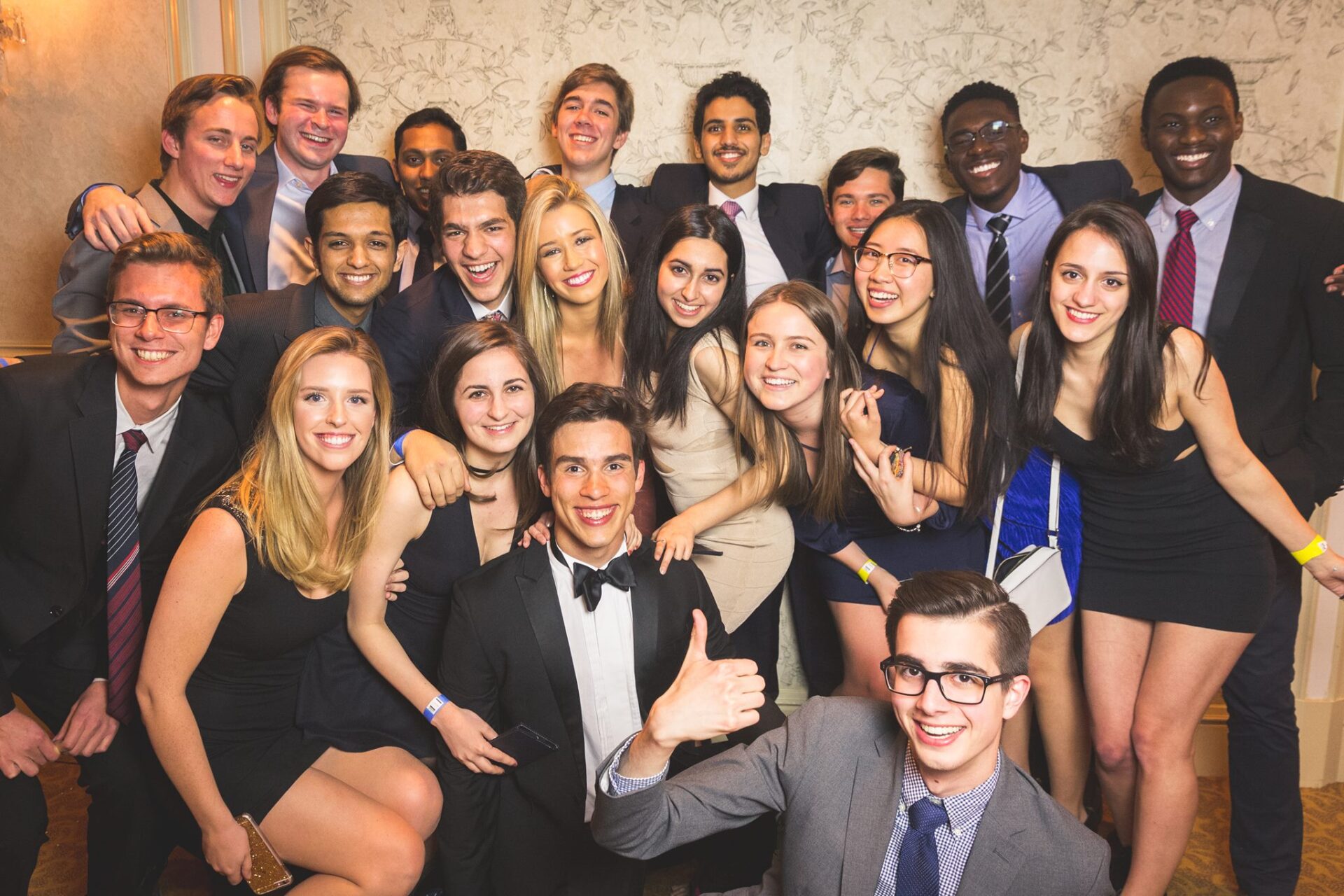 Yale continues to "go big or go home" by competing at only the largest and most competitive conferences, and it has maintained a place among the Top 10 in the rankings by putting in another set of impressive performances and despite competing in far fewer conferences than its Top 10 peers. MUNTY, as the team is called, hosted SCSY in the fall before finishing third overall in terms of weighted score at UPMUNC. This spring, it finished third overall again at HNMUN, but second overall among North American teams behind only UPenn. Lastly, the team went to WorldMUN, a conference it attends more regularly than most teams on the circuit, and nearly had all of their delegates win awards there.
Incoming Head Delegate Nicholas Religa had the following to say about his team: "The Model United Nations Team at Yale (MUNTY) had another very successful year, with excellent showings at UPMUNC and HNMUN, and victories in 3/4 committees at WorldMUN in Montreal. Our new freshman class are the best we have ever had, which is a testament to the recruitment efforts of former Head Delegate Andrea Fleming. We look very much forward to the 2017-2018 circuit."
8. Vanderbilt University
After continuously climbing higher rankings over the past few years, Vanderbilt University has finally cracked the Top 10, coming in swinging at #8. This is their highest ranking ever. Vanderbilt started the year strong by taking home the Best Large Delegation award at BarMUN. The team went nearly undefeated in conferences in the South, taking home three more delegation awards: Best Delegation at DISCon, Best Delegation at UNCMUNC, and Outstanding Large Delegation at MUNE. Late into the spring, the team also contended for delegation awards at VICS and NYUMUNC, and came in the top ten at ChoMUN. Vanderbilt collected the fifth highest number of individual awards on the circuit this season (tied with FIU).
Head Delegate Daniel Freedland also remarked on his team's impressive accomplishments. "This year, Vanderbilt's Model United Nations team reached new heights, winning three Best Large Delegation awards and one Outstanding Delegation Award. While undergoing a massive overhaul of our new delegate training program and practice regimen, we saw countless returning delegates improve and many new delegates take home awards at their first conferences. Although we're sad to be seeing a massively successful senior class graduate this spring, we have recruited a strong group of underclassmen who we are confident will bring the program to new heights. Having seen what this young group is capable of throughout this past year, I know that under the leadership of incoming Head Delegate Renil Bejoy, our program is in good hands. Next year, we look forward to improving upon our successes thus far and hosting our inaugural colligate conference, VIRUS I, in February 2018."
9. University of California, Los Angeles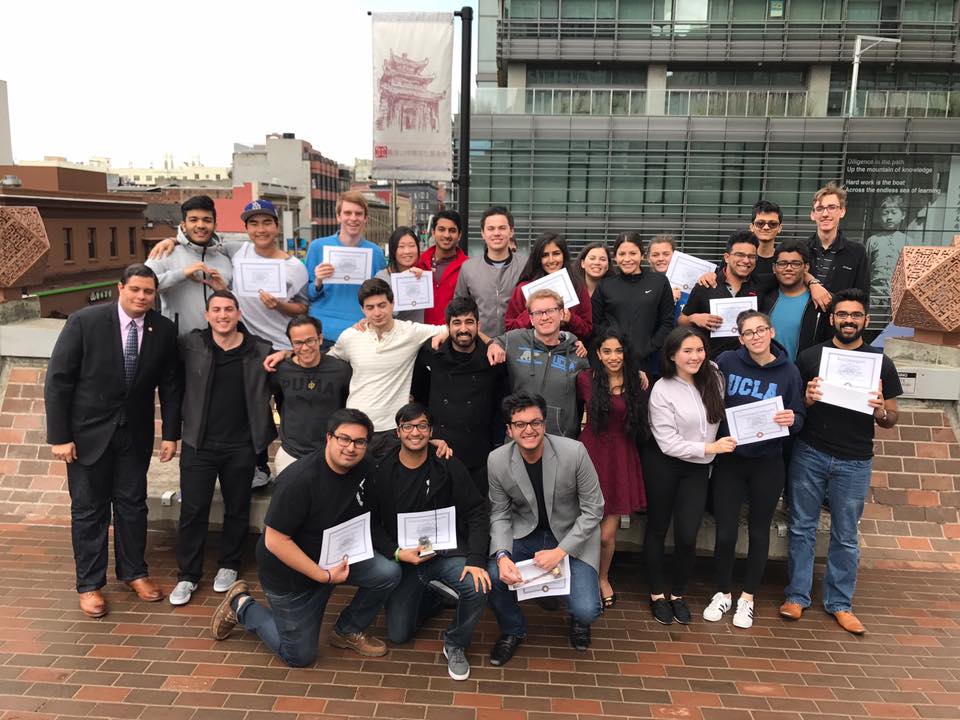 UCLA makes their debut in the Top 10 this year only one year after re-entering the Top 25, and this is their highest rank ever. The team nearly went undefeated on the West Coast, winning Best Large Delegation at SBIMUN, Best Large Delegation at AggieMUN, and coming in second in terms of weighted score at TrojanMUN. Although it "only" received the Golden Bear Award (Best California Delegation) at UCBMUN due to ratio, the team actually had the highest weighted score there above the two large delegation winners, UChicago and Harvard. UCLA also upgraded its performances outside of the West Coast during the spring semester, winning awards at HNMUN again and at NYUMUNC for the first time. But its biggest splash came at ChoMUN, where it won Best Small Delegation, their first delegation award ever outside of California. Overall, the team racked up the third highest number of gavels on the circuit (tied with Georgetown) en route to becoming the highest ranked team from the West Coast for the first time. UCLA also hosted LAMUN to end the year.
The UCLA Head Delegates had the following to say about their accomplishments this year. "We are so incredibly proud of our Travel Team. During the 2016-2017 season, the team has achieved its best performances in the history of the organization, winning milestone delegation and individual awards. UCLA impressively won delegation awards at SBIMUN, AggieMUN, UCBMUN, and ChoMUN. Serving alongside President Shantam Jain, Head Delegates Kunal Jhaveri and Rishi Bhargava led the team to outstanding success at each conference which the team attended. The UCLA team not only grew in terms of quantity and quality of awards won, but was able to expand in team size and attend important new conference destinations. Surpassing every expectation set at the start of the season, UCLA has established itself as a powerhouse team dominant on both the East and West coasts. Kunal, Shantam, and Rishi are thankful for the opportunity to have served the UCLA Travel Team this year and attribute their success to the passion, determination, and resilience of all team members who traveled this season."
10. United States Military Academy at West Point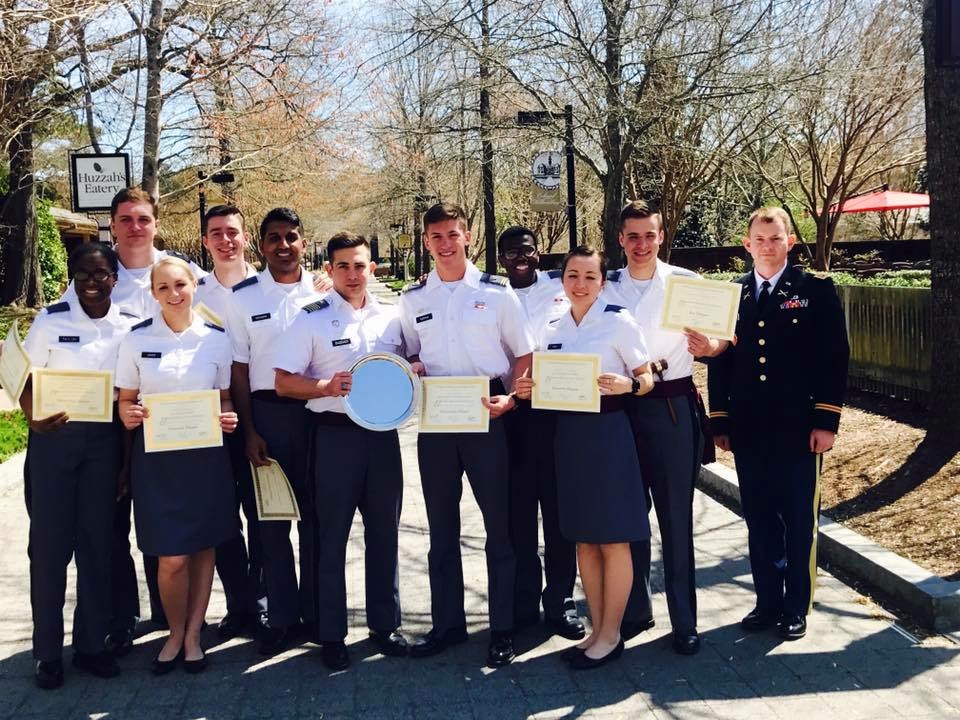 West Point defended their placement in the Top 10 this year, where they have held their ground as one of the best small delegations for the last 5 years. This fall, West Point's success was concentrated in their delegation award wins at NCSC and CMUNNY, where they won Best Small Delegation and Outstanding Small Delegation, respectively. This past spring semester, West Point had an even stronger performance, winning Outstanding Small Delegation at WorldMUN and Best Delegation at &MUN. The team also racked up an impressive number of individual awards at HNMUN, McMUN, UCBMUN and SCSY, and they also hosted WPMUNI.
Derrick Siebman, incoming Head Delegate and Cadet-in-Charge, had great praise for his team. "The West Point team found success this year by combining contributions from old faces as well as a very talented new class. One of the more far-reaching years in recent memory, the team won awards as close to West Point as CMUNNY in New York and as far away as OxIMUN in London. Outgoing senior Jack Bagdadi led a group of veteran upperclassmen who continued a long career of achievement both close to home and abroad, but perhaps most notable has been the performance of the younger members of the team, who were able to come out and immediately begin to win awards across the country. The new generation on the team was a huge asset to us, adapting quickly to the circuit to earn recognition there but also developing into a core part of the team dynamic. The result was a close-knit and competitive team that truly came together over the course of the year. As Cadet-in-Charge next year, I am excited to take command of that team in order to build on our foundation of success and continue the West Point traditions of honorable competition and meaningful contributions."
11. Claremont McKenna College
Claremont McKenna had a lower-than-usual ranking of #22 for the 2015-2016 school year and came back with renewed tenacity to half their year-end ranking number to #11 this year. CMC is one of the best small delegations not just on the West Coast but in the world as they won Best Small Delegation at HNMUN and at LAMUN and contended for a small delegation award at WorldMUN and at UCBMUN. The team did upgrade to compete as a large delegation once at TrojanMUN, and they crushed the competition there to win Best Large Delegation.
Fiona Bare, President of CMCMUN for 2016-17, had the following to say about her team: "Claremont McKenna had a great year, attending new conferences and continuing to compete at a high level. I'm so proud of the team's performance because it is a testament to the hard work, dedication, and cohesive nature of our MUN program. This year's graduating seniors are incredible leaders and I owe all of them a big thank you. Also, the team was so impressed by the contributions of our new members throughout the year. CMCMUN is continuing to grow and solidify its place on the circuit, certainly with an exciting future ahead. I've been so happy to lead this team and I cannot wait to hear how the team does next year!"
12. Boston University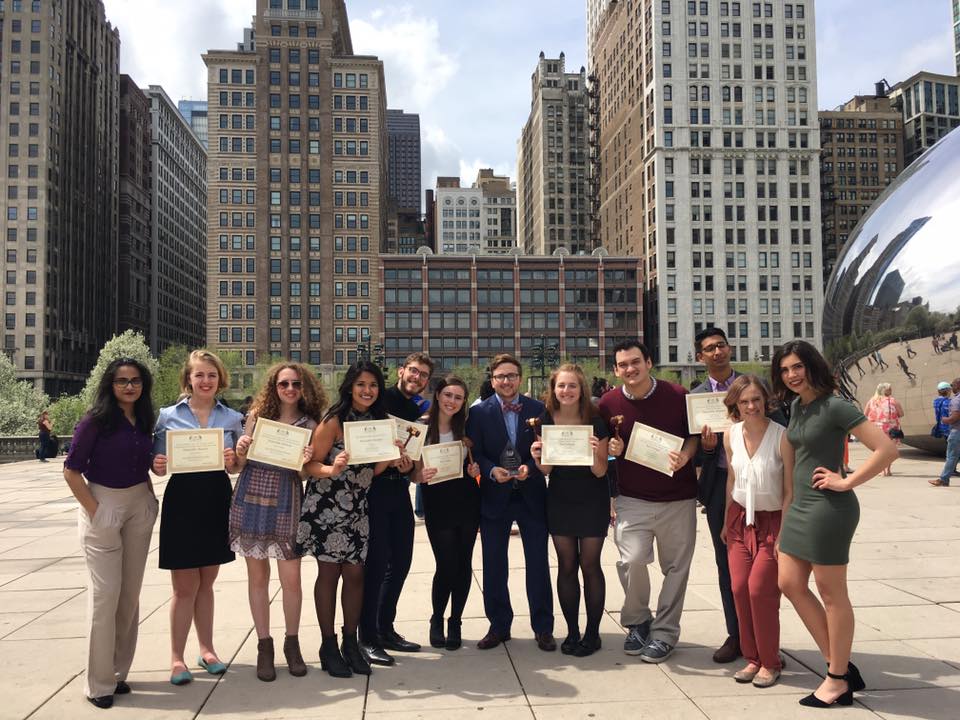 The Boston University MUN team, part of the organization affectionately known as BUIAA (pronounced "boo-yah"), had an exceptionally strong year. BU started the season by hosting the largest and most competitive BarMUN conference to date. It started its season slow with only one award at NCSC, but that proved to be an anomaly as BU captured three small delegation awards in the last five conferences it attended. This included the Outstanding Small Delegation award at UPMUNC, the Outstanding Small Delegation award at ChoMUN, and the Best Small Delegation award at UCBMUN. The other two conferences were HNMUN, where it finished in the top 15, and McMUN, where it finished in the top 10. Overall, BU is one of the best small delegations on the circuit this year.
Incoming Co-Head Delegate Zach Thomas was proud of his team's performance. "Boston University has had quite the successful year under the guidance of their head delegate Jessica Mansur. After finishing the first semester strong with an Outstanding Small Delegation award at UPMUNC, the team picked up a few individual awards at McMUN and HNMUN before winning Best Small Delegation their first time attending UCBMUN. The team went on to finish the semester strong with another Outstanding Small Delegation award at ChoMUN."
13. New York University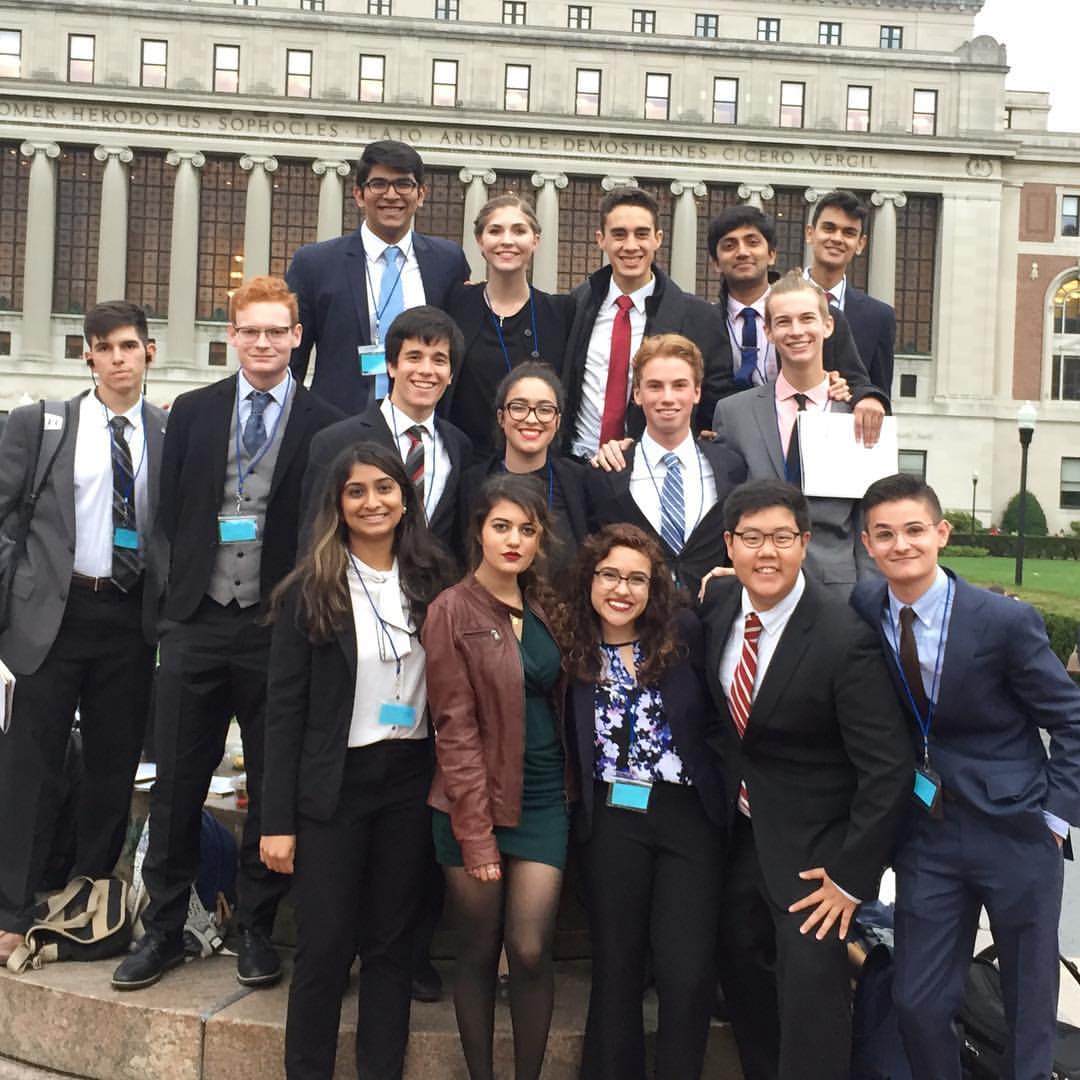 A consistent mainstay of the Top 25, New York University comes in at #13 this year after a packed conference schedule. This past fall, the NYU team matched its performances at SCSY and NCSC from last year by once again winning the Outstanding Small Delegation award at both conferences and contending for a large delegation award at CMUNNY. The team also put in top ten performances in terms of weighted score at UPMUNC and ChoMUN and won numerous awards at other conferences. The team hosted NYUMUNC in the spring semester.
Co-Head Delegates Areesha Irfan and Luxi Peng had much to say about their team's successful year. "NYU has had an absolutely wonderful and fun filled year. We could not be prouder of the work and effort our team has put in at every conference this year. This year has seen a continuation of strong work ethic and it has been an honor to see every single one of our delegates succeed and grow each conference. We were incredibly excited to see our team excel at conferences like NCSC and SCSY where we received outstanding small delegation awards. We only hope to grow as a team and I cannot wait to see what next year holds for NYU. We started off the year with many new members and were able to see them grow into incredible delegates, which has been an absolute honor. Every new member stepped up to the challenge of a tough college circuit and we could not be prouder. We would specially like to thank outgoing head delegate Dominic Defazio and deputy head delegate Faraz Athar for the work they have put in for this team and can only hope to continue our strong performance this year. Most of all we would like to thank our team for making traveling worth it. We both look forward to leading you this coming year."
14. University of California, Berkeley
Berkeley maintained its standing in the Top 25 this year due to strong performances at conferences on both the West Coast and the East Coast. The team put in consistent top ten performances in terms of weighted score at the most competitive conferences on the circuit, HNMUN and UPMUNC. It also won multiple awards at the most competitive crisis conferences on the circuit, ChoMUN and CMUNNY. A delegation award on the West Coast proved to be elusive for most of the year, as the team came close at TrojanMUN and at AggieMUN, until it triumphed at the last conference of the year to win Best Large Delegation at LAMUN. Berkeley also hosted UCBMUN, the largest conference on the West Coast.
Disha Subramaniam, the team's incoming Head Delegate, analyzed the team's success. "As a predominantly self-funded public school team on the west coast, UC Berkeley's Model UN team is no stranger to financial adversity. But even as rising costs threaten to make travel prohibitive for even the most committed team members, UCBMUN has, as always, rallied. This year, the team continued to make strong showings at conferences on the east and west coasts alike, due in large part to a talented and passionate class of new team members – a class that brought home over thirty individual awards over the academic year.
"At home, UCBMUN placed a strong emphasis on training and development, working to reinvigorate its General Assembly training program, build capacity among underclassmen, and maximize the conference experience for all members. In the highly competitive environment that is collegiate MUN, however, UCBMUN is most proud of its commitment to collaboration, team spirit, and family – beyond just the awards. We owe our successes to a culture of supporting each other and a fun-loving work hard, play hard approach to MUN. We hope to see the new members take UCBMUN to new heights on the circuit next year and keep up the good times."
15. McGill University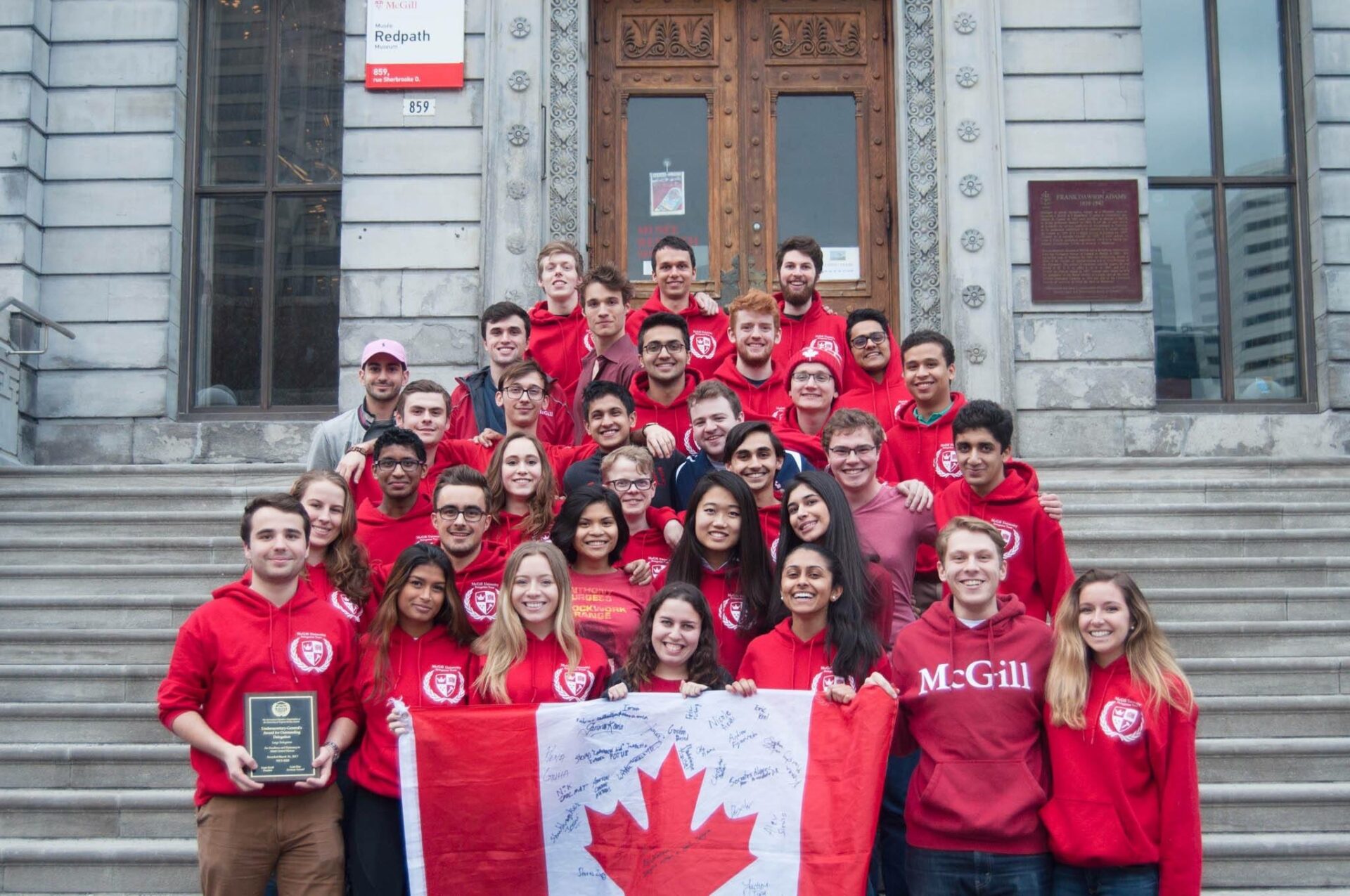 McGill University achieves one of their second highest-ever final rankings after a year of solid performances at numerous conferences. Their ranking is buoyed by a top ten performance at HNMUN, perhaps their best showing there ever, where they finished behind only UPenn, Yale, UChicago, and FIU in terms of weighted score among North American teams. Other notable achievements included a top ten performance at NCSC, contending for a delegation award at WPMUNI, and taking home the Outstanding Large Delegation award at VICS to end the year. The initial surprise and concerns that WorldMUN was set to take place in Montreal and may reduce McMUN attendance did not play out — McMUN was more popular than ever and McGill even got to attend a conference in its hometown and win a few awards at WorldMUN!
Madeleine Kausel, IRSAM's Vice President of Delegation Affairs, went on record saying, "To say that our team underwent changes this year is an understatement. A revolutionized structure, new and improved recruiting approach, innovative trainings, and above all the creation of a true team culture have led us to pass milestones many at McGill never thought possible. None of it would have happened if it weren't for the passion and dedication of our members, the support from our umbrella organization IRSAM Inc. and partner conferences SSUNS and McMUN, and of course the help and advice from other teams on the circuit. We are proud of our accomplishments this year, but it's just the beginning. With two-thirds of this year's team made up of freshman and sophomores, expect the future to hold a McGill Team with greater depth, more awards, and the same positive and fun spirit that we always bring!"
16. American University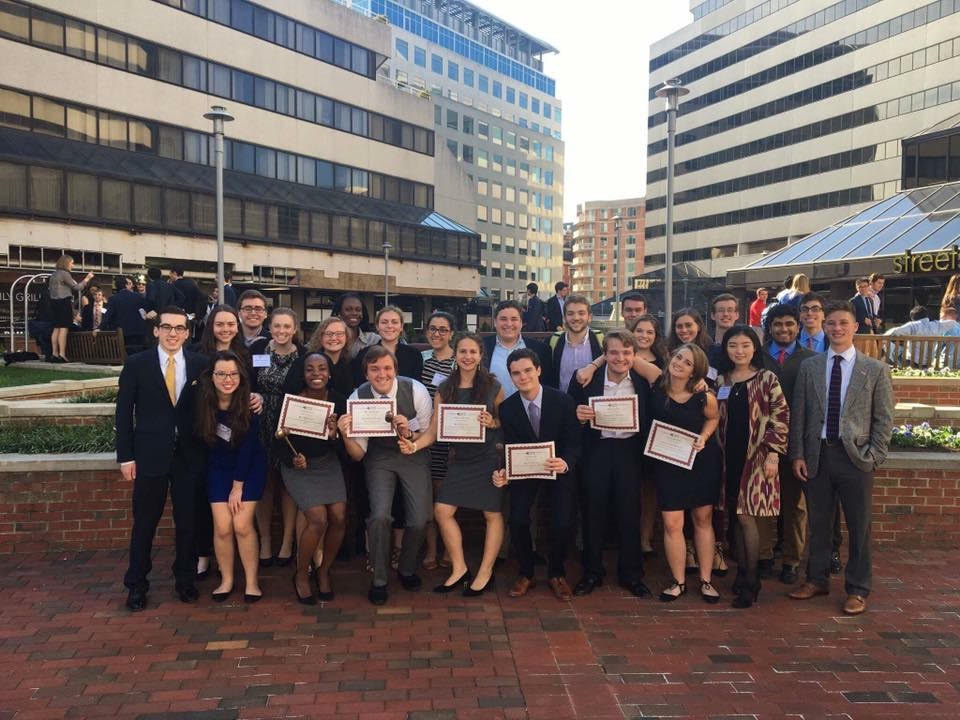 American University is only in their second year in the Top 25 and has achieved its highest final ranking this year. The AU team had a wildly successful fall semester, during which they took home their first ever delegation award ever: Outstanding Small Delegation at BarMUN. The team also contended for delegation awards at UPMUNC and NCSC. The team continued their spring semester by capturing a solid number of individual awards at a variety of conferences. With an increasingly competitive schedule and continued performances like this, American could become a new Top 25 mainstay team.
Head Delegate Alex Davis had the following to say about American's success this year. "Following its highest ranking yet, American University had a tough act to follow for spring semester. American added ChoMUN this semester, in addition to attending McMUN, WPMUNI and NYUMUNC. This addition to the schedule is essential for AU to remain competitive moving forward, something we aim to do. In addition to the most recent talented group of freshmen, the continuity in leadership should help AU continue on it's successful path. For the fall, American is hoping for another talented group of freshmen and is looking forward to some of our most  seasoned delegates returning from abroad. American University has had a year of firsts for our team. An Outstanding Small Delegation award at BarMUN, attending ChoMUN and BarMUN for the first time, and even making the slightly questionable decision to drive to McMUN. The 2016-2017 season was monumental for American University's Model UN team. Even with all the success from this past year, we're looking to top it next year."
17. University of Virginia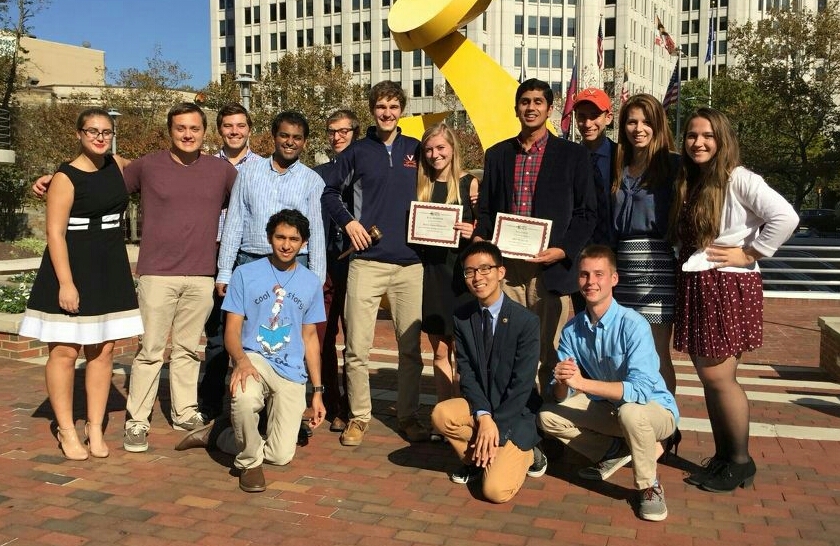 University of Virginia has been gradually climbing the rankings for the past few years and the team has reached its highest-ever final ranking at #17 this year. UVA frequently finished in the top ten in terms of weighted scores at mid-sized crisis conferences, including at CMUNNY, BarMUN, NCSC, NYUMUNC, and UCBMUN. The team won multiple awards at more competitive conferences such as UPMUNC and ChoMUN. And the team did best at the smallest conferences, winning Best Large Delegation at PICSim and having the highest weighted score at PUNC despite missing out on a delegation award by ratio. UVA also hosted VICS, a mid-sized crisis conference, which saw an increase in competitiveness and conference weighting this year.
Head Delegate Sean Rastatter reflected on the past season. "UVA unveiled a very strong first year class in 2016-17, and we have a bright future ahead of us as our delegates continue to grow and mature. We built up quite a bit of momentum in the fall, and carried this momentum over in the spring where we competed at 5 conferences. Our hard work and dedication paid off in early March when the team was split up and sent to two conferences on the same weekend. On the East Coast, the UVA team brought 6 delegates and won 5 gavels and the Best Delegation award at PICSIM. On the West Coast, the UVA team ranked in the top five small delegations competing at UCBMUN. Despite continued success and increased competition, the team has never sacrificed its core values of being open and welcome to other teams. Whether debating in committee or hosting parties outside of committee, the UVA team exemplifies Southern hospitality."
18. Princeton University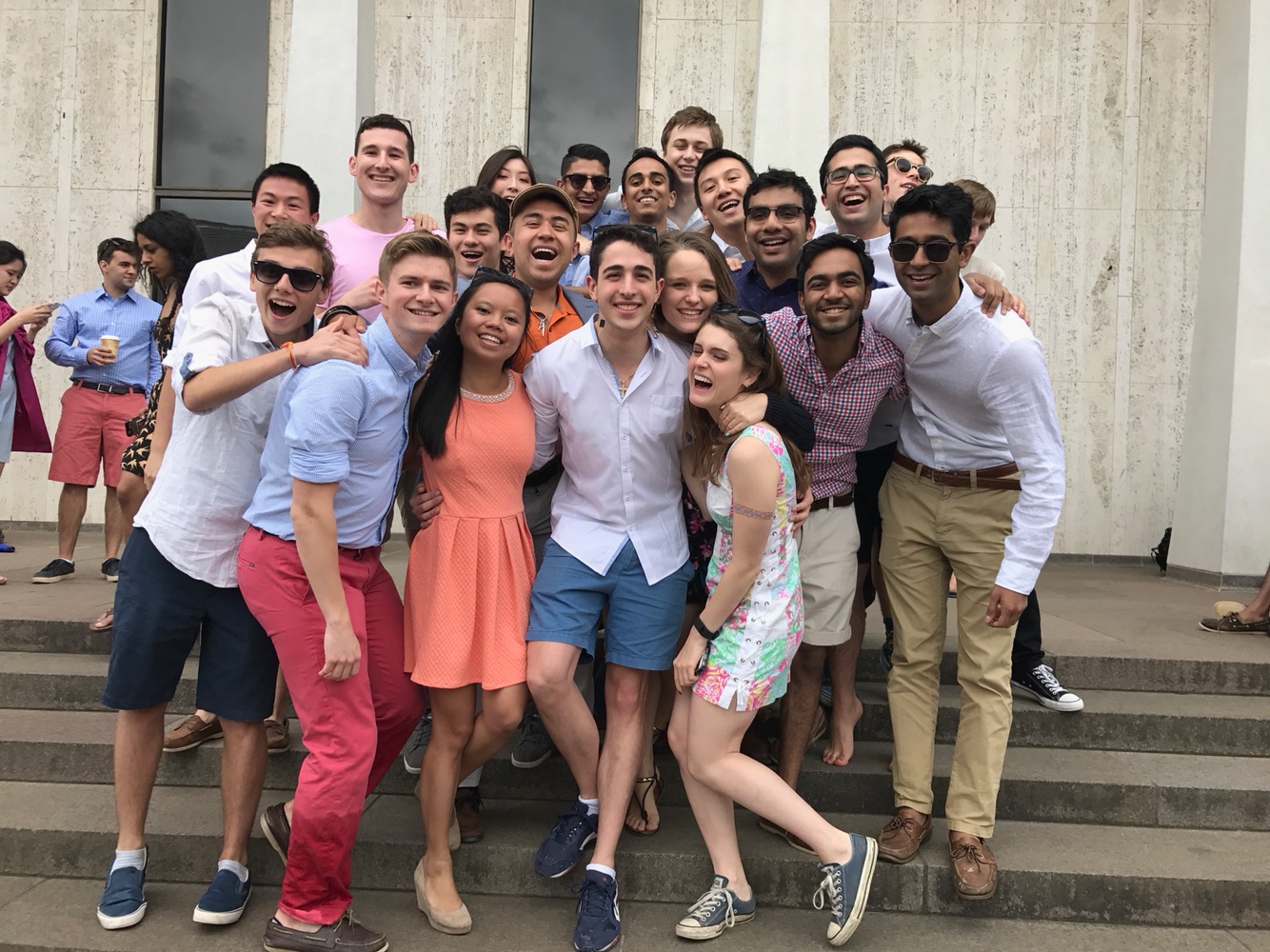 After breaking into the Top 25 just two years ago, Princeton has been getting stronger each and every season. This is evidenced in its consistent rise up the year-end rankings, and the team has achieved its highest year-end ranking so far at #18. The team won awards at a variety of conferences, but it most notably took home the Best Small Delegation award at SCSY and the Outstanding Delegation award at WPMUNI. If Princeton can continue this momentum, they can certainly become a mainstay of the Top 25. Princeton also hosted PICSim in the spring.
Gabriela Pitten, one of the team's captains, said of the past season, "This year Princeton's travel team focused on creating a smaller, more dynamic team and it paid off with an Outstanding Delegation Award at WPMUNI and awards at &MUN. The team also traveled to the south of France to compete at MEDMUN and earned several Best Delegate awards there. Princeton's International Relations Council is also working hard to set up the Princeton Diplomatic Invitational for next semester, which will be a revamped, more engaging version of our beloved PICSim."
19. Florida State University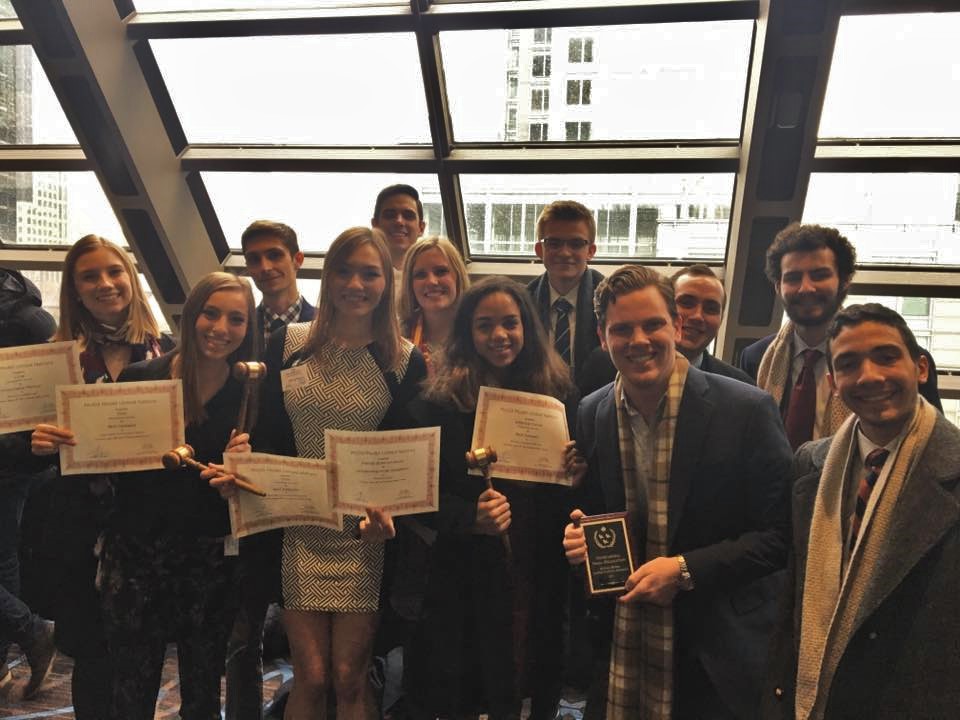 Florida State University achieved one of its highest year-end rankings ever this year after a strong performance on the circuit. After putting in top 10 performances at BarMUN and NCSC during the fall semester, the FSU team pulled out all the stops this past spring, taking home an Outstanding Small Delegation award from McMUN, a Best Large Delegation from FLCS, and a Best Small Delegation from MUNE.
Alex Ball, outgoing Program Director, had the following to say about the team. "For FSU WAP, this past year was all about focusing on the lessons to be learned from Model United Nations and completely investing in each delegate on the team. The members demonstrated an unprecedented level of dedication and hard work towards these goals, and it paid off throughout the year. Watching each underclassman's journey to success has been a particularly humbling experience. FSU WAP is thankful that it can continually show its talent on the Model United Nations circuit with the amazing support of its 31 years of Alumni and from throughout the University. I am incredibly proud to say that in the 2016-2017 year FSU, once again, showcased that inspired leaders come from all walks of life, class, color and creed. It is with a Seminole pride and unconquered spirit the team marches forward to the challenges, experiences and successes of next year."
20. College of William & Mary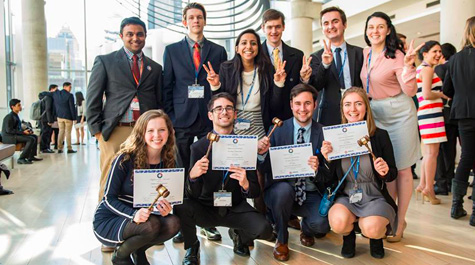 After an irregular dip out of the Top 25 last year, the College of William & Mary is back in the Top 25 rankings this year after a very successful 2016-2017 season. The team switched strategies from previous years and massed up on conference attendance, particularly during the spring semester. Although it finished among the top ten teams at the large or mid-sized conferences only once — at SCSY — the team consistently won individual awards at the many conferences it attended to boost its resume. At the most competitive levels, the team notably won multiple awards at WorldMUN in addition to winning at HNMUN and at McMUN. William & Mary also hosted &MUN in the spring.
Somya Shankar, outgoing Head Delegate of the team, reflected on the past year: "The 2016-2017 season was an incredibly successful rebuilding year for the William & Mary Model UN team, and one that I am privileged to have witnessed as the Head Delegate. With a large reformation of our training program, and a focus on investing time into our younger delegates, the William & Mary team was able to perform outstandingly at conferences such as CMUNNY, SCSY, NCSC, McMUN, and HNMUN – with a large proportion of our awards coming from the freshmen and sophomores on the team. Leading this team was a challenging but very rewarding experience, and I attribute this year's success to all of my teammates, who showcased incredible dedication, determination, passion, and resolve both in training sessions and in committee. This year, we went to 11 conferences, traveling almost 15,000 miles by bus, train, car, and plane – a historic high for our team which usually opts for sending larger teams to a fewer number of conferences. In addition to attending so many conferences, the William & Mary team also found the time to host conferences at the middle school, high school, and collegiate levels. &MUN V was the most successful &MUN to date, bringing in a large number of schools from all across the eastern seaboard, and &MUN VI is poised to be even bigger and better. As outgoing head delegate, I am incredibly proud of our achievements this year and I have full faith and confidence in the younger members of the team to continue the momentum and grow our team even further in the years to come.
21. Michigan State University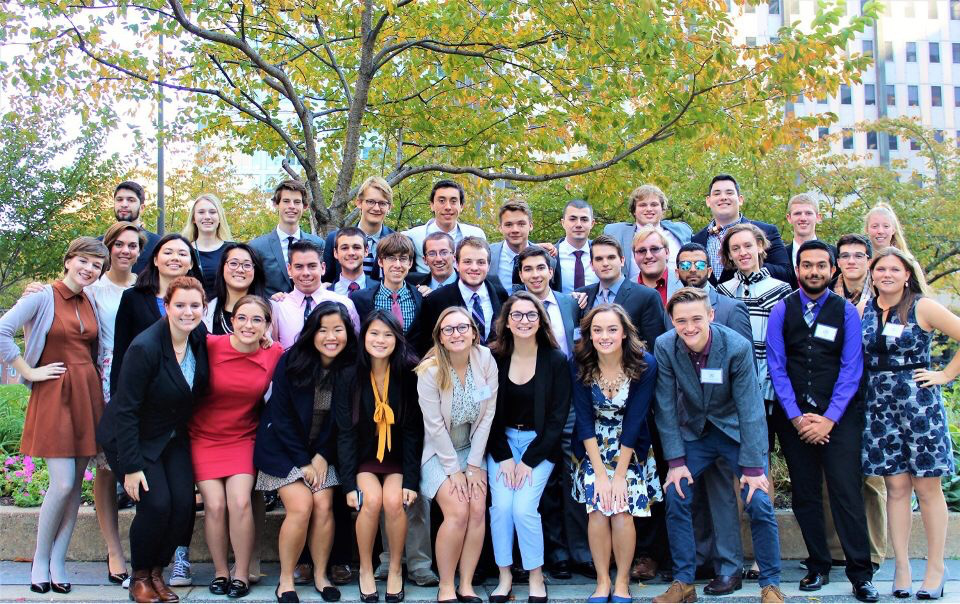 MSU has had a relatively consistent past few seasons on the Model UN circuit. The team's best performance was contending for a delegation award at McMUN, where it finished in the top five in terms of weighted score. It also put top ten performances at UPMUNC and BarMUN and won numerous awards at ChoMUN to end its season.
Head Delegate Katie Higgs was very proud of the MSU team. "This has been a fantastic year for many of our delegates and our team as a whole. While continuing to be competitive, Michigan State has always enjoyed collaborating with other delegations. It has been incredible to see how the delegates on our team continue to grow and learn from each other, as well as from other delegates on the circuit. Not only have our delegates grown competitively, but they have also grown as a family, both of which are important to our team. This year has been one for the books, and I can't wait to see where MSU goes next!"
22. Columbia University

After a quick dip out of the Top 25 this past fall, Columbia came back strong to solidify their standing as a Top 25 team in the year-end rankings. In the fall, they hosted CMUNNY and attended a number of competitive conferences. The Columbia team continued to work hard at a number of conferences during the spring semester, and its late season push paid off with a pair of Outstanding Small Delegation awards from VICS and from NYUMUNC.
Head Delegates Albert Park & Juliana Morales Liu had nothing but praise for their team. "We've incredibly proud of the year Columbia has had. From the very start, we remained committed to our standing no-cut policy, guaranteeing everyone at least one spot to a competitive conference during the academic year as long as they consistently show up to practice. As our team has continued to grow with an all-star Freshman class and committed upperclassmen, we were able to send 50+ active members to 10 domestic conferences–more than ever before. By balancing the inclusive culture set by our predecessors with our own rigorous practice schedule, our season culminated in two back-to-back delegation awards at VICS and NYUMUNC. As the travel team and our broader international relations network on campus expands, we are confident that CIRCA's successors will bring our club to its fullest potential in the coming years."
23. Emory University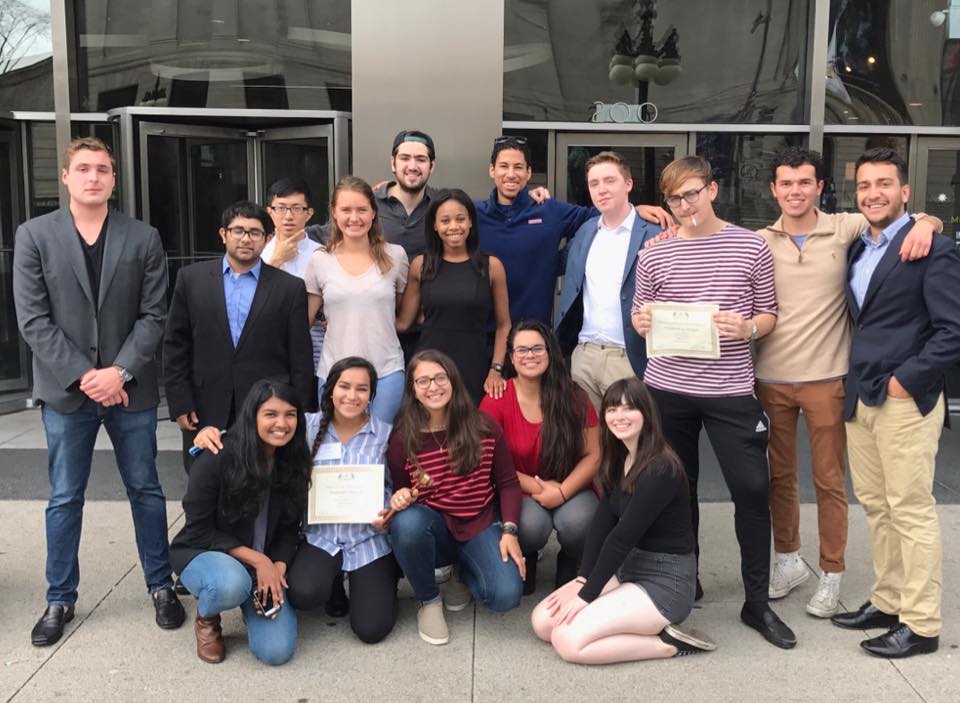 Emory is a mainstay in the Top 25, and this year was no exception. The team won at a diverse set of competitive conferences. This includes winning multiple awards at two of the largest and most competitive conferences in HNMUN and UPMUNC and at crisis conferences in ChoMUN and SCSY. Their top performances, however, came closer to home in the South — Emory won the Outstanding Large Delegation award at DISCon and finished among the top five teams in terms of weighted score at VICS. Emory also hosted MUNE.
Head Delegates Julia Bittencourt and Mustafa Hassoun reflected on the past year. "Recalling all that our team has accomplished over the past year definitely fills us with pride. Firstly, we would like to thank our amazing graduating seniors for all their hard work and dedication. Looking forward, we are especially excited to see our strong underclassmen continue to gain momentum. All of our underclassmen went above and beyond expectations at both VICS and ChoMUN this spring. As these delegates travel more and share their experiences with new delegates, we are eager to see what our team will accomplish in the upcoming year. We're very excited for the opportunity to continue to work with such an inspiring group of delegates."
24. University of Miami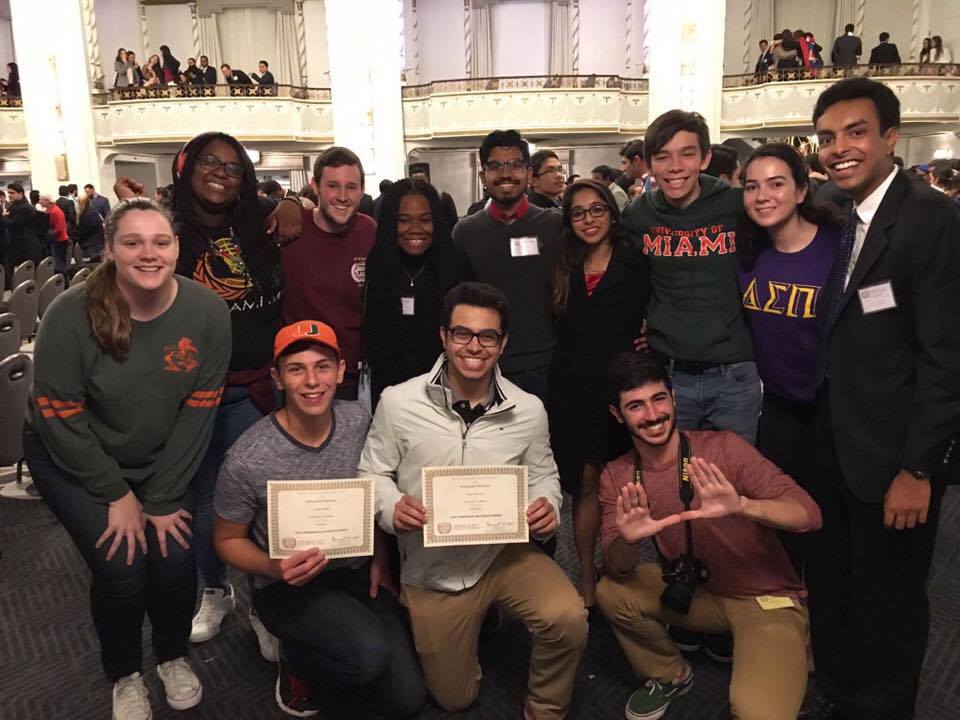 The U has had a solid year full of accomplishments. The Miami team split its schedule with one large conference and one crisis conference each semester, and consistently took awards home at every conference to display their versatility at the most competitive GA and crisis conferences. The team won multiple awards at UPMUNC and CMUNNY in the fall and at HNMUN and ChoMUN in the spring.
The Miami Head Delegates had the following to say about their team: "This year our team strove to embody all that is intrinsically Miami – we work hard, play hard, and do it all as a team. We built this foundation on an exceptionally large and motivated freshman class, which we took in to ensure the team's success for years to come, and traveling with intensity and purpose to drive our team forward. We have also strengthened our team's commitment to the community by continuing our commitment to organize and run two high school conferences, MICSUN and MDMUN (in partnership with Miami-Dade College). Even more BIG things to come on the conferences side, so stay posted there! We know our team has room to thrive and are excited to see how it grows and matures next year – there are always surprises along with blood, sweat, and tears from these Canes. The best part of being on this team is its familial bond which connects it across diverse disciplines, interests, and years. We hope to continue culturing this nurturing, inclusive, and productive mindset in team members for years to come."
25. Northeastern University
The Northeastern International Relations Council has completed its most successful season to date and broke into the Top 25 one year after breaking into the Top 50. With a renewed focus on MUN conferences, the Northeastern team has been able to gradually multiply the number of awards received since rejoining the MUN circuit three years ago. This year, Northeastern won awards at local conferences HNMUN and BarMUN, and most impressively came in fourth overall in terms of weighted score at McMUN.
Outside of traveling to MUN conferences, Northeastern won 1st place at both the National University Model Arab League conference and the International Model NATO conference. The success of the team has also led to being awarded the Student Organization of the Year Award at Northeastern University. In addition to hosting two annual Model Arab League conferences with the assistance of the National Council of US-Arab Relations, Northeastern continues to work in conjunction with the United Nations Association of Greater Boston (UNAGB) to host numerous middle and high school MUN conferences throughout the year. Looking ahead, Northeastern plans to expand the number of conferences the team participates in with the hopes of furthering their achievement in the greater circuit.
Top 50 (alphabetical order)
These are teams that consistently have individual award winners across several conferences, particularly the larger and more competitive ones, and may have even captured a delegation award at a smaller conference. The five teams closest to the top 25 were: Marionopolis, Mount Holyoke, WashU, University of Toronto, and USC.
Boston College
Carleton College
Carleton University
Case Western Reserve University
Clark University
College of the Canyons
Concordia University
Ithaca College
John Abbott College
Marianopolis College
Mount Holyoke College
Pomona College
Queen's University
Rutgers University
Seton Hall University
Stanford University
State University of New York at Geneseo
The Ohio State University
University of Central Florida
University of Florida
University of Illinois at Urbana-Champaign
University of North Carolina at Chapel Hill
University of Southern California
University of Toronto
Washington University in St. Louis
Top 75 (alphabetical order)
These are teams that occasionally have individual award winners at several conferences or won a few awards at larger conferences.
Brown University
California Lutheran University
Central Piedmont Community College
Colgate University
Cornell University
Dalhousie University
East Tennessee State University
Elon University
Fordham University
Georgia Institute of Technology College of Engineering
Indiana University
Johns Hopkins University
Middlebury College
Northern Arizona University
Northwestern University
Oakland University
Ryerson University
United States Air Force Academy
University of Alabama
University of California, Davis
University of California, San Diego
University of Michigan
University of Ottawa
University of Pittsburgh
Vanier College
Wilfried Laurier University
**
Congratulations to all the teams and conferences this year! In addition, congratulations to the graduating seniors — good luck with your next journey! Hope everyone has a great summer and we'll see you back on the circuit this Fall!