The following is a guest post from McLean's High School Model UN team. Thank you Laith Samamreh for the pictures and Siddarth Shankar for the text of the article.
To start off another year in the D.C. Metro Model UN circuit, McLean High School MUN held its third annual conference for middle and high schoolers, McMUNC III, on October 20-21, 2017. With fifteen different committees and 500 delegates from Virginia, Maryland, and D.C., McMUNC III started the year off with a bang.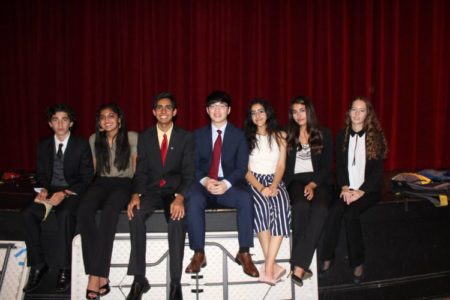 The conference was ushered in by speeches from senior secretariat members Siddarth Shankar, Riya Master, and Jillian Pincus. McMUNC also had the privilege of hosting an esteemed keynote speaker: Mr. Jonathan Karl, the ABC News Chief White House Correspondent. Mr. Karl spoke at length about his journalistic career and recent developments in the field that has changed the way he's viewed his job.
From then, the delegates were sent to their committee rooms. Whether it was the vaunted courtroom of the International Court of Justice or the jungles of the joint crisis committees of the Vietnam War, delegates were immersed into their committees throughout the weekend.
The chairs at McMUNC were all past McLean alumni or members of the Georgetown International Relations Association, many of whom were chairs and staffers at NAIMUN in years past.
McMUNC was also able to raise $800 for the charity Heifer International through candy grams and other monetary donations, with money going towards basic necessities such as livestock animals, drinking water, and health care. These donations will go toward eliminating hunger and poverty in many communities worldwide.
With over 100 staffers from the same team that won Best Large Delegation at NAIMUN and Outstanding Small Delegation at ILMUNC last winter, the conference has grown exponentially over the past three years.
At the conclusion of the conference, the secretariat awarded the Secretary-General's Award for the following delegations:
Best Middle School: Longfellow Middle School
Best Small High School: Kettle Run High School
Outstanding Large High School: Langley High School
Best Large High School: Thomas Jefferson High School for Science and Technology
If you have any questions about McMUNC, please visit www.mcleanmun.weebly.com or email mcleanmunc@nullgmail.com!