Placard Arm
I'm sure every delegate has  experienced the pain of raising their placard with one arm, while trying to write semi-legible notes with the other. With this "Third Arm", all of your placard raising troubles will disappear! This arm will be activated by the  chair's words "raise your placard now" and will automatically rise up waving the placard in the chair's line of vision. So, now you can be called on to speak in every moderated caucus AND at the same exact time form alliances!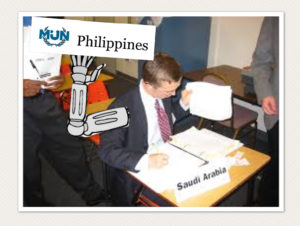 2. Power Delegate Vision
Do you ever get frustrated when a power delegate appears out of nowhere and steals your thunder? Now you don't have to worry with Power Delegate Vision! These goggles scan the room and detect all potential power delegates. Plan ahead and sabotage all those nasty gavel hunters!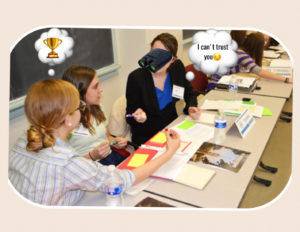 3. Legal Pad 007
Ever been curious about what shady business is going on in other delegates' crisis notes? Well, now you can spy on everyone's schemes with the Legal Pad 007! Simply write the position of the delegate you want to spy on, and their crisis notes will magically appear on your legal pad!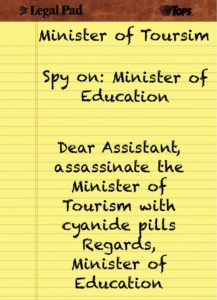 4. Chair-O-Matic
Are you a lazy chair? Upset that your weekend is now taken over by babysitting annoying teenagers pretending to be countries? No worries! Chair-O-Matic is here! Chair-O-Matic is a series of buttons with pre-recorded phrases such as: "Decorum Delegates!", "Any points or motions on the floor?", and so much more!
5. Directive Name Generator 3000
It's the last day of the conference and you've just ran out of creative directive names. Don't fret: the Directive Name Generator 3000 is here! Type the topic of your directive on the keyboard and your awesome directive name will appear on the screen!
6. MUN Mall
Excited to wear your western business attire? Want to be the baddest looking delegate at the delegate dance? Then you're in luck with MUN Mall! MUN Mall is a booth placed throughout conferences. Walk through it,  and it will transform your western business attire into a snazzy outfit for the delegate dance! If there was a gavel for best dressed, it would surely go to you 😉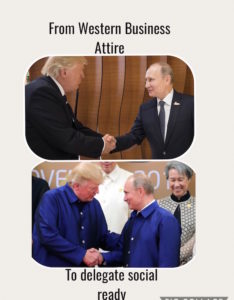 7. Placard Projector
All delegates know that feeling when you've spent days working on a resolution and it doesn't pass, as if it was all for nothing.  No need to get yourself down! The Placard Projector 101 is a simple button that when pressed projects random placards around the room. Do this when its time to vote on your resolution, and the chair will get confused and count more placards!