This guest post has been provided by Dr. Eugene Geis and Anthony White, advisors of the  John P. Stevens High School Model United Nations program. 
When I was in my twenties, I realized that I needed to be more confident with and aware of the people I interacted with on a daily basis. I was tired of the feeling of being unsure about myself. I could never tell whether I was respected and liked, especially by the opposite sex either. When I moved home after graduate school, I made a very serious decision to transform these fears into traits of confidence.
I made a conscious effort to make new friends wherever I went. I started conversations with random strangers and learned to have meaningful communication with anyone, anytime. I changed some aspects of my body language and my speaking style, and I discovered that everyone else responded to me more. I could tell that the small, subtle changes I made to my methods of communication had a profound impact on the respect and admiration that people were suddenly showing me.
When I arrived at JP Stevens high school, a fellow alumnus from my own high school had invited me to advise the Model UN program with him. When I chaperoned my first trip to VAMUN, I had an epiphany while witnessing my first committee. Every skill that I learned in my personal transformation was being exercised (most of the time, very poorly) by the students parrying for position within the committee. I started giving advice very quickly because very small changes can make an enormous difference in a delegate's game.
When the weekend was over, I made a promise to myself that I would teach one full lesson on body language to the entire 100 delegate club at JP Stevens. That was four years ago. The incoming freshman class who attended that body language lecture is now the senior class and they have completely dominated the east coast circuit this year. Again, although we are winning awards, that is not our purpose. We teach our club how to feel successful. This self investment of the delegate automatically feeds their motivation to be better. They research harder, they hold their own strategy meetings, and they operate like a true nation, pushing for its voice to be heard. THIS IS MODEL UN. And this is why I think it is the most practical school activity in the liberal arts. Let's face it, no club can compete with FIRST Robotics when it comes to the STEM education module.
In the interest of public education and full disclosure (because I really don't want you to think that we are all about awards), I want to share what we teach. Do with it whatever thou wilt. Best Delegate seems like a great forum to demonstrate it (and we'll probably write a book about it one day) and so I would like to give to you a little bit of the framework we teach the club. We call it "MUN-E" [Model UN Education]. I have developed a few quick rules that will help any delegate learn our philosophy of Success. And I want to stress: This is NOT JUST IN MUN, but in LIFE as a Whole. 
People need to

RESPECT

you before they will

listen

to you.
People need to

LIKE

you before they will

do

as you ask of them.
People need to

KNOW

that you have the respect and kindness to listen to them

BEFORE

they will Like and Respect you.
You may have heard this before and you may even know it… but do you, as a delegate AND as a person, practice these things? There is a strange habit among the Model UN advisors and student-teachers. The first lesson that most MUNers and their advisors tend to administer is to create a debate within the historical context of current events and political feuds. While we understand this preference, we think that this method skips over most of THE MOST IMPORTANT SKILLS.
When you practice the 3 rules we've just listed along with a few other things that are too much to write in a small internet post, you will become more confident, you will speak better, and debate will become a welcome challenge.
Listen, we're not messing around. Our Model UN club only meets once a week for about one hour each time… and yet we have one of the best Model UN programs …and it's maintained its reputation for more than 40 years. Our focus is not based on awards, but if the measure of skill is commensurate to awards, we're one of the best.
WE TEACH SOCIAL INTELLIGENCE. You can also call it "Human Engineering" if ya wanna be all scientific about it… And for the real scientists in you, I've made a 2D graph titled: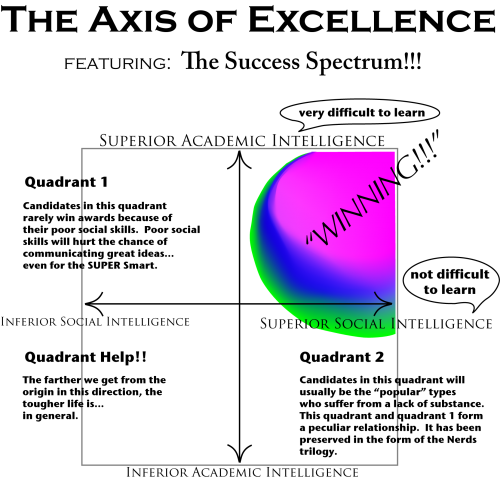 The Success Spectrum is the fountain from which we believe all GAVELS spring. Use the brief descriptions above as an introduction to the raw power of Social Intelligence in the Model UNiverse.  Please note that our axes are defined by "Social Intelligence" and "Academic Intelligence."
Let's take a look at Academic Intelligence first. Academic Intelligence is what people call "book smarts."  You know the smartest kid in your math or science class? Well that kid is probably really good at doing her homework, understanding the teacher, and doing multiplication in her head.  But is she "cool?" Academic Intelligence is not specific to any subject… it's pretty much what we all think of as "smart." We know you know this already: "smarts" do not win you as many friends as "coolness." And in Model UN, you need to have something we'll call smart coolness. This is called Social Intelligence.
We approach MUN skills from the angle of Social Intelligence. The more seriously you approach the practice of social skills, the more often you will notice that it is easier to speak to everyone you know. Interviewing will become effortless, negotiating will become a smoother process, and arguing will not feel as stressful as it used to. Instead, you'll see all of these situations as opportunities to shine. In committee, order will be restored from chaos… and you will be the harbinger of mutual prosperity. You will be seen as The Diplomat. You will command respect in a room of hundreds and the chairperson will see you as a contributor to the well-being of all sentient beings. We're writing a book that starts with these social skills techniques so that MUN delegates can learn the same skills that we teach to our delegates. It's called "MUN-E" and we'll let our friends at Best Delegate know when it's available.