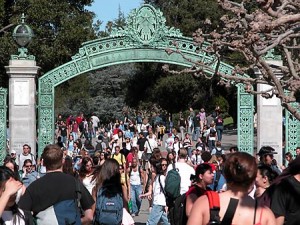 This is certainly one of the most anticipated weekends on the Model UN circuit: Berkeley will be playing host to both the high school BMUN conference and the collegiate UCBMUN conference — Berkeley literally becomes the center of the Model UN world!
Best Delegate's Ryan Villaneuva will be liveblogging at both conferences to kick off our Spring Tour. Check out the conference previews below!
Berkeley Model United Nations (BMUN)
The BMUN conference is one of the oldest in the nation and will be holding its 59th annual session on its campus in Berkeley, California. Over 1,500 high school students are expected to participate in a lineup of 19 traditional UN committees. The conference cause this year is to eradicate global illiteracy. The attendees will be donating to Camfed, participating in a book drive, and receiving copies of 2048: Humanity's Agreement to Live Together. The conference is also known for several innovations: its scholarship and outreach programs and its pre-conference blogs. The Secretary-General is Charlene Raman.
California is home to some of the most competitive Model UN programs in the nation and they will no doubt be bringing their A-games to Berkeley. Southern California powerhouse Mira Costa has been virtually unstoppable this season and dominated MUNUC in Chicago. Assuming the participants will the same as in years past, they will be vying with traditional powers Cerritos, Huntington Beach, and Edison as well as a plethora of club upstarts in Gunn, California High, University, Etiwanda, Peninsula, and others for the state championship.
University of California, Berkeley Model United Nations (UCBMUN)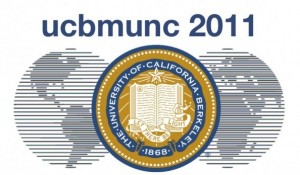 UCBMUN is one of the largest college conferences on the West Coast and draws many of the major programs from the East Coast to its setting in San Francisco, California. Many California programs will also be in contention for the Golden Bear Award, which is essentially the state championship.
The conference has recently switched to an all-crisis and specialized committees lineup and will feature five specialized agencies, four crisis committees, and a three-way historical joint crisis between the Israeli, Palestinian, and Syrian cabinets on the 1975 Lebanese Civil War. The Secretary-General is Bharath Ganesh.
–
Bonus Notes: For those who are curious how Berkeley is able to pull off running two major MUN conferences on the same weekend: they aren't. Berkeley actually has two Model UN clubs that are completely independent from each other and have little to no overlap in membership. One group runs the BMUN high school conference, and the other runs the UCBMUN college conference and the intercollegiate travel team. Most other major Model UN programs have an umbrella organization that brings together their relatively autonomous conference units.
Strategy Tip: West Coast conferences tend to award delegates by cumulative points scored for different actions whereas most other conferences judge holistically. That may or may not be the case at BMUN and UCBMUN — but we're not going to give the answer away. If you're looking to win awards, you should research your conference to figure out how the game will be played.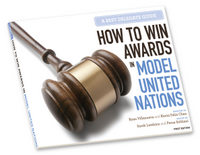 Best Delegate Connections: Most of the Best Delegate team spent their high school and college years competing on the West Coast and are extremely familiar with how to win awards at these conferences. Best Delegate's Parsa Sobhani led the University High School delegation to win multiple Best Small Delegation awards at BMUN, and Best Delegate's Kevin Felix Chan guided the UCLA travel team to win the Golden Bear Award at UCBMUN. We share many of our top award-winning strategies in our guide: How to Win Awards in Model United Nations.
–
Drop a comment for Ryan below if you will be attending either of these conferences!