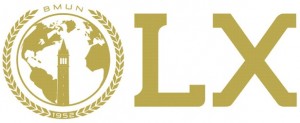 Over 1,500 high school delegates attended the 60th annual session of the Berkeley Model United Nations Conference (BMUN). BMUN was founded in 1952, making it the first and oldest Model UN conference in the world, and its 60th session marks its "diamond year."
Click the button below to learn more about:
Opening Ceremonies: Celebrating 60 Years of Model United Nations
Best Practices: Innovations in Outreach and Technology
Featured Committee: The African Union
Closing Ceremonies: Rapporteur Speeches and School Awards
Plus pictures and video of delegates and staff in action!
Opening Ceremonies: Celebrating 60 Years of Model United Nations
At opening ceremonies, Secretary-General Jason Keovichit kicked off the conference by speaking to the historic significance of BMUN 60, calling it "a testament to six decades of excellence as the world's premier — and very first — United Nations simulation."
Jason was soon followed by keynote speaker Gillian Sorensen, Senior Advisor at the UN Foundation and former Assistant Secretary-General at the United Nations. Ms. Sorensen called upon the BMUN delegates to take the lessons they would learn this weekend and apply them to their lives at school, in their communities, and beyond. The UNA-USA East Bay Chapter arranged for Gillian to speak at BMUN.
Opening ceremonies also featured a speech by Mike Foulkes, State & Local Government Director at Apple Inc. and a BMUN alumnus. He shared his story of how he attended BMUN 29 years ago and how it changed his life, inspiring him to attend UC Berkeley and study politics. Mr. Foulkes also made the most memorable moment of opening ceremonies, showing the audience three items from prior BMUN conferences — a rules of procedure document, a placard, and a BMUN T-shirt — to make the point that all three of these items have changed over the course of many conferences, but what they each represent — learning about the world (the rules), giving every student a voice (the placard), and having fun (the T-shirt!) — has remained constant through the years.
And in honor of its diamond year, the BMUN Secretariat announced that this year's conference cause would be the Diamond Empowerment Fund, a "charity aimed towards providing accessible primary education in regions of Africa affected by the diamond trade."
Best Practices: Outreach, Technology, and Press Corps
Model UN conferences differ from one another around the world. The most experienced and well-run conferences employ "best practices" that other conferences can learn from. Being the oldest Model UN conference in the world, what can BMUN teach other conferences? And did this year's BMUN pick up on best practices from other conferences?
I know from meeting many delegates and advisors around the country that the most difficult part of Model UN is just getting started, which is why I was particularly impressed with BMUN's outreach efforts, led by Under-Secretary-General of Outreach Angela Roh. Before the conference, members of the BMUN Secretariat provided Model UN training for different schools in the San Francisco area. BMUN also hosted a training workshop in mid-October that was attended by 250+ delegates from 20 schools. During the conference, Angela gave a presentation on "Building Your MUN Program" geared towards new advisors. And from speaking with several advisors, BMUN's pre-conference support — handled by USG External Relations Ginny Sklar, who was last year's USG Outreach — was very helpful and responsive.
I also liked how the conference used technology to augment its outreach efforts. The BMUN website contained various resources to help delegates and advisors prepare for the conference, including a series of training videos. Each committee had a blog on the BMUN website, giving delegates a chance to comment on their topics and interact with their chairs before the conference even began.
And I was happy to see BMUN launch its first-ever Press Corps committee. Delegates represented different news groups, such as the BBC and Al-Jazeera, and visited various committees to write stories and take pictures, which they posted online. I've noticed more conferences offering Press Corps committees, which is a great way to share the stories taking place in each committee with an audience throughout the conference and beyond.
Click here to visit the BMUN 60 Press Corps blog
Featured Committee: The African Union
The African Union discussed the topics of gender equality and weapons trafficking, as well as a crisis on gender-based violence and genocide in Sudan. Head Chair Ginny Sklar (who also served as USG External Relations, and who will serve as next year's Secretary-General) drew from her passion for African studies and her experiences studying and working to promote female empowerment in Kenya. The committee was also led by Vice Chairs Sameera Salari and Paige Xio Alvarez.
Click here to read about the African Union on the BMUN 60 Press Corps blog
Closing Ceremonies: Rapporteur Speeches and Awards Results
A BMUN tradition, the delegates of each committee selected two rapporteurs to give a speech during closing ceremonies. Many rapporteurs dedicated their speeches to summarizing their committee's discussion, recognizing the hard work of other delegates, and thanking their chairs. A few rapporteurs expressed these sentiments in the form of rap songs. But my favorite rapporteur speech came from the International Court of Justice — after discussing the issue of whaling rights all weekend, the two rapporteurs decided to read a "letter from a whale," with one of them making whale sounds and the other serving as translator!
Closing ceremonies ended with the Head Chair of each committee announcing individual awards, followed by Secretary-General Jason Keovichit announcing the school awards. BMUN gives three tiers of school awards — one award for a new school, three awards for schools that have Model UN as a club, and three awards for school that have Model UN as a class. And the awards went to…
Best New School Award:
Upper Canada College (Toronto, Canada)
Best Club Award:
California High School (San Ramon, California)
The Dalton School (New York, New York)
St. Ignatius College Prep (Chicago, Illinois)
Best Program Award:
Mira Costa High School (Manhattan Beach, California)
Huntington Beach High School (Huntington Beach, California)
Cerritos High School (Cerritos, California)
Congratulations to all delegates, advisors, and staff on a wonderful conference! And thank you to Jason and the BMUN 60 Secretariat for having me visit!
What did you think of Berkeley Model United Nations? Leave a comment below!
Click here to see more pictures of delegates and staff in action
Pages: 1 2