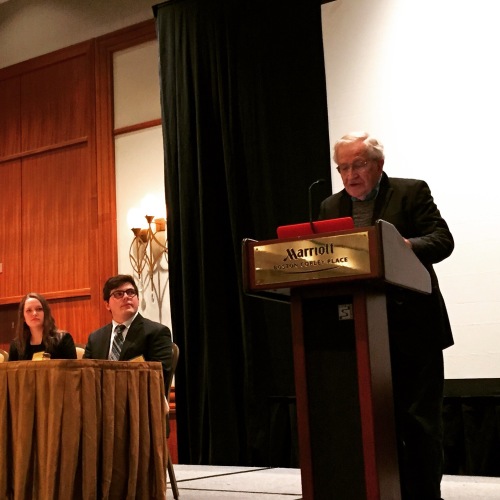 Over 80 schools and 1,200 delegates braved the New England cold and snow to attend the fourteenth annual session of the Boston Invitational Model United Nations Conference (BosMUN), hosted by the International Affairs Association of Boston University at the Boston Marriott Copley Place from February 6-8, 2014.
A big highlight that kicked off the conference was keynote speaker Noam Chomsky, who told delegates to "turn back the doomsday clock from midnight."
Secretary-General Brandon Tomkiewicz led a staff of over 100 Boston University students to organize BosMUN. After closing ceremonies, I asked Brandon what he hoped delegates learned from the conference:
"I hope they learned a new perspective on things. That's why I do MUN; to get perspectives that I don't necessarily have or agree with. But you have to learn to compromise, and learn that other people do have opinions and views, and you have to work with them."
BosMUN featured 28 committees, including a triple JCC on the 1971 India-Pakistan War, the cabinet of Nigerian President Goodluck Jonathan, and Young Hickory's Kitchen Cabinet 1845.
The delegation awards went to:
Best Large Delegation: West-Windsor Plainsboro North (New Jersey)
Best Small Delegation: Beaver Country Day School (Massachusetts)
Outstanding Large Delegation: Phillips Academy Andover (Massachusetts)
Outstanding Small Delegation: South Plainfield High School (New Jersey)
Congratulations to all delegates, advisors, and staff on a successful BosMUN! And thank you to Brandon and Codie for having me visit!