This guest article was written by Taji Alessandra Hutchins  from HMUN -LA Secretariat.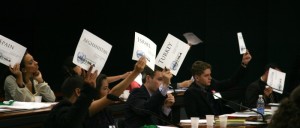 Buenos Aires. Brasilia. Natal. Lima. … Your City!
HNMUN-LA stands apart from other model UN conferences by immersing delegates in the culture and character of the host city. Talented and dedicated host teams have been essential in making past sessions of HNMUN Latin America an incredible experience. We are currently seeking comprehensive, engaging, and feasible proposals for the next Host Team of HNMUN Latin America. If you want to bring the HNMUN-LA spirit to your city, please read through the information below.
Hosting HNMUN-LA is a thrilling opportunity as well as a substantial commitment of time and responsibility. Should a host team be selected, then between March 2015 and January 2016, the host team will collaborate closely with the Harvard team to plan all aspects of the conference.  By combining your creativity and local knowledge with Harvard's sixty years of experience running model UN conferences, we would together create a spectacular and fresh edition of HNMUN-LA for hundreds of delegates from around the world.
Bids for HNMUN-LA 2015 are DUE: 20 March 2015, 11:59 PM EST.
1. Download the bidpack
You may DOWNLOAD THE BIDPACK HERE. This document explains the requirements of a bid proposal, and provides guidelines for the most successful bids.
2. Contact us 
If you have even the slightest desire to submit a bid for HNMUN-LA 2016, then contact us as early as you can at info@nullhnmunla.org with a short description of your bidding team and the proposed host city. This email of intent is not binding, and you should submit an email of intent even if you ultimately do not submit a bid.  We recognize that each bid proposal arises out of a unique set of circumstances, and we want to ensure that every bid we review is able to reach its full potential — we want to be at your service in the bidding process as much as possible.
NOTE: Bid proposals that are submitted without a prior letter of intent risk disqualification.
3. Start EARLY and conduct extensive research. 
The most successful bids are the ones that are most thoroughly researched,  and that combine a captivating vision with a strong consideration toward feasibility.  Start early and do your research well, and be sure to provide extensive detail and to organize the information in an easily understandable manner. Sometimes bids require weeks and months — even years — of careful research and preparation. As soon as you decide to bid, start forming your host team and conducting research. Specifically, start contacting potential conference venues and brainstorming ideas for social events, guest speakers, and other aspects of conference programming.
4. Ban on Publicizing of Bids
No bid proposal, in portion or entirely, may be publicized or disseminated through any form of written communication, including but not limited to email, Facebook, Twitter, blogs, etc. All bids judged to be in disregard of this ban of publication may be disqualified at the discretion of the HNMUN-LA Secretariat.
Please direct any questions or comments to info@nullhnmunla.org
We look forward to reading your bids!