Day 1 of the Columbia Model United Nations Conference and Exposition (CMUNCE) just wrapped up. Opening ceremonies featured a thought-provoking keynote speaker from Amnesty International and equally thoughtful questions from delegates. CMUNCE's committees are almost entirely crisis simulations, including a few fictional ones like Peter Pan and the Lost Boys. And one delegate in particular was inspired to cross-dress…
Black Swan Events and Human Rights
Secretary-General Rhonda Shafei kicked off the conference with a nice speech that spelled out the philosophy behind CMUNCE. My favorite line was about black swan events defining the last decade — referring to September 11 and the financial crisis — which is why CMUNCE's committees are almost all crisis simulations.
She was followed by keynote speaker Larry Cox, executive director of Amnesty International, who opened the conference with an impassioned speech on human rights. He was introduced by this video of singers from around the world getting the United Nations to dance! Students asked really good questions afterwards and did not shy away from controversial topics ranging from closing Guantanamo Bay to whether WikiLeaks is freedom of speech.
Crisis Committee-based Conference
CMUNCE steers away from the traditional General Assembly and ECOSOC simulations, opting instead to run crisis committees almost exclusively. Committees range from futuristic (Republican National Committee 2012) to historical (Boxer Rebellion 1900) and even medieval (King Macbeth's Council 1057). And just like its college counterpart CMUNNY, CMUNCE simulates fictional committees such as the Inner Party from 1984 and Peter Pan's Lost Boys. One of the boys may have taken his (her?) role a little too seriously…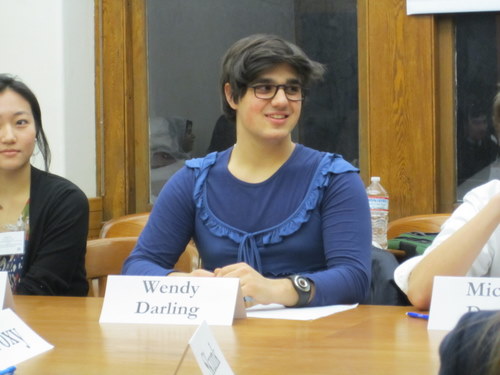 Interview with Oakwood Friends School
I also had a chance to interview a few delegates from the Oakwood Friends School in Poughkeepsie, New York, about what they're looking forward to most this weekend:
Check back for more CMUNCE coverage throughout the weekend!