College Admissions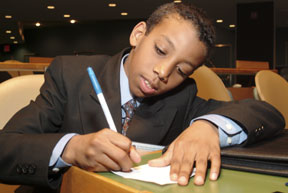 It takes more than good grades and strong test scores to get into competitive colleges. High school students today have to stand out by excelling in their extracurricular activities. Best Delegate helps students stand out through Model UN and leverage their MUN experience to get into college.
Model UN and College Admissions Expertise
Best Delegate has partnered with Kimball Consultants to provide a unique service that combines Model UN and college admissions expertise. We offer the following:
Interview Preparation
Understand the various types of interviews used in the overall admissions process
Ensure your ability to insightfully answer every question
Work towards fluidity and ease of conversation while maintaining confidence
Students will also receive video of each session and personalized evaluations of each session to both see and learn where improvement can be made
Application Assistance
Understand what admissions personnel will think when they read your admissions profile
Choose  schools that are the best match for you based on interests, test scores, GPA, etc.
Write essays and personal statements that stand out to admissions officers
Obtain Letters of Recommendation from teachers who know you best
Interested? Send an e-mail to ryan@nullbestdelegate.com with the subject line "College Admissions" for more information!
Also, check out Best Delegate's insights into college admissions: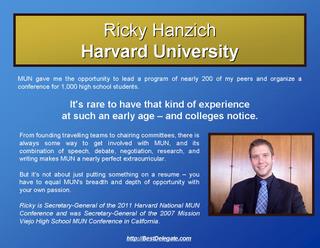 You can also download our free E-Book, "How Model UN Can Help You Get Into College". It features advice, stories, and inspiration from students who got into Harvard, Yale, and other top-ranked colleges because of Model UN.