Best Delegate will be liveblogging all the action at the Harvard National Model United Nations conference (HNMUN) this weekend!
Harvard National Model United Nations (HNMUN)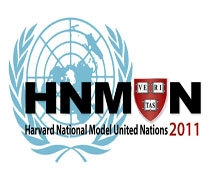 Harvard will be hosting its 57th annual HNMUN college conference this weekend in Boston, Massachusetts. Over 3,000 of the top college delegates from around the world will be competing in twenty-seven committees — making this the largest and most competitive college conference in the world — it's essentially the college championship.
The University of Chicago is the defending Best Large Delegation and Yale University was the Outstanding Large Delegation last year. West Point is the defending Best Small Delegation, and the powerhouse United Netherlands team beat out several Venezuelan universities to win Best International Delegation last year.
Secretary-General is Ricky Hanzich will be leading a staff of over 200 Harvard students. Harvard fosters a high-level of debate by buttressing its committees with guest speakers, expert witnesses, and multimedia presentations.
As an example, here is this year's KGB Committee trailer:
The Circuit also previewed the KGB Committee and provided this analysis:
The crisis staffers include Harvard Head Delegate Peter Bacon and former Georgetown star Drew Peterson.

But it gets better. This is basically the all star game. Amongst the known delegates participating are leading Heismun heavyweight Sean Mirski (UChicago), McMUN Secretary General Nida Nizam, West Point veteran George Lemeur, Mount Holyoke Model UN President Laura Bernstein, and rising UPenn star Alex Haber.

This just might be the most competitive committee on the collegiate circuit this year.
Best Delegate agrees. We've met many of these delegates during our liveblogging at CMUNNY, SCSY, NCSC, and McMUN earlier this year, and these are among the best on the college circuit. Sean Mirski won Outstanding Delegate (Best Delegate) at UPMUNC and Nida Nizam won Best Delegate at NCSC. George LeMeur and Laura Bernstein have met and been noted by Best Delegate during the season and Alex Haber's name has also been mentioned several times.
Besides the substantive excellence of the conference, Harvard also puts on a variety of social and educational events for delegates, including: Club Night in Boston, Model Casino Night, Cocktail Hour, the Summer Opportunities and Career Fair, and the Delegate Dance.
HNMUN's charity fundraising efforts this year will benefit Millennium Promise which works toward the UN Millennium Development Goals.
And of course, HNMUN wouldn't be complete without all the merchandise that will be available for purchase. HNMUN does not fall on Valentine's Day this year — a rarity that many college MUNers can attest to — but they will still be selling the traditional Valentine's red roses that have become an icon at the conference.
Best Delegate wishes all delegates good luck and to have a fun weekend!
**
Editor's Note: Ricky attended high school with Best Delegate's Ryan Villanueva and headlines in our first free E-Book How Model UN Can Help You Get Into College.
**
Leave a comment below for Ryan if you will be attending HNMUN!