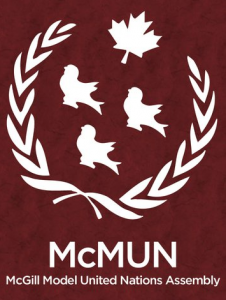 The McGill Model United Nations Assembly (McMUN) 2013 will be expanding from 25 to 26 committees and wants college delegates to vote by April 1st for the committee that they would like to be most simulated! Vote below or read the rest of the article for the contest description!
McMUN 2X13, or the quest for the 26th Committee
Greetings Model UN lovers,
McMUN 2013 is expanding from 25 to 26 committees, and, in the spirit of innovation, we are attempting something new this year. Recognizing that our conference is nothing without our delegates, we desire your input in order to decide the future of one of the committees that we will be simulating next January. McMUN is dedicated to ensuring that the committees we simulate touch upon both historical and present-day issues that you the delegates are inspired by, interested in and passionate about. And although you may not have attended McMUN in the past, or may not even be sure that you are attending McMUN in the future, we want to hear your opinion!
So, it is up to you to VOTE, and the committee that earns the most votes will be SIMULATED at McMUN 2013! With this in mind, we would greatly appreciate your knowledgeable answers to two of the shortest questions you have ever seen! Please note that, in consideration of our committee-staff preparations, the deadline to complete this survey is April 1 at 11:59pm. The McMUN 2013 Sevretariat would like to thank you in advance for your valuable answers.
Please pick the ONE committee that you would be MOST interested in seeing at the expanded McMUN 2013:
DC Comics
Wall Street (2008)
For any questions, feel free to contact Daniel Stysis (USG Chargé D'Affaires McMUN 2013) at charge@nullmcmun.org