The College Model UN season is back! Best Delegate has provided the conference schedule synopsis for the university-hosted circuit, league previews, and preseason rankings. Our team of Media Associates will help cover the conferences this year and we'll be liveblogging a few major ones well — make sure you say hi!
Finally, make sure you vote for your favorite teams in the polls below!
**
Disclaimers
These preseason rankings are mostly subjective based on last year's results and our scouting reports. They should be taken with a grain of salt as we won't know which teams are good until they participate at the conferences.
This article is meant to cover teams that participate in the North American circuit of university-hosted conferences where competition is a focus (previously referred to as the World Division on Best Delegate). It is not meant to cover all college teams. There are excellent college teams and conferences that do not see Model UN from a competitive lens and aren't mentioned in this article.
Teams are grouped into "leagues" in the spirit of the college football season. Teams are placed by geography rather than real athletic conference in order to create balanced leagues. Apologies in advance to teams that got re-assigned from their real athletic conference.
We'll go back to combined top 25 rankings once we have real data to input into our rankings formula.
**
Conference Schedule Synopsis
The season starts with an intriguing double-header as Columbia CMUNNY and Yale SCSY take place during the same first weekend of October. There's another double-header the following week with Boston University BarMUN and Cornell CIAC. The university-hosted circuit gets the traditional bye week during the third week of October to prepare for the first major meetup at Georgetown NCSC. Teams will have a quick turnaround to prepare for the "fall championship" as U.Penn UPMUNC is back on its traditional second weekend of November. The Fall season doesn't end there though as there are a few more conferences in November highlighted by UC Santa Barbara's SBIMUN which has a chance of becoming the largest university-hosted conference on the West Coast.
After winter break, teams will compete at two of the largest college conferences in the world at McGill's McMUN in January and Harvard HNMUN in February. Both of these two conferences along with UPMUNC will have a significant impact on the final rankings. The rest of the spring schedule features crisis-oriented conferences including mid-sized meetups at Berkeley UCBMUN, Virginia VICS, and UCLA LAMUN. Most teams will end their season at the much larger U.Chicago ChoMUN. William & Mary's &MUN and the Florida Crisis Simulation (FLCS) are two new additions to the Spring small crisis conference lineup that includes peers such as Princeton PICSim, NYU's NYUMUNC, West Point WPSC, Five College FCMUN, Brown BUCS, North Carolina UNCMUNC and more.
Ivy League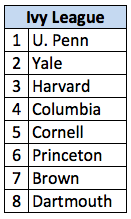 There is perception and there are statistics, and the top two in the Ivy League each face one of those challenges. The University of Pennsylvania finished ranked #2 overall last year based on statistics by placing in the top five at all of their circuit-high nine conferences last year, but we heard some grumbling from other elite teams that won at fewer conferences but beat U.Penn at head-to-head matchups. U.Penn, led by Head Delegate Alex Haber, returns an experienced lineup and their challenge will be to change this perception by winning delegation awards. Yale University, on the other hand, finished undefeated with three delegation awards but was ranked lower than U.Penn. The perception that they are elite is there, especially after their dominance at HNMUN last year, but the statistics show that Yale won awards at three conferences whereas the average among top-10 teams was winning at 6.3 conferences. Yale Head Delegate Lizzie Hylton will try to guide a young but talented Yale team to not just a top ranking but to also reclaim the Harvard WorldMUN Best Delegation title when they travel to Australia this Spring.
Harvard had some growing pains with its young team last year but the team learned quickly, and Head Delegates Timothy Tsai and Rodolfo Diaz will have a lot of help in contending for delegation awards and a top-five ranking this year. Columbia seemed to get one of the strongest freshmen Model UN classes in recent history and it'll be interesting to see if Head Delegates Shunsuke Hirose and Jorja Knauer can translate that into greater success on the college level. Cornell worked hard to break into the top 25 last year and returns enough talent to try to change the Ivy League pecking order. Princeton and Brown are both putting new emphasis on their travel teams and both teams have a chance at breaking into the top 25 given the amount of improvement they showed last year. Dartmouth will look to get onto the awards scoreboard this year.
[poll id="19″]
"Big East"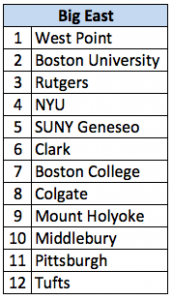 There's a lot of competitive balance at the top of this league. West Point, Boston University, Rutgers, and NYU are all really good. West Point had a pair of delegation awards last year but the underrated performance that really stood out to me was when it finished third overall at Yale SCSY, showing that it has the ability to win as if it were a large delegation. Boston University ended its season last year with a delegation award at ChoMUN and returns a solid squad that hopes to ride that momentum into this year. Rutgers needs to put in more performances like it did at NCSC last year where it tied with Yale for third overall. NYU can make waves it if kicked it up a notch by turning some of its many verbal commendations into Honorable Mentions. It'll come down to consistency for these four teams.
The league is deep with many other teams that can contend for top-25 status too. SUNY Geneseo is a darkhorse in this league; it's been holding its own against top teams at smaller conferences, and a similar performance at a larger conference like McMUN can really help put them on the map. Mount Holyoke will need its young team to step up now as almost all of their award winners from last year have graduated. Clark had a surprising down year last year and will look to rebound. Boston College and Colgate are both up-and-coming teams that have the potential to finish in the top-half of this league. Pittsburgh, Middlebury, and Tufts all have a few delegates that can win awards on the circuit.
[poll id="20″]
"Atlantic Coast Conference (ACC)"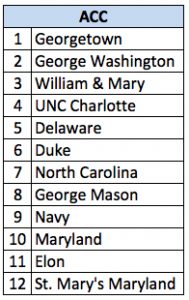 Georgetown will seek to defend its championship this year, and Head Delegate Dane Shikman returns one of the most experienced lineups on the circuit to do so. In order to make up for not being able to attend HNMUN, Georgetown will need to repeat a similar performance as last year by winning Best Large Delegation at UPMUNC, McMUN, and ChoMUN (the next three largest and most competitive conferences). Two challengers will come from George Washington University and the College of William & Mary. GWU achieved a top ten ranking last year despite fielding almost all freshmen, and its now sophomore-heavy team led by Max Sanders and its new crop of freshmen Colonial Cadets will look to break into the top five with a circuit-high lineup of 11 conferences. W&M should have a solid team this year and as it traditionally sends its largest team to McMUN, it will be one of the primary contenders to close the gap between Georgetown (which won 40% of the gavels at McMUN last year) and the rest of the circuit there.
The pecking order beyond those top three is wide open. UNC Charlotte is good but we'll see if they attend a university-hosted conference this year. George Mason flew under the radar last year with a team that won a few awards. Delaware had a down year last year, but it still has many team members from its highly-ranked 2010-2011 campaign so it has the potential to rebound. Duke, North Carolina, and Navy all have teams that have demonstrated success in the past and with a little more consistency can finish in the top-half of this league. Maryland, St. Mary's of Maryland, and Elon all have a few delegates that can win awards on the circuit.
[poll id="21″]
"Southeastern Conference (SEC)"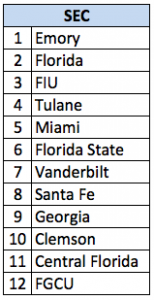 The balance of power is shifting in the SEC, the training opportunities are getting better with conferences such as FMUN and FLCS, and there are many teams who could end the season ranked in the top 25 this year. Florida International University broke into the top five last year, but it has a much younger team this year. FIU can either quickly overcome its growing pains as it did last year, or it could drop out of the top five and enter a rebuilding year. Emory will look to build on its sixth-place overall finish at HNMUN last year and break into the top ten. But the real rapidly-rising team in the SEC is the University of Florida. Florida surprised the circuit with a dominating victory at VICS last year, and its young team is determined to find even more success on the circuit.
Those three teams look good, but it's far from certain that they'll be the only ones in the top 25. Tulane, Miami, Florida State, and Vanderbilt all have the potential to be in the top 25 and even end up ranked higher than one of the three aforementioned teams. Each of these teams have a few delegates who can contend for a gavel, but the key will be to develop more consistency across the team. Santa Fe College is good and will look to make some noise on the circuit, while Georgia, Clemson, Florida Gulf Coast University, and Central Florida will look to maintain their status as award-winning teams.
[poll id="22″]
"Big Ten"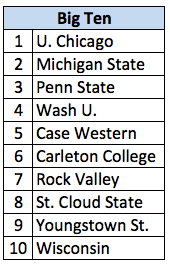 The University of Chicago is still heads-and-shoulder above everyone else in the Big Ten. Head Delegates Mark Mahvi, Parvathy Murukurthy, and Susannah Wang will have a strong team to work with this year despite the team graduating a very strong senior class last year. U.Chicago placed first or second at every conference it attended last year. In order to achieve the top rank, U.Chicago will need to finish ahead of its large delegation rivals at the two most competitive conferences that it attends — Georgetown at UPMUNC and Yale at HNMUN. Michigan State is led by Chris Bourdganis and is still a clear #2 in the Big Ten, but like William & Mary, it will need to put on a stronger performance when it's at full-strength at McMUN to close the gap between it and the elite teams like Georgetown.
It's unclear who else will make headlines in the Big Ten. Penn State ha the best chance as it found success last year and was able to differentiate itself from the pack. Washington University in St. Louis has a good chance, as does Case Western Reserve University if it can rebound from a down year last year. Carleton College, Rock Valley, St. Cloud State, Youngstown State, and Wisconsin will look to continue being on the awards scoreboard.
[poll id="23″]
"Pacific-12 (Pac-12)"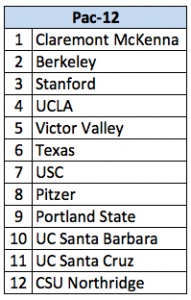 Claremont McKenna has established itself as an elite team at the conferences, and their marketing materials for their brand-new McKenna MUN high school conference has made it clear that they are the best team in the West. They might not be the biggest team in the Pac-12, but they have some of the strongest delegates and the team can be even better as it continues to grow this year. Three contenders will look look to re-establish themselves as the top team in the Pac-12 though. Berkeley returns a solid group of delegates led by Head Delegate Shannon Thomas from its nationally-consistent campaign last year, and its upset of CMC at LAMUN showed that it has a good chance to be #1 in the Pac-12 this year. UCLA is very good when it's at full-strength, but Head Delegate Kyle Khandikian will need to restock its roster quickly as the team graduated several top seniors. Stanford made a big improvements last year when it decided to focus on training its travel team and has the potential to jump both Berkeley and UCLA if it can develop more depth in its team.
Texas had a relatively quiet year last year in terms of awards but it seems to have a solid roster this year. Texas is one of the few teams in North America that have a good history of traveling abroad, and they'll be going to the University of Peace UPMUNC in Costa Rica this season. USC is starting to focus more on its travel team and got on the scoreboard last year. USC can really make waves in the Pac-12 if it figures out the crisis circuit quickly. Victor Valley might have a better team than even Berkeley and UCLA given its performance at SBIMUN last year, but the team doesn't participate in many university-hosted conferences. Pitzer, Portland State, UC Santa Cruz, Cal State Northridge, and UC Santa Barbara all have a few delegates who are really good and can win awards at the national level.
[poll id="24″]
"Canadian Interuniversity"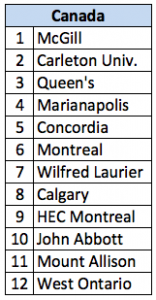 McGill has traditionally been Canada's top team, but will there be a new challenger this year? McGill returned to the top 25 last year under the leadership of Head Delegate Keagan Tafler, and Keagan will renew her role as a more trained and seasoned McGill team looks to find even more success this year. But Carleton University is rapidly rising and proclaimed themselves to be Canada's best Model UN team after a very successful effort at HNMUN last year. These two universities should be the top two contenders in Canada.
However, there are a lot of other good teams. Queen's University has found a successful niche by participating at smaller conferences. Marianapolis and Concordia are both consistently good. Montreal and Wilfred Laurier have also had a few good delegates on their teams in the past. Calgary, HEC Montreal, John Abbott, Mount Allison, and West Ontario were all able to get on the scoreboard last year. Overall, Canada has a lot of solid teams. The big showcase event is undoubtedly McMUN, but some of these teams are starting to travel to the USA and have found success there. Consistency across conferences will differentiate the top Canadian teams.
[poll id="25″]
"Atlantic 10"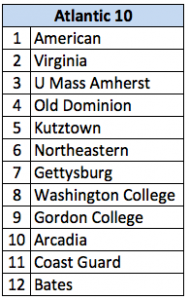 The Atlantic 10 is made up of teams from throughout the Northeast and Mid-Atlantic that have shown they can win a few awards every year. Virginia and American usually have solid talent on their teams to win awards. American was particularly active near the end of last year. In comparison, the University of Massachusetts at Amherst made a big splash at the beginning of last year with a small delegation award and could contend for another one. Kutztown, Old Dominion, and Northeastern are three teams that have a history of success on the circuit. Gettysburg and Washington College are also up-and-coming teams. Gordon College, Arcadia, Coast Guard, and Bates will look to maintain their status as award-winning teams.
[poll id="26″]
**
We wish all the teams and conference organizers good luck and fun times at the conferences this year, and we look forward to hearing about your success!