*The following Recap was provided by Madeline Connors, USG for Operations at HNMUNLA 2014*
University delegates from around the world convened in Natal, Brazil for the third session of Harvard National Model United Nations Latin America, 9 to 12 January 2014. The session was held at the Praiamar Convention Center and represented a collaborative effort between Harvard and Universidade Federal do Rio Grande do Norte, the Brazilian host team led by Dayana Souza and Manuela Bocayuva.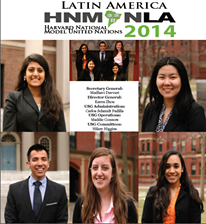 HNMUN-LA attracted delegates from ten countries and 18 schools to engage in debate in eleven committees. The committees spanned geography and history, from the Historical General Assembly debating atomic energy in the 1940s and the UN Environment Programme addressing protection of the Brazilian environment in the year 2020 to simulations of the ministerial cabinet of Getúlio Vargas and the Board of Directors of the Inter-American Development Bank. Other topics at the conference included cybersecurity, chronic and drug-resistant infections, and women's rights. HNMUN-LA 2014 also featured a Portuguese-speaking committee, Comissão de Relações Exteriores e de Defesa Nacional. The activities of these committees were covered by the Third Party Actors program, which featured organizations such as Al Jazeera and Folha de Sao Paolo to report on the conference.
Secretary-General Madhavi Duvvuri reminded delegates their work at the conference would be meaningful and urgent when at opening ceremonies she remarked, "You are not the leaders of tomorrow. You are the leaders of today." The ceremonies also featured remarks by Dr. Thiago Aragao, a sociologist and political strategist. HNMUN-LA debuted its speaker series at the 2014 session, featuring Marilia Marciel of the Getúlio Vargas Foundation, Fabio Zanini of Folha de Sao Paolo, and Eugenio Aragao of the Brazilian Attorney-General's office, as well as a presentation about high-impact entrepreneurship by nonprofit Endeavor.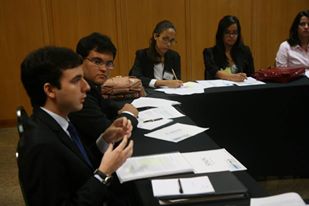 After lively committee sessions, delegates enjoyed social events at venues around Natal, where they could indulge in local music, dancing, and food and drink. The first night brought delegates to Praia Devassa, with a beautiful view of the sea. In the second event at Paçoca de Pilão, delegates and Harvard staff alike learned Brazilian dance moves. Club Night, at Favela Pub, offered delegates an opportunity to celebrate new friendships formed throughout the course of the conference.
At closing ceremonies, rapporteurs—delegates elected by their committees—delivered speeches about their committees and what they accomplished over the weekend. Delegates all shared the value of the friendships they formed with their peers and how much they enjoyed the fast-paced, crisis-based substantive work. The delegates and staff proudly celebrated the conclusion of a successful session of HNMUN-LA.