The following recap was provided by Abiel Gutierrez, Secretary-General for IMMUNS 2014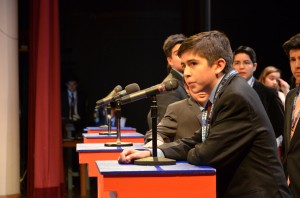 IMMUNS 2014 was successfully carried out just as its previous years. This year, international delegations were not present at the conference because many of them were concerned about the security in Mexico. However, we did receive many excellent participants from different parts of Mexico. There were a total of 343 delegates from both high school and middle school. Our school, American School Foundation of Monterrey, accounted for 101 delegates and the rest of the delegates came from the eighteen other schools that participated.
The simulation was organized by the Secretariat class, part of the MUN program from ASFM's Social Studies department. The Secretary-General, the Sub-Secretary-General and our MUN adviser oversaw five different departments: Finance & Public Relations, in charge of getting sponsors and hiring a guest speaker; Hospitality, in charge of inviting schools and coordinating their stay in Monterrey; Human Resources, the backbone of all topic development and committee functioning; Information and Technology, which produced all the documents and media; and Logistics and Recreation, in charge of organizing all out-of-session events.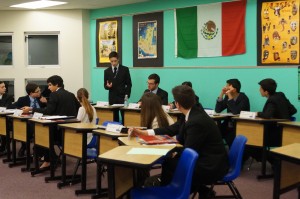 We had 20 different committees, most of which were actual UN committees and each had two different topics to address. This year, we introduced new committees such as the Mexican Cabinet, U.S. Cabinet and the Seminario, with the purpose of providing the delegates with a new MUN experience different from that of years prior. In it, delegates had the chance of representing a specific member of Enrique Peña Nieto and Barack Obama's actual presidential cabinets, and debated over two topics: first a local one, pertaining exclusively to each country, and then a crisis – developed by Human Resources that involved both countries and required cooperation between them. The Seminario, on the other hand, was a Spanish-speaking committee in which delegates represented themselves, rather than countries, and debated on topics pertaining to Latin America's youth.
In this edition of IMMUNS, we continued to offer unique activities to distinguish ourselves from other simulations. We held the Mexican dinner and delegate party after the first day of debate, where delegates could interact and get to know each other. On the second day, we offered an Oriental-themed lunch, which included a display of karate from a local martial arts academy. Another noteworthy activity was the Game Show, where each school chose a representative to participate in a trivia contest that showcased the delegates' knowledge of world history, current events, geography, and UN basic facts. The game progressed from a round of Jeopardy to MUN Feud, and then to The Stat is Right. At the end, the two surviving participants faced off in a one-on-one 7-question contest. The "mixed session" also provided ground for cross-generational learning, allowing high school and middle school delegates to discuss the solutions that each committee had proposed.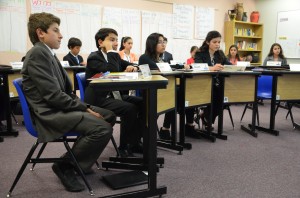 Another highlight of this year's conference was our guest speaker Dr. Trita Parsi, the founder and president of the National Iranian American Council and ex-representative of Sweden in the United Nations. Dr. Parsi talked about the importance of diplomacy in the modern world, and how it translates into a give-and-take relationship between countries. During the question and answer session, he shared his experience of having to leave his native Iran during the 1979 revolution, and how this motivated him to get involved in international relations.
By the end of the third day, resolutions were passed by each committee and a general sense of achievement was felt by the delegates. As always, awards were given out to the delegates who performed exceptionally, and all delegations left satisfied with the overall experience provided by IMMUNS. We can't wait to invite even more delegations to IMMUNS 2015, and we will work arduously in order to offer the best MUN experience possible.
Please visit our website for more information.