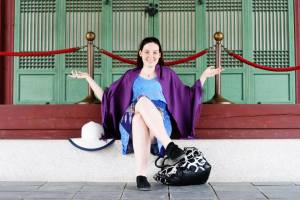 Miranda Melcher is the Secretary-General of the Yale Model United Nations Korea 2015; the registration for YMUNK 2015 has been open. Please visit: http://www.ymunkorea.yira.org/ to register.
I took writing this article very seriously—even more seriously than the one that I've planned to write for my school newspaper. Introducing a woman like Miranda to the MUN audience is to me a personal privilege, one of the most meaningful and important assignments.
You see, I simply believe that you should know a woman like Miranda. Regardless of your temperament, academic inclination, personality and career path, you can and should always make room for a person like Miranda. This goes beyond for students in the MUN world. She is your mentor, friend, teacher, and strong shoulder.
But if you already belong to the MUN community, chances are that you have already heard of her, gotten to meet her, and those of you who have been lucky enough—gotten to be her friend. Miranda's influence on the MUN community has been beyond popular: it also has been deeply meaningful.
There are many factors that make her such an influential leader in the MUN community. Beside her admirable characteristics students should learn to emulate—firm, honest, caring, well-rounded, far beyond what the word intelligent can justly describe a person—, Miranda knows what MUN stands for. She understands what is at the very heart of the MUN community and has been thus far investing her intellect, leadership, and every bit of her into teaching MUNers what it is.
A third-year International Relations student at Yale and a personal blogger who collects a wide range of global news, she is undoubtedly an international relations guru. She often makes other MUNers look bad; her knowledge is simply vast. Her obvious intelligence and extensive knowledge of international relations, however, are not what makes her fit to lead the MUN stage. It is the philosophy behind her MUN career that makes her stand out, even amongst some of the greatest leaders in the MUN world.
Miranda is all about pushing individuals to their limits. A preacher of tough love, she meets you at where you are but always presents something just reachable should you put the required amount of effort. Working with her is thus fulfilling, rewarding and inspiring. Upon working with her, you come out stronger, not only with deeper knowledge but with more meaningful confidence in yourself. Her leadership makes you think: I just might be able to change the world.
But make no mistake. Even though her love is mainly about toughness and challenge, she is one of the most caring individuals you will ever meet. She challenges you, because she has faith—faith that you will do better, you will grow, you will step up, you will lead, you will study, you will find yourself, and you too will dream bigger.
It is with this philosophy I believe that Miranda is running next year's YMUNK. It excites me to know that a woman like Miranda is in charge of one of the most influential MUN conferences in the world. But it also makes me hopeful that through her influence in Korea, the MUN community in Korea may be able to move forward with a purer spirit: that we become more driven by the MUN's original intent, continue to retain and refine its true meaning, and become less afraid of organizational challenges we must meet to better ground ourselves in the societal context of South Korea.
Miranda, challenge on. That's how you taught me to dream bigger, better and stronger. And I believe you will inspire just the same in all participating students in YMUNK 2015.
The interview will be uploaded shortly. Please stay tuned!