As the tension makes our hearts beat faster, our hands clench into fists and the anxiety rises. We take a step into the conference with high hopes, with fortified dreams of achieving feats that can only be accomplished in these halls. The seventh annual session Dubai International Academy Model UN (DIAMUN) begins.
With great preliminary success, this year's conference has seen a variety of critically acclaimed committees and positions ranging from panelists in the Nuclear Security Council (NSS) to the introduction of two new committees: Special Conference on International Migration (SPIM) and a local based committee centered around UAE, known as the Federal National Council (FNC).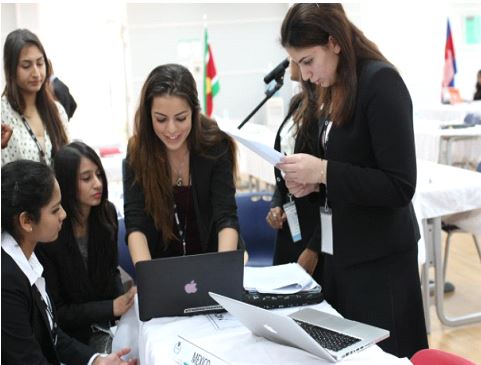 With a record 1000 participant body, DIAMUN has seen attendances from 53 schools from 4 different continents. For a lot of avid MUN fanatics, DIAMUN is an escape from the daily average lives that they all have become so used to. The grueling, yet educational three days with intense debate on a variety of international issues demand immediate attention and create long lasting friendships.
The beauty about this conference is the number of skills, both gained and offered. Delegates, Student Officers and the Executive Team members alike are all able to gain life skills on a learning curve that they can take on with them in the future. Here at DIAMUN, the aspects of internationalism, leadership, social and global networking and opportunities to hone public speaking and debate skills are showcased.
Whether it was the question of protecting and securing a life for international migrants or evaluating the UAE's 2030 Carbon Emission Reduction Plan, the conference attendees and their delegations were steadfast and strong in their approach. Making sure to counteract ever-possible root cause of the problem and come up with comprehensive and cohesive solutions that were sustainable in the long term, many excelled throughout the set form of debate.
A highlight though, was the merged committee crisis between the NSS and Security Council (SC) to form a committee known as the NSC (Nuclear Security Council) which took upon itself to overlook the impending threat from a hypothetical problem of Iran having attained nuclear and uranium stockpiles threatening to bomb US cities.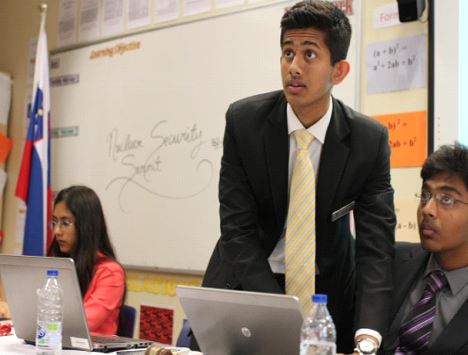 Looking back at what DIAMUN started as in 2009, we have come a long way since. The growth and level of quality each year has heightened with numbers peaking over each the last. This DIAMUN was an absolute success, a monument to Innoventures celebrating their 10-year anniversary.
We only hope to continue and provide for this unique experience to each and every of our delegates in the coming years as well as see improvement in terms of the conference. It was an absolute pleasure to be a part of this wonderful experience and with hopes high, look forward to the continuity of this progress next year.
(This conference recap was by Suhail Mayor, Deputy Secretary General)
For more information about DIAMUN, check out their website and Facebook.