Over 550 delegates from Southern California attended this past weekend's El Toro High School Model United Nations Conference (ETHSMUN) from March 24-25.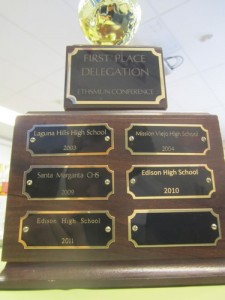 Led by Secretary-General Yasmin Kakar, Deputy General Ryan Weng, and advisors Eleanor Carmichael and Stacey Arroyo, ETHSMUN simulated 20 committees ranging from the General Assembly Main Committees and the UN Office for Outer Space Affairs to the World Economic Forum and the US Presidential Cabinet.
Edison High School received the Best Large Delegation Award and will get its name inscribed on a trophy alongside previous winners.
ETHSMUN simulates Security Council differently than other Model UN conferences. They break up the Security Council into 3 sub-committees: Military, Terrorism, and Humanitarian. All 3 sub-committees discuss the same topics — in the Advanced Security Council's case, the topics were the Conflict in the Caucuses and the Illegal Diamond Trade in Zimbabwe — but the sub-committees are expected to address different aspects of the topic per their names, e.g. the terrorism sub-committee deals with aspects of the topic related to terrorism, etc.
Each Security Council member, then, has 3 delegates — 1 in each sub-committee — making El Toro's Security Council simulations into triple-delegation committees. Delegates in each sub-committee draft resolutions on the topic and then delegates of all 3 sub-committees convene for a "Resolution Committee" (called "ResCo" in short) to merge their respective resolutions.
Check out pictures of delegates and staff in action below!
Congratulations to Yasmin, Ryan, Ms. Carmichael, and Mrs. Arroyo on a great conference!
What did you think of ETHSMUN? Let us know in the comments below!