Recap submitted by: Michael Bediako from Elmont Memorial High School
The award winning Elmont Memorial High School Model United Nations team after rigorous preparation and debate has emerged victorious as the Best Small Delegation at the WEMUN conference in Beijing, China which took place from July 28 to August 6.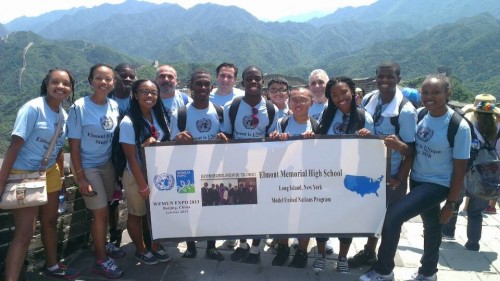 Model United Nations is a simulation of the United Nations with participants from national and international schools competing to debate issues which plague the international community. ElmontMemorialHigh School's Model United Nations Program has had a long history of excellence, and unparalleled success winning countless awards since the clubs inception. The program began in 1978 under the guidance of the visionary educator Mr. Lee Marcus. At that time, 9 student pioneers went to the North American Invitational Model United Nations (NAIMUN) conference at GeorgetownUniversity representing the nation of Bolivia. 35 years later, another group of 9 students with deep reverence for those who came before, especially the original 9 in 1978, carried the flag and went to the WE MODEL UNITED NATIONS CONFERENCE (WEMUN EXPO).
On July 28th, these nine students: James Bailey, Michael Bediako, Darnell Marescot, Leanna Faulk, Ashley Reese, Mykelle Richburg,  Christian Butron, Chukwudi Kanu, and Isaiah Genao embarked on their journey to China representing the nation of Bolivia and the Russian Federation. The conference featured schools from 22 countries and approximately 1500 students who all have the potential to be the future leaders of their respective countries, but yet, Elmont triumphed and emerged victorious.
Below are comments from the students:
Leanna Faulk:" Going to China for the first time was an amazing experience. It was such an honor to represent my school as well as my community. One of the memorable moments was getting to climb the Great Wall but hearing the Elmont Memorial High School's name called for "Best Small Delegation" was a little bit more satisfying. We were welcomed by so many people; we felt like celebrities. I wasn't only happy that I was able to go to China but also that I was able to go with such intelligent and diligent students. We don't feel just feel like a team but a family".
Ashley Reese: Honorable Mention Award
"The WEMUN conference was by far one of the best experiences in my life. From spending my 17th birthday in China to making long lasting friendship with students from all over the world. Those ten days of my life I will truly never forget. It feels especially great to come home with the win, not just for me nor my family but for the community as a whole. It's nice to know I made everyone proud and I would definitely make a trip back to China in the up in coming years".
Mykelle Richburg: Best Delegate Award
"I can honestly say that while I was in Beijing, China, I enjoyed myself immensely. I had the opportunity to meet with people from all over the world, get a taste of other cultures and experience life in another country that is not similar to America."
James Bailey: Outstanding Delegate Award
"This Model United Nations trip was filled with memories that I will never forget. Meeting new people from all across the world and being able to come and work together to solve an issue was without a doubt memorable. We were able to learn about many different cultures in such a short amount of time. In addition, winning was a huge experience but the lessons and experiences gained make my experience that much greater."
Christian Butron: Outstanding Delegate Award
"Despite the fact that most of the attendees of the conference did not speak English natively, debate was heated from the moment I first stepped into the committee. I found myself arguing passionately with people from across the world. Thankfully, the barrier did nothing to stall debate nor did it quell the emotions during debate. The committee was like the ideal version of the United Nations. People from all around the world can disagree with one another so much, unilaterally hate each other by policy and yet we can still be friends outside of committee. Events such as the Global Village which is an Expo of World Cultures works to remind us that we are a world community in the end, one in the same yet so diverse at the same time. Our time at the conference was far too short in my opinion for there was still so much we could've done. Nonetheless, I am grateful for this experience and how much it has taught me about the world".
Isaiah Genao: Honorable Mention Award
 "It was a great experience, not only did we expand our knowledge of international politics but we also got to learn how to interact with people from other countries and get the real international experience. The trip also taught me that the world has many different places and languages and it proved that our globe is truly multidimensional".
Chukwudi Kanu: Outstanding Delegate Award
"I am proud to say that the China Nine competed in the 2013 WEMUN Expo and won best small delegation. This was a once in a lifetime opportunity and we made the best of it by giving it our all. It is also an experience that has changed my thoughts in regards to people living in other parts of the world. Prior to going to the conference I thought that it would be just like another conference. The usual people, back to back committee sessions, and staying up late to make sure we were prepared for the next day. However, during the conference I met many new people, from different countries and cultural backgrounds, and with different views of the world. We even got to see people express their culture at the Global Village during the expo, which is one of my personal highlights from the conference. I like the idea of different people from different places being able working together for a common goal. It shows that despite all the language barriers, different points of view, and cultures, people from different parts of the world can work together effectively to achieve something, whether it's in a committee session, the United Nations, or anywhere in the world. If anything, I can definitely say that I won't forget this experience."
Darnell Marescot: Best Delegate Award
"What we learned in Beijing at the ages of 14-17 are events that most are not privileged to experience over the course of their lifetime. We represented our nation's exuberance, knowledge, diplomacy, and ability to debate, but most importantly we exemplified our ability to teach and learn from the experiences of different nations from around the world. My friend Larry is a 14 year old from Shanghai. In the span of a week he exemplified traits that we can all learn from. He was genuine, smart, hard-working, and humble. The goals he thought to be dreams were the very things we think to be reality and it forces him to work harder and achieve more. Therefore I recognize my trip to China as a dream chance to interact with the brightest minds of my generation and be humbled by the opportunities that we were given to befriend people that will lead their respective nations. To represent the intelligence, dedication, and support of the Elmont community overseas and lead eight of the brightest minds in America to bring home a best delegation award to our school was easily memorable week to say the least."
For me, the WEMUN EXPO in Beijing China was an experience that I will certainly never forget. It was amazing to realize that you were literally on the other side of the world and completely removed from the everyday life I grew so used to back in America. Viewing firsthand the beautiful culture and the cultures of students from other international schools proved that the world is truly a myriad of different views, languages and ideologies. An essential part of Model UN is building consensus and because of that, I was able to collaborate and work with other international students who I can now consider my colleagues. As a member of the team which has been dubbed the China Nine, I can attest to the countless hours of work and rigorous research which all members of the club put in to prepare for the conference. Being recognized as the "Best Small Delegation" feels especially great and adds to the experience I had.  It is an honor to receive the "Best Position Paper Award "and to say that as a club, we came, we saw and we conquered. "
The China Nine set out to make the community proud and we certainly accomplished that goal. Mrs. Nkenge Gilliam and Mr. Melvin Kohn, as faculty advisors to the program have helped continue to the award winning legacy which was started with Mr. Lee Marcus. Their dedication as advisors along with their commitment for excellence continually inspires students to triumph. In addition as a representative of the China nine and on behalf of our Model United Nations program, special thanks must be given to Elmont Memorial High School's building Principal Mr. John Capozzi. Mr. Capozzi supported the program wholeheartedly and gave his all to making the trip a reality. A special thanks must also be given to all those who donated to the program to help finance the cost of the trip and that includes members of the community, our elected officials, teachers and former Model United Nations alumni. Thanks to the help of the community, the China Nine was able to live up to the standards of the first nine and celebrate the clubs 35th anniversary with a win at an international conference.
Additional photos: