Introduction
For years, the fall rankings have been a staple of the North American collegiate circuit, whether it be for inspiration or for motivation. What we seek to accomplish is to report and analyze the wide variety of schools and their entrances to the competitive Model UN season. The schools that rank the highest on the list show a consistency in their programming and preparation to set up their delegates to succeed in committees. What we attempt to uncover is the effort and hard work that has been shown repeatedly by club members to bolster the spirit of Model UN.  
However, we recognize the limitations of these rankings and their bias in showing us one version of the story. Best Delegate sees Model UN beyond the limited facet of winning awards. Therefore we would highly encourage readers and MUN enthusiasts to send us accounts of their MUN clubs and their success in whatever way they define it. If you would like your team to be featured on the Best Delegate Facebook page or have any inquiries in regards to the rankings feel free to send an email to rzhao@nullbestdelegate.com for contact information.
We also recognize that not every conference or school chooses to focus on the competitive aspect of Model UN. These rankings only capture what we call the "World Division" of student-led teams that attend conferences organized by university clubs, and most of these conferences are competitive in nature and significantly feature crisis committees. It does not capture the successes of the "National Division" of advisor-led programs that attend conferences organized by nonprofit organizations, which are more academic in nature and primarily focus on traditional UN committees. 
Methodology and Disclaimers
The Weighted Score Methodology is the same as in previous years with minor modifications in weightings to reflect attendance this year. The article above also provides insight into the purpose and philosophy behind the rankings. Fall conferences were weighted in this order:
UPMUNC (University of Pennsylvania)

NCSC (Georgetown University) & CMUNNY (Columbia University)

BarMUN (Boston University) & SCSY (Yale University)

TrojanMUN (University Southern California)

SBIMUN (UC Santa Barbara), 

UNCMUNC (University of North Carolina), CIAC (Cornell University), and 

QMUNi (Queen's University)
A few notes to bear in mind:
It is important to note that we use aggregate weighted scoring while many conferences use a ratio in their scoring methodology. Please keep in mind these scoring differences as you read the following narratives- our rankings of for example "2nd Place" at a conference is in terms of total weighted awards, and may not match with the Outstanding Large Delegation at that conference.

Schools that host conferences in the fall are at a slight disadvantage since they cannot compete at their own conference. However, most of these top schools will host a conference at some point, thus balancing out the scoring opportunities for the end of year rankings.

We can only use data that has been submitted to us by conferences. DISCon was not included as we did not receive data. Collegiate conferences who wishes to have their data included in the spring rankings should contact

rzhao@

null

bestdelegate.com
Credits
I'd like to give a huge shoutout to my team who has helped me along the way, of which this project would have been impossible to compile. Special recognition goes out to Editor of Community Content Elaine Miao, Social Media director Genevieve Pool and as always the guidance and mentorship of Best Delegate full-time staff Erik Leiden, Kevin Felix Chan, and Conna Walsh were integral in the completion of this project.
###
Without further ado, on behalf of the BestDelegate family, I'd like to congratulate and introduce the top 75 schools of the fall season:
#1 University of Chicago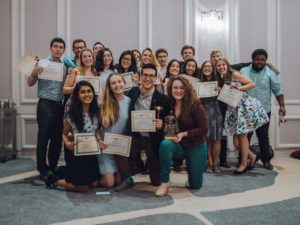 The former three-time reigning champion of North America is back with full force and absolutely dominated the circuit this fall. UChicago finished an undefeated Fall semester with the highest number of individual awards by a wide margin, more than double the number of gavels than any team, and the most delegation awards. Its most dominant performance came at CMUNNY, where it captured gavels in 8 of 19 committees en route to the Best Large Delegation award. The team faced stiffer competition at NCSC and UPMUNC, but won the Best Large Delegation award at both conferences by comfortable margins. Finally, the team added BarMUN to the schedule for the first time and sent a smaller team there to capture the Best Small Delegation award. This is one of the best performances any team has ever displayed in the Fall rankings, and it will be tough for other teams to catch them for the #1 rank by the end of the year. UChicago will be hosting ChoMUN in April.
Head Delegate Corinne Riley had this to say about their journey thus far: "I could not be prouder of the entire Team on the hard work and enthusiasm they put into fall conferences. Our main goal with the Team is to to have fun with this crazy activity not only with our team but with the entire circuit, and fall conferences were the epitome of that – shoutout to all the amazing teams who made conferences so fun! We were able to add BARMUN to our roster, an amazing opportunity to bring even more delegates to conferences. With over 50 first years having joined the team, and over 30 different upperclassmen coming to conferences, the fall was full of great energy. The MUN team really is a family at UChicago, and that showed this fall."
#2 Harvard University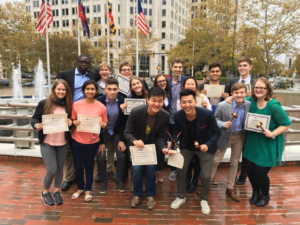 Harvard edged UPenn for the second place ranking this Fall. The team took home a pair of Outstanding Large Delegation awards at NCSC and SCSY. The team also contended for large delegation awards at UPMUNC and CMUNNY. The top five finishes at every conference it attended were due to having the second most individual award winners on the circuit this Fall. Harvard team members will take their annual hiatus to staff HNMUN Boston, HNMUN Latin American in Peru, and WorldMUN in Panama, before returning to the circuit to maintain its status as a top ranking team.  
Head Delegates Andrew Jiang and Spencer Ma on their success thus far: "The Fall season we could not be more proud of our incoming class to our team. They have been bright shining suns in our community on campus and in travelling with us to all of our fall conferences."
#3 University of Pennsylvania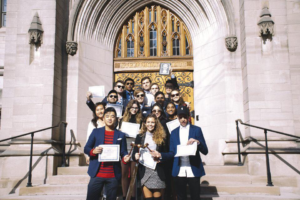 Penn's travel team (Intercol) is typically known as the delegation to work hard and play hard. The team's rank this Fall is buoyed by winning two large delegation awards. The team won the Best Large Delegation award at SCSY and the Outstanding Large Delegation award at CMUNNY, where it finished behind only UChicago. It almost won a third delegation award as it tied for third at NCSC with FIU. Lastly, the team took home multiple awards at BarMUN. Overall, the team is tied with the second most gavels on the circuit this Fall. UPenn also hosted the most competitive conference of the Fall, UPMUNC. This third place Fall ranking is higher than last year's Fall rank, so the team will have a chance to defend its #1 year-end rank when it travels up to HNMUN during the spring semester. 
Penn's success was led by Head Delegate Shravan Balaji who believes that: "Our team's goals moving forward are continuing to perform at a high level while bonding together in a way that'll allow us to stay close with each other, promoting the familial aspects of Intercol. We hope to make it out to five more conferences in the spring, where we can keep having a good time in and out of committee."
#4 Florida International University
FIU remains firmly within the top five teams on the circuit. This school is well-know for sending small sized delegations to conferences, but with the team having tripled in size, it changed up strategies this year. Notably, the team won the Best Large Delegation at BarMUN, and this was the only time another team topped UChicago this semester in terms of weighted score (UChicago sent a smaller team and won Best Small). The team contended for large delegation awards against the rest of the top five teams the rest of semester, finishing third at UPMUNC, third at NCSC, and fourth at CMUNNY. Overall, the gap between Harvard, UPenn, and FIU is very small this Fall, and FIU can jump ahead with performances at McMUN and HNMUN in the spring. 
President of the club Kevin Markowski's remarks on FIU's progression thus far: "The biggest challenge for us has been moving from a team that has traditional competed as a small delegation to now primarily competing as a large. We have noticed that many teams are really stepping up this semester and proving to be quite the competitors. The competition has truly brought out the best in our delegates, and we look forward to continuing to test ourselves this year."
#5 Georgetown University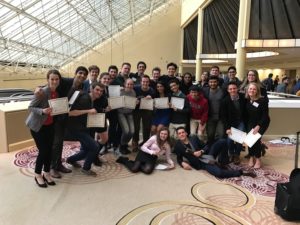 Georgetown started off slow this year compared to prior years. It won awards at CMUNNY, BarMUN, and SCSY, but the team was not able to capture a delegation award at them. GIRA then ran another phenomenal iteration of NCSC which hosted more than 500 delegates in DC. And similar to last year, Georgetown then made a comeback with a strong performance at the most competitive conference of the semester, UPMUNC. The team finished second in terms of weighted score at UPMUNC behind only UChicago and contended for the best large delegation award. Although the team did not bring home any hardware this semester, its consistency in winning individual awards enabled it to maintain a place in the top five of the Fall rankings. 
Head Delegate Georgina Kenchington summarized Georgetown's progress below: "This fall season has been a lot about development for us. From a comparatively slower start at CMUNNY as opposed to previous years, to bringing home 13 total awards at UPMUNC with many going to our team's younger members, we've seen incredible dedication and growth across our members as a whole. I can't wait to see what the Spring has in store for us!"
#6 George Washington University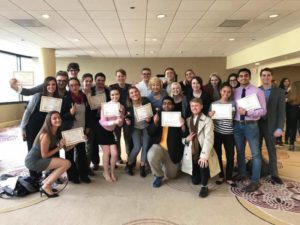 Identical to the 2016 fall and 2017 spring rankings, GW once again finished comfortably at #6, inching ever so slightly closer to breaking into the top 5. GW's crowning achievement of the semester was an Outstanding Large Delegation award at BarMUN, where they finished second in terms of weighted score and was the only other team to have a higher weighted score than UChicago this Fall (UChicago sent a smaller delegation). The other notable achievement was contending for a delegation award with a fourth place finish at UPMUNC, showing that it has potential to hold its own against the top five teams on the circuit. The team also put in solid performances at NCSC and CMUNNY. 
To quote Hari Asuri, Head Delegate of GW: "The fall has been a time defined by hard work and dedication for GWMUN. Whether it be our first-year colonial cadets or veteran members of the team, everyone came together to work hard and prepare for conferences. I'm incredibly proud every GW Model UN team member because each one has shown a passion and dedication to Model UN in a way that words won't do justice and I'm super excited to see what we can accomplish when the spring semester rolls around." 
#7 McGill University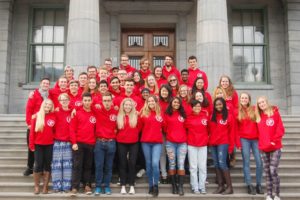 McGill created history this year, jumping 18 spots forward from the 2016 Fall rankings where it finished #25 to break into the top 10 of the Fall rankings, which is their highest rank ever. This Canadian delegation is one of the best small delegations on the circuit this year. Its strongest performance was at SCSY, where it took home the Best Small Delegation award but actually had the most gavels and the second highest weighted score behind only Best Large winner UPenn. McGill also claimed the Outstanding Small Delegation award at BarMUN. The team also had a top ten performance at NCSC and received multiple awards at UPMUNC. McGill will kick off the spring season by hosting McMUN. 
Head delegate Madeleine Kausel shared this favorite memory with us: "My favorite memory from competing this fall was when all eight of us received an award at SCSY's closing ceremonies. Cheering on my fellow McGillians one after the other was an unforgettable experience that I hope to enjoy again in the future. Off the circuit, my favorite memories will continue to be from our weekly trainings, where the team's creativity, passion, and sense of humor really comes to life."
#8 American University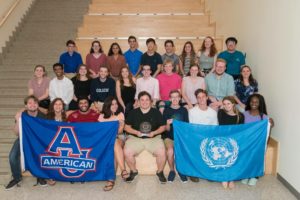 American is showing that they are now a regular presence in the top 10. More importantly, they have achieved this rank despite funding cuts and reducing their travel schedule, and they are the highest ranked team that attended only three conferences. The team's veterans helped it perform consistently at those three conferences. Its strongest performance was a top 10 finish at UPMUNC, where it contended for a delegation award. American also contended for a delegation award at BarMUN and won awards at NCSC. The team will seek to continue closing the gap with its DC neighbors, Georgetown and George Washington.
Senior member Caroline Rose had this to say: "The Fall season has been really special for our team; for the first time American University has a full senior class in Model UN, which has allowed us to have a lot of fun with new traditions among teammates and gain some true depth in experience."
#9 Claremont McKenna College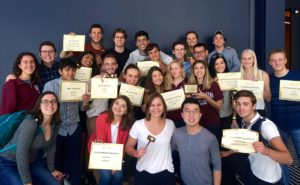 A small school with a large and mighty team, Claremont McKenna put in one of its best Fall performances yet to reassert its place as the top team on the West Coast and one of the top ten teams on the circuit. The team started strong with a co-Best Large Delegation award at TrojanMUN, which it shared with UCLA but did much better than them in terms of weighted score. It then added NCSC to their schedule, which paid off immediately as the team won the second most gavels there en route to the Best Small Delegation award. Finally, the team put in a solid performance at UPMUNC to end the semester. CMC has some of the best delegates on the circuit, and ended the semester tied with UPenn for the second most total gavels. 
Acting President Kate Ridenour was asked to reflect on CMC's incredible performance: "This year marks one of the CMCMUN team's best fall performances. While our team is relatively small, our members more than make up for the small size with their endless creativity, energy, and focus. The team credits our fall successes to our motto of Team Comes First, which emphasizes that team members do all they can to support one another and places the overall goals of the team above individual wins. Not only have our dedicated older members continued to embody this philosophy, but all of our new members stepped up to the plate this fall putting in the prep work and contributing to our team culture. Overall, the team is thrilled about it's wins at TrojanMUN and NCSC, as well as its strong performance at UPMUNC and is looking forward to the spring conferences."
#10 New York University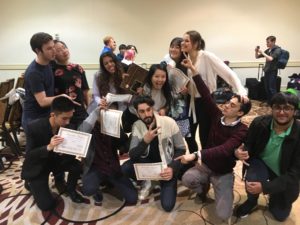 NYU put in a top-10 performance this Fall semester based on the strength of a pair of delegation awards. The team won the Outstanding Small Delegation award at UPMUNC and the Outstanding Small Delegation award at SCSY. Similar to past conferences, NYU's victories are partly due to having optimal ratios, and the ability to win at UPMUNC is an upgrade from last Fall. NYU also contended for a delegation award at CMUNNY, a conference it regularly does well in, placing fifth overall. Finally, the team also won awards at BarMUN. NYU will host NYUMUNC in the spring semester. 
Areesha and Luxi from NYU overcame great adversity with this story they shared with us: "Our team's performance at UPMUNC this semester was truly a highlight for us. We had to completely change our team last minute, but the team excelled and we were able to come home with an Outstanding Small Delegation award. That weekend was not only successful, but full of fun bonding experiences for the team that traveled."
#11: United States Military Academy at West Point
West Point has been consistent as usual and won awards at five conferences. Notably, West Point made its first appearance at a Fall conference on the West Coast and took home the Best Small Delegation award at TrojanMUN. It also performed well at SCSY, where it contended for a delegation award and finished fourth overall. The team also won awards at UPMUNC, NCSC, and CMUNNY. This military powerhouse maintains a strong presence on the civilian Model UN circuit throughout the year, and has great potential to perform at a top-10 level for the rest of the season starting at McMUN. 
#12: Vanderbilt University
Vanderbilt did better this Fall compared to last Fall, which should position the team for an opportunity for another top-10 year-end rank. Its signature accomplishment was winning Best Small Delegation at UPMUNC, showing that this team can compete with the best on the circuit. The win is even more impressive in that this was the team's first time attending UPMUNC, the most competitive conference of the Fall. Vanderbilt rounded out its strong semester by placing first at UNCMUNC, placing in the top ten at BarMUN, and getting on the scoreboard at CMUNNY.
#13: Emory University
Emory is one of the most improved teams this fall, collecting awards at a circuit-high five conferences. Its stronger performances came at the smaller conferences. This included contending for a delegation award at BarMUN, where it finished fourth overall, and with a second place finish at UNCMUNC behind Vanderbilt. The team also placed in the top 10 at SCSY and received awards at NCSC and UPMUNC. Emory will seek to maintain this renewed level of success in the spring. It will also host MUNE in the spring. 
#14: Yale University
As per usual, Yale University placed quality over quantity and chose to only attend two conferences this fall. While the team only brought in a few awards at CMUNNY, they put on a strong performance at UPMUNC and brought home an Outstanding Large Delegation award. This efficiency kept their rank strong, though not in the top 10 as in previous Fall semesters as the UPMUNC win was based on having a better ratio rather than having the higher weighted score. Yale held their collegiate conference, SCSY, in the fall as well.
#15: University of California, Los Angeles
UCLA's success in the Fall is usually due to winning on the West Coast, but a victory on the East Coast helped boost them up to an even-higher top 15 rank this Fall. UCLA won three delegation awards at the three conferences it attended, which is the second most delegation awards behind only UChicago on the circuit. This included a co-Best Large Delegation award at TrojanMUN, a Best Small Delegation award at SBIMUN, and an Outstanding Small Delegation award at CMUNNY. The CMUNNY win was a pleasant surprise for the team, who was about to go catch their flight but rushed back into the auditorium upon hearing their name called. UCLA will host LAMUN in the spring. 
#16: Florida State University
Florida State University has achieved one of its highest Fall ranks with high quality performances at two of the most competitive conferences of the semester. The team finished 6th overall at NCSC and in the top 10 at UPMUNC, showing that it can compete with the best teams on the circuit. Similar performances in the spring will solidify a top 25 finish.
#17: The Ohio State University
Ohio State is back in the top 25 and is one of the most improved teams of the year so far. This is also the first time that Ohio State is the top ranked team from the Big Ten Conference, displacing Michigan State which has held this title since the inception of the rankings. OSU started the year strong by capturing the Best Small Delegation award at CMUNNY, and ended the year strong with awards at UPMUNC. OSU will hope to carry this momentum into the spring season.
#18: University of California, Berkeley
UC Berkeley pursued an East Coast-centric strategy this Fall, attending CMUNNY, BarMUN, NCSC, and UPMUNC. It won a few awards at all four conferences, though not as much as in previous years. In contrast, it only competed at one West Coast conference this Fall, placing third overall at TrojanMUN behind Claremont McKenna and UCLA. This ultimately placed them below those two West Coast rivals in the Fall rankings. UC Berkeley will host UCBMUN in March, and hopefully its East Coast-heavy experience will pay dividends at spring conferences. 
#19: University of Virginia
UVA's ranking this fall is due to the strength of its top delegates. This is evidenced by its performance at at NCSC, where it tied for the most gavels with Best Large Delegation winner UChicago and Outstanding Large Delegation winner Harvard. The team also won awards at CMUNNY and UPMUNC. UVA will continue to travel in the spring, and will host its collegiate conference, VICS.
#20: Michigan State University
Michigan State University traveled to both UPMUNC and CMUNNY this Fall and finished in the top 10 at both conferences in terms of weighted score. Michigan State capitalized on the opportunity to put themselves on the scoreboard and just edged Miami at the same two conferences to end up in the top 20 overall. Michigan State can improve their ranking when they send larger delegations to second semester conferences at McMUN and ChoMUN.
#21: University of Miami
The University of Miami traveled to UPMUNC and CMUNNY this Fall and finished in the top 10 at both conferences in terms of weighted score. These performances are consistent with their performances last Fall. Miami can improve their ranking at HNMUN and ChoMUN in the spring semester. Miami is planning to launch their new college conference, 305MUN, which will take place next Fall. 
#22: Columbia University
Columbia University started the year off with its college conference, CMUNNY, and went on to compete in SCSY, NCSC, and UPMUNC. Columbia's team has seen improvement compared to last Fall, when they were only in the top 50. Its best performance came at SCSY, where it finished tied with Best Large Delegation winner UPenn for second most gavels at the conference. A highlight at CMUNNY was definitely the innovative 24-hour crisis it hosted, during which delegates began committee at 6pm Friday and ended committee at 6pm Saturday.
#23: College of William and Mary
The College of William and Mary's team keeps its hold in the top 25 by utilizing the same strategy that first propelled them back up to the rankings. The team had consistent performances at a circuit-high five conferences they attended: CMUNNY, BarMUN, SCSY, NCSC, and UPMUNC. William and Mary will continue to travel in the spring, and will also host &MUN in the late spring.
#24: Boston University
Boston University's rank dropped a bit compared to last Fall, but the team still had consistent success at multiple conferences. The team received awards at CMUNNY, NCSC, and UPMUNC, with its best performance coming at NCSC. BU has a history of strong spring semester performances in the small delegation category, so their ability to continue that trend will determine their standing the final rankings. The team also hosted BarMUN this Fall. 
#25 University of Southern California
This is the University of Southern California's debut into the top 25, which is a proud moment for the team that has been working hard to break into the top 25 the past few years. USC significantly upgraded its East Coast travel schedule this year and won awards at UPMUNC and NCSC. In addition, it hosted its largest TrojanMUN yet. USC's Model UN team is rising and mirrors its own university's rise in academic rankings. 
---
Top 50 Outstanding Delegations (Alphabetical Order)
The five teams closest to the Top 25 were: Northeastern, Alabama, Clark, Johns Hopkins, and Indiana.
Bates College
Carleton University
Case Western Reserve University
Clark University
College of the Canyons
Hamilton College
Indiana University
Ithaca College
John Hopkins University
Miami University of Ohio
Northeastern University
Northern Arizona University
Pennsylvania State University
Pomona College
Princeton University
Queen's University
Tufts University
University of Alabama
University of California, Davis
University of California, San Diego
University of Illinois at Urbana-Champaign
University of Michigan
University of North Carolina at Chapel Hill
University of Tennessee, Knoxville
University of Toronto
---
Top 75 Honorable Mention Delegations (Alphabetical Order)
Boston College
Brown University
Concordia University
Cornell University
Gordon College
Guelph University
John Abbott College
Kutztown University
Middlebury College
Mount Holyoke Univeristy
Northwestern University
Rutgers University
Seton Hall University
State University of New York at Geneseo
Stony Brook University
Temple University
Tulane University
United States Air Force Academy
University of California, Merced
University of Central Florida
University of Florida
University of Pittsburgh
University of Rochester
Wheaton College
Wilfried Laurier University
---
Once again, Congratulations to each and every one of these teams for their had work and dedication, which only serves to enhance the spirit of the competition within Model U.N. We'll see you next semester for the spring! Good luck on all your finals and Happy Holidays!