The Impact of Civil Society and One Day Conferences (FHSMUNC 2015 Recap)
Over 10 schools and about 300 delegates appeared on Saturday November 21nd, 2015, ready to kickoff their Model UN season at FHSMUNC (Franklin High School Model United Nations Conference). Delegates from all over the tri-state area came to the halls of Franklin High School ready to debate about topics ranging from the right to self determination to how to deal with a nuclear power plant failure. This year's theme was civil society in the United Nations and global affairs.
Throughout FHSMUNC 2015, all committees including advanced committees discussed the role of civil society in the world especially when dealing with needs of the most vulnerable groups of people in the world such as refugees. From the Indian Cabinet dealing with refugees from Syria trying to smuggle weapons, to the Social Humanitarian and Culture Committee of the General Assembly dealing with humanitarian needs of stateless people, this conference highlighted the importance of representation of all groups of people in civil society in the world.
The beauty of FHSMUNC lies in its unique structure. As a one-day conference, there are only two 3-hour committee sessions. This shorter structure allows many older delegates to hone their skills in such as swift coalition forming and in concise resolution writing as well as allowing novices to learn and develop the skills necessary for effective debate and resolutions. Many schools, including Franklin, use this conference to warm up for the challenging conference season up ahead, or to provide a strong start for many novice delegates.
Committees can be seen working diligently at any hour: chairs furiously typing working papers and moderating debate simultaneously, delegates sending note after note, and conference staff checking in and creating crises as they see fit. Priya Kantesaria, chair of the Legal Committee at FHSMUNC, stated, "I've been directing at FHSMUNC for three years now and every year I am increasingly impressed by the caliber of delegates… As a director, it is refreshing to see a committee of students so voracious to learn, actively participating without inhibitions, regardless of the fact that for many it is their first conference…The sheer amount of cooperation and embodiment of international values was astounding."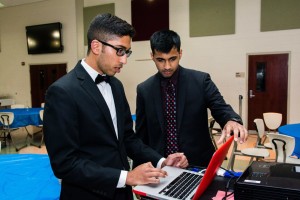 FHSMUNC also personally allows for more interaction among chairs and delegates. The smaller committee size gives a new perspective to students as they can now speak more and learn more from other delegates as well as chairs. The improved feedback that comes is integral to the development of delegates.
Additionally, Model UN delegates in a committee room went from complete strangers to refined speakers and diplomats who learned how to work together to accomplish super ordinate goals. In committee, friendships were made in less than 6 hours which will live on and benefit all parties in terms of future connections made in the real world.
Model UN is always focused on the future; committees are often asked to create sustainable, long term solutions that will hold up over time. Similarly, with hundreds of novice delegates eagerly participating in their committees, it appears that Model UN has a very sustainable long term future. At first, Model UN can be scary and threatening to a fresh new delegate-it is infinitely complex, intricate, and necessitates skill in many diverse areas. FHSMUNC is unique in that it is tailored directly to those new to Model UN, giving them a chance to gradually embark on their Model UN journey, opposed to throwing them in the deep end. The positivity that is ingrained within FHSMUNC sets it apart from other conferences as a place where a true love for solving global issues, debating, and making new friends can be nurtured and developed. FHSMUNC allows novices a chance to see what Model UN truly is which makes it so unique.
As a whole, Model UN seeks to promote education on world affairs, and endorses the creation of informed global citizens. Many high school students are largely unaware of the geo-political and socio-economic decisions that affect our world every day, but through Model UN they can gain a better understanding that they otherwise wouldn't't have exposure to. Model UN influences the decision making of teenagers due to this newfound world perspective, and encourages leadership and activism in their daily lives. Most of all, Model UN teaches students the power their voices can have. Delegates leave conferences feeling significant and influential, believing they have the power to make a difference, and that spark is unparalleled in any other organization.
Model UN has an innumerable benefits after students partake in their final conferences and receive their diplomas. While school teaches students math, history, science, and literature, Model UN teaches students how to apply the information they've absorbed from school to real-life scenarios. These diverse skills learned are extremely useful when completing coursework in college, applying and interviewing for jobs, and working to accomplish tasks with colleagues. Regardless of the path you choose to take after high school, Model UN will help you be successful on it. For this reason, students pursuing a variety of careers, ranging from international relations to engineering, eagerly partake in Model UN.
As a final note, FHSMUNC 2015 was a success for many if not all delegates, advisors, and chairs. Rachel DiScuillo, a Rutgers IDIA member who helped plan this conference even said during FHSMUNC she "was really pleased to hear from the directors how much the delegates improved within the six hours of debate." The skills and information learned, as well as the connection made at FHSMUNC is irreplaceable as is the quality of debate that occurred during this conference.