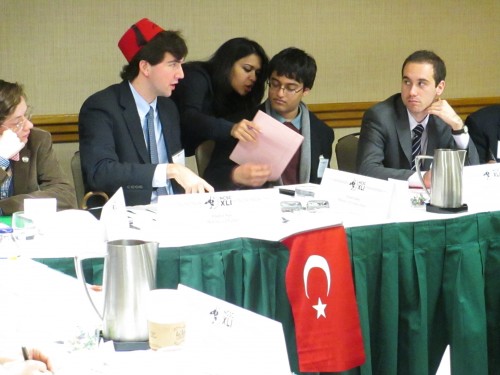 At every conference, you'll almost always hear another delegate say, ''Have you heard about what happened in the crisis committee?!'' followed by a rundown of all the fun and exciting things that happened in that secret and mysterious room – I had always wondered about the excitement of the midnight crisis, and always wanted to be like 'the cool kids'' (aka crisis delegates). So, I decided that I would try crisis at some point. And, as a student who loves participating in regular committees, a month ago, I joined my very first crisis committee at YMUN'17 (Yale Model United Nations 2017)
Of course, I had different expectations, predictions and ideas about how my experience was going to be as a first-timer. Some of my expectations turned out so much better than I thought and some them turned out completely different. Here are some:
Expectation: '' It will be easier for me to adapt to the committee since I have loads of experience in conventional committees''
Reality: It was harder for me to adapt because I participated in regular committees in my entire MUN life-span.
General Assemblies require different skills ranging from public speaking, diplomacy, writing, to critical thinking. Naturally, I believed that the aforementioned skills were enough for me to succeed in a crisis committee as well. Not quite … Crisis committees encompass all the debate skills needed for regular GA committees, but after my first session, I realized that those skills by themselves were not enough. The reality here is that crisis committees require experience, dynamic speaking and problem-solving skills, and most importantly, creativity. So it was hard for me to adapt to the committee quickly because I had no experience at all, and in my prior experiences, I am always well researched and understand the scope of the topic. Also, most of the solutions in GA resolutions are very pragmatic and realistic, they don't require as great of creativity, they need to be realistic.
So, since I was not used to thinking on my feet, things didn't turn out as well as I expected. What I realized later on, is that crisis committees requires a tremendous amount of practice.
Expectation: ''Working papers can have up to 40 clauses. Collaborating with 20 other bloc members is both frustrating and arduous, as an alternative, directives are short, concise and simpler to write. ''
Reality: Crisis. Updates. Never. Stops. .
Since everything I knew crisis committees were composed of gossips made during the closing ceremonies of other conferences, I thought that the whole committee session would pass as entertainment, comprised of fun crisis updates. I have always imagined crisis committees as theatrics and drama. In every conference, at the end of the day, I would be very tired of writing resolutions, preparing speeches and all that stuff. But the crisis delegates would seem very happy coming out of the room, and I thought that the only thing they did was acting and simply responding to crises.
But the reality hit me very hard on this one folks, crisis committees may be fun, but they are way more tiring than regular committees. There is always another crisis coming up and you just cannot even take a break from speaking sometimes. I realized this after the first session as well and it hit me very hard. And I was not used to this much work during committee sessions, I was seriously exhausted.
Expectation: ''Everything that could happen in committee will be logical and feasible.''
Reality: ANYTHING could happen. ANYTHING.
Popular topics discussed in regular committees are NGOs, infringement of sovereignty, the allocation of funds, peacekeeping forces, etc. Since you are simulating the actual United Nations, everything has to be verifiable and realistic. I thought that this also applied to crisis committees. Believe me, it doesn't. As soon as the first crisis came in, I was confused. I always asked myself and other delegates; ''Is this even possible? " But every other delegate was never fazed, it was just business as usual. It's important to keep an open mind during a crisis committee and approach every issue/update as they are real.
Expectation: ''We will have fun ALL THE TIME!''
Reality: Yes, it's true that crisis is fun most of the time but, sometimes, committee will be extremely technical and lackluster.
As I mentioned earlier, crisis committees are known for their theatrics. One might think that crisis committees are pure fun, but that's not the reality. Unlike the GA committees, in crisis; everyone acts as an actual person, not a country (Unless you're in Security Council). Therefore, people cross the fine line of diplomacy to make their character seem more powerful against others in the room. And since everyone is employing a similar strategy, there tends to be a clashing of strong personalities. I'm not saying that crisis committees are tense at every turn, but competition can build up very quickly, Traditionally, Crisis committees is a magnet for power delegates, or gavel hunters. So, be careful and always be on alert.
Expectation: '' I don't have to do too much preparation, everything will manifest itself within The Crisis Director's plan.''
Reality: Knowledge is power. You have to conduct lots of research and have a firm grasp of the committee's content.
The research you have to do, in a crisis committee is different than the one you would do in a General Assembly. Since you're uncertain of where Crisis is headed, it's best to focus on a more vague and general research scheme. In a conventional committee, the committee topics are often plastered all over your committee background guide, leading you to research more efficiently and allowing you to stay on topic.
This is only a preliminary guide from my crisis experience at the Yale Model United Nations 2017, the merit of unconventional committees have always been at the center of debate. But I do strongly urge delegates to try Crisis committees, it might not be for everyone but it's important to acknowledge it's existence and influence within the Model U.N circuit.