This is a guest post submitted by Florida International University's Program Coordinator Ethan Roberts. 

Florida International Model United Nations, or 'FIMUN' is officially adjourned! Between Friday March 11th and Sunday March 13th over 390 Middle and High School students from 25 schools competed at the annual conference, hosted by FIU's fourth ranked Model United Nations Program.
Preparation for the conference began just weeks after last year's FIMUN concluded. A secretariat was elected and committee topics were debated with the kind of rigor only Model UN delegates can muster. Once committee topics and a date was finalized work began on creating background guides, updating the website and of course reaching out to schools.

The program at FIU prides itself on the variety of committees that its delegates win awards in and the conference reflected that variety. This year FIU's Model UN students prepared ten committees including larger General Assembly committees and smaller fast-paced crisis committees. 'GA' committees included The US Senate, DISEC, WHO and the UNHCR, where rooms debated topics such as civil-liberties, cyber-warfare, global pandemic management and the Syrian refugee crisis respectively. Crisis committees were historical, present-day and futuristic and included New Orleans City Council 2005: Hurricane Katrina, Iran Revolution 1977, Nicolas Maduro's Cabinet 2016, Hong Kong Autonomy Movement 2016, UN Security Council and NATO 2020, in which delegates assumed the roles of diplomats or government ministers collaborating and competing to solve difficult problems.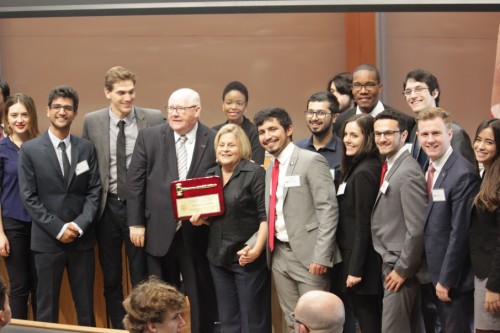 FIU's standing as one of the premiere Model UN Programs in the country, its location in cosmopolitan Miami, as well as an impressive alumni list combine to create a truly special conference each year. This year one of the longest-sitting members of Congress, Ileana Ros-Lehtinen addressed the capacity audience on FIU's campus during opening ceremonies. The first Hispanic woman elected to Congress, FIU alumnus, chairwoman for the House Foreign Affairs subcommittee for Middle East and North Africa, and former chairwoman of the Foreign Affairs subcommittee spoke of challenges the UN faces and the need for young enthusiastic leadership in all realms of public service. "We need young people who really care to step up to the plate and make a difference. And right here in this room, I am very sure, is the next generation of those folks" the Congresswoman enthusiastically said to the middle and high school students before first session began on Friday.
Another one of the conference's successes was raising over $650 for Mis Refugio Casa Hogar, an orphanage in the Peruvian Amazon. Chairs and staff auctioned off various embarrassing acts, such as lip-syncing Beyonce hits, to help raise the money from the more than generous delegates. Michelle Rodriguez, an FIU student and chair of 'Maduro's Cabinet' spent her 2015 summer volunteering at the orphanage said "Words cannot express how much that place means to me. What we send them will go towards installing a water filtration system which will save them a lot of money long-term. It's going to make a real difference to them".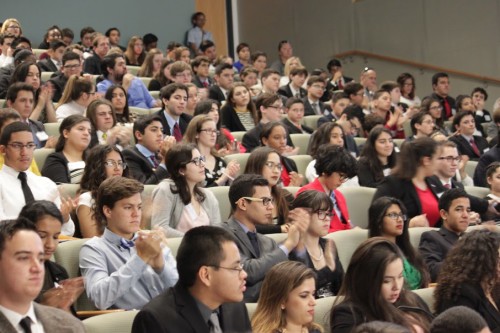 This was the largest FIMUN yet in terms of participation and the program at FIU is confident that next year's will be bigger and better.
Congratulations to all of the students who participated and to delegation award winners!
Best Large Delegation: Belen Jesuit Preparatory Academy Doral
Outstanding Large Delegation: Preparatory Academy
Best Small Delegation: Hialeah Miami Lakes Senior HighJohn A.
Outstanding Small Delegation: Ferguson Senior High