This year was a record-breaking year for GatorMUN. With over 700 delegates, 21 committees, and nearly 120 staff members it was the largest GatorMUN yet.
GatorMUN XIII's keynote speaker, Dr. Tony Andenoro of the Challenge 2050 Project at the University of Florida, kicked off opening ceremonies with a presentation about leadership and the rise in global population. Dr. Andenoro was engaging and encouraged his audience to participate in his presentation. He asked students to stand up, introduce themselves to the people ar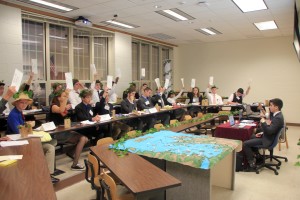 ound them, and find shared passions. He then requested students to step up to microphones and share their collective passion with the audience. Following
this fascinating presentation, Secretary-General Jon Muñoz commenced GatorMUN XIII.
The crisis committees took a different spin on the theme. Bleeding Kansas demonstrated what happens when two very different ideologies collide, and the War Council of Kaiser Wilhelm II explored what happens when world powers clash. The Press Corps, which was another new addition to GatorMUN, captured all of the action. Press Corps delegates covered all the events and committee moments at the conference, kept a live blog, and published a paper regularly throughout the duration of the conference.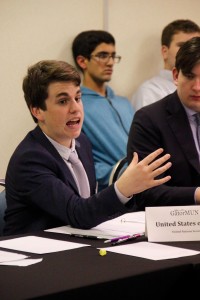 The conference came to an end on January 31st as delegates reluctantly left their committees to attend Closing Ceremonies. The following schools won delegation awards: Belen Jesuit Preparatory School—Honorable Small Delegation Florida Virtual School—Outstanding Small Delegation; Gulf Coast High School Varsity Team—Best Small Delegation; Hillsborough High School—Honorable Large Delegation; Port Charlotte High School—Outstanding Large Delegation; Pine View High School—Best Large Delegation.
GatorMUN XIII would like to thank all of its delegates, advisors, and staff for helping make GatorMUN XIII a fantastic and record-breaking conference!