The high school season kicks off this weekend at SOCOMUN and we have our preseason rankings for you!
We divided the high school circuit into six regional leagues — New York League, Mid-Atlantic League, California League, Midwest League, Southern League, and New England League — for the rankings. We'll maintain League rankings throughout the season and start national rankings mid-season.
Once we get a better view of the THIMUN circuit — we hope to attend THIMUN and THIMUN Singapore — we'll also start rankings for schools outside the United States.
Our preseason rankings for each of the six American regional leagues — New York League, Mid-Atlantic League, California League, Midwest League, Southern League, and New England League — are listed below. Leagues are meant to represent the top teams in specific geographical areas. In some of these areas, there is a conference that could be considered to be a regional championship — BMUN in California or MUNUC in the Midwest, for example — but teams will earn points toward their rankings for awards won from all conferences held in the United States and Canada. The top 13 teams listed in each league below is a preseason ranking and the teams on each list may change throughout the season as awards results come in.
Team strength and conference schedules change every year, so we won't know which teams will be the best regionally and nationally until the awards results are in. Nevertheless, we were able to create preseason rankings based on how teams performed last year, our observations about which teams are trending up or down, and by early indications of conference schedules for each team. We'll use a formula of weighted points earned from each conference once we have some real results, but here are your preseason rankings for now with league analyses below the chart:
High School Model UN Preseason Rankings 2011-12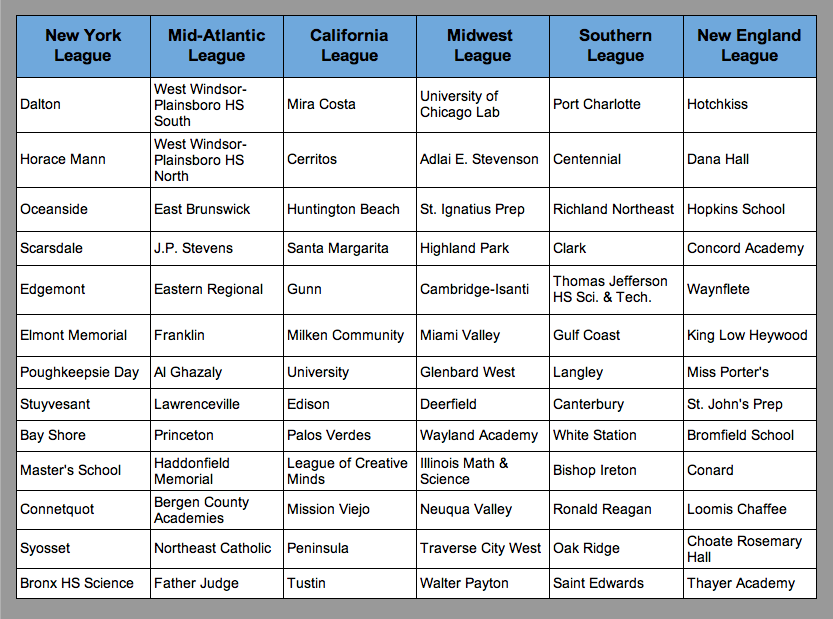 New York League
New York has some of the most recognizable names in Model UN and its powerhouse teams should contend for a high national ranking again, although its teams may have to start attending more conferences as one big win may no longer cut it at that level. Fortunately, they have some solid conferences to choose from including NHSMUN, CMUNC, CMUNCE, and GCIMUN among others (plus most teams travel to the major conferences in New England and the Mid-Atlantic as well). Dalton should be a favorite for the top national ranking with Horace Mann closely behind. Oceanside and Scarsdale should also contend for a high ranking.
Mid-Atlantic League
New Jersey had the most Top 25 ranked teams out of any state last year, and when combined with Pennsylvania, Maryland, Delaware, and DC it makes the Mid-Atlantic League perhaps the strongest in the nation. The League has plenty of major conferences in its region to display their competitiveness including ILMUNC, NAIMUN, PMUNC, RUMUN, WAMUNC, JHUMUN, and PhilMUN (plus schools can always travel north to conferences in New York and New England). Long-time New Jersey rivals West-Windsor Plainsboro HS South, West-Windsor Plainsboro HS North, East Brunswick, and JP Stevens should contend for a high national ranking, and Eastern Regional, Franklin, and Al Ghazaly should be competitive too. Bergen County Academies and Northeast Catholic should also make an impact in this league as well.
California League
The competitive California League is deep with about 20 to 25 solid teams. However, it's highly possible that the top teams in the league may not necessarily be the ones who get ranked nationally — that will depend on which teams win BMUN and travel outside of California to compete. Nevertheless, we still expect strong rivalries to continue locally as California has the most conferences of any league including BruinMUN, UCIMUN, SMUNC, Davis MUN, TritonMUN, GauchoMUN, RHSMUN, MVHSMUN, and THSMUN. Traditional California powerhouses Mira Costa, Cerritos, Huntington Beach, and Santa Margarita along with upstarts Gunn, League of Creative Minds, and Milken Community should travel and compete for national recognition, while Edison, Mission Viejo, University, Peninsula, and Tustin should compete for top regional honors.
Midwest League
Can rivalries be renewed in this league? MUNUC is the conference that almost all Midwest League teams historically attend, but some of the schools opted to travel East instead last year which prevented some of the Chicago powerhouses from going head-to-head. On the positive side, that allowed Midwest League teams more exposure since the Midwest does not have many major conferences outside of Illinois and Michigan. Besides MUNUC, the action should be interesting at MSUMUN, CIMUN, NUMUN, UMMUN, and GLIMUN. Chicago Lab is still the class of this league, but we expect strong performances from St. Ignatius Prep, Adlai Stevenson, Highland Park, and the Miami Valley School.
Southern League
Don't sleep on the South. There aren't many major conferences here besides WMHSMUN, but Southern teams travel well to other regions and win big. We're hoping more local conferences can develop in this region to give these excellent teams more exposure, especially in the competitive Florida circuit. Port Charlotte (Florida) should be even better this year and is still the dominating power in the region, but teams from many different states such as Centennial (Georgia), Richland Northeast (South Carolina), Clark (Texas), Thomas Jefferson HS for Science & Technology (Virginia), and White Station (Tennessee) can more than hold their own against the best from the East Coast. Look for a second competitive Florida school — perhaps Gulf Coast or Canterbury — to be a darkhorse in our national rankings, too.
New England League 
New England League teams are dominated by prep schools. Most of these schools have solid teams, but they are relatively small and don't compete much outside their region so they may have a harder time gaining national recognition. Nevertheless, with HMUN, YMUN, BosMUN, BUSUN, and many other conferences to choose from, teams will have a chance to win big at the few conferences they do attend. Top teams should include Hotchkiss, Waynflete, Dana Hall, the Hopkins School, and Concord Academy. St. John's Prep and the Bromfield School should also make an impact in the league.
Other Notable Schools
We didn't place Boulder High School (Colorado) in a league since none of them would accurately represent their region, but the school might be the best team out in the Southwest. Two Indian schools traveled to the USA last year and won big: The Cathedral and John Connon School and the Amity International School. Maidstone Grammar School from the United Kingdom had the best success in the USA last year among European schools. As for Canadian schools, St. George's School and the Toronto French School did well in the USA last year too.
—
Check out our Model UN Workshops for students and teachers below!