Anyone who's attended HNMUN knows how intense the conference can be, both in and out of committee. Delegates are forceful — debate is fierce — committee sessions are 4 hours long! And people still possess the pith to pow wow and work through the late night and early morning, even if it means caucusing on the floor (literally):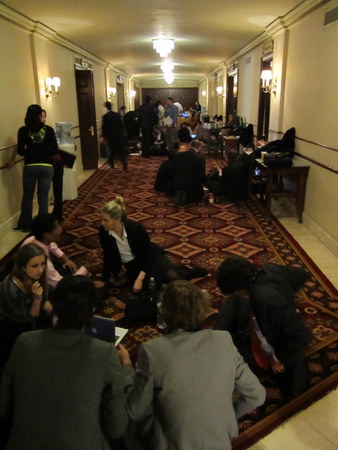 Just ask these delegates what makes them get up early in the morning and hours before committee actually starts:
Or is there another reason?
Whether it's cooperation or competition, conquering committee or changing the world, I think delegates would agree on one thing: it's a lot of hard work!
HNMUN is a marathon. You simultaneously look forward to it — and fear it — for months. After you get started, it's tough to go through — and also involves a lot of sweating.
But by the last day, there's a sense of accomplishment from both the resolutions and friendships forged in the heat of committee (and the delegate dance). And as soon as the conference ends, you're glad it's done and you did it — but also a little sad that it's over.
Take heart, delegates (and Secretariat)! Your hard work shows. And although it might be hard to do amidst the hustle and bustle of the conference, just remember to savor the moment. These are times you will treasure long after the conference ends — and long after you graduate.