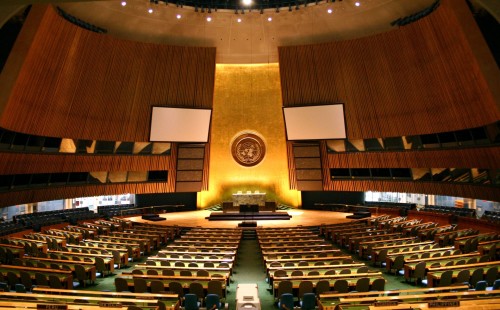 News stations around the world are buzzing about "The Election", but not this one. While everybody is distracted by U.S. Presidential politics and the associated fanfare, there is another important "selection" going on right now. The position of U.N. Secretary-General is up for grabs, and for the first time in history the public will be able to follow the process to elect the world's Diplomat-in-Chief. The UN is a notoriously bureaucratic organization, and this process has in the past been held almost entirely behind closed doors. While for decades Model UN conferences have held elections for conference Secretary-General, including open speeches and resulting in often female Secretaries-General, in this case the United Nations has lagged far behind Model UN.
This article will be the first in a series about the selection of UNSG, a process that will continue for the next several months. We're seeking to provide you with a little bit of "insider" information about the process, so you can stay up to date on the selection for one of the most challenging jobs in the world.
The Rules
The next Secretary-General needs to be approved by all of the Permanent 5 Members of the Security Council (China, France, Russia, UK, and USA) and 2/3 of the United Nations General Assembly. Realistically, this means that the P5 will pick the Secretary-General, as it is incredibly unlikely that they would agree on a candidate that the rest of the organization couldn't support. Candidates can declare their candidacy at any time until the next SG is chosen, which means that while there are currently 9 candidates, many more could join the fray in the coming months (including possibly Kevin Rudd from Australia, Angela Merkel from Germany, or Michelle Bachelet from Chile).
The Norms
In the past the Secretary-General and other top UN jobs have been chosen on the basis of "Regional Rotation", so that each region will eventually get a chance to hold each job. In the history of the United Nations every regional group except for the Eastern Europe Group has had at least one Secretary-General, which has led to the high number of candidates and support for an Eastern European Secretary-General this time. However, with a more open process (and the lack of consolidation among Eastern European countries around a single candidate), this norm may be abandoned in favor of public support for candidates, rather than back-room deals to keep groups of Member States happy.
It has also been the norm in the past for the Secretary-General to be approved without a vote, once negotiations have completed. This year, with more public information and public interest in the process, it is much more likely than usual for a vote to be held on the Secretary-General.
The Candidates
We'd like to briefly introduce each of the (current) candidates to you, as well as any interesting information pertaining to their candidacy so far. If you want more information, you can find full bios online, or full statements and videos about each of their candidacies on the UN President of the General Assembly's website. Candidates are ordered based on when they declared their candidacy.
Dr. Srgjan Kerim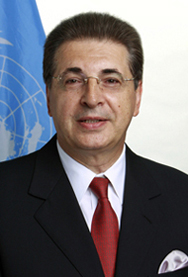 Nationality: Former Yugoslav Republic of Macedonia (Eastern Europe Group)
Past Jobs: Minister of Foreign Affairs of Macedonia (2000-2001), President of the United Nations General Assembly (2007-2008)
Candidacy: Dr. Kerim was the first to announce his candidacy, and is possibly the strongest proponent of the "Regional Rotation" model that the United Nations has followed in the past (which also contributed to his timing as President of the General Assembly). Both of the Eastern European Presidents of the General Assembly (arguably the highest role at the United Nations behind Secretary-General) from the past decade are now candidates for Secretary-General.
Dr. Kerim also has stated that if elected, he would appoint a female Deputy Secretary-General, and has promised to improve the gender equality on UN staff to a 60/40 male to female ratio.
His campaign is funded by the Macedonian government, with a current budget of about 100,000 Euros.
Dr. Vesna Pusić
Nationality: Republic of Croatia (Eastern Europe Group)
Past Jobs: Minister of Foreign and European Affairs of Croatia (2011-2016), First Deputy Prime Minister of Croatia (2012-2016)
Candidacy: During her question-and-answer session with Ambassadors and Civil Society members, Dr. Pusić was asked about countries "imposing" their cultures on others through the United Nations. She has been a consistent advocate for women's rights in all societies globally, and responded to this question that "no culture is set in stone". She also stated during this session that she supports a merit basis as the main terms for hiring Senior Staff, rather than geographic diversity.
Dr. Pusić is a supporter of reforms to mandate a single term for the Secretary-General, rather than the two consecutive five-year terms allowed.
Dr. Igor Lukšić
Nationality: Montenegro (Eastern Europe Group)
Past Jobs: Minister of Foreign Affairs (2012-Present), Prime Minister of Montenegro (2010-2012), Minister of Finance (2004-2010)
Candidacy: Dr. Lukšić is another strong proponent of regional rotation at the United Nations, and has stated that his Deputy would be a female from the Southern Hemisphere. He has agreed to make his campaign budget public in the coming days.
In one of many references to the United States election that has been made during this Secretary-General selection, Dr. Lukšić asked the audience if we need to "Make the U.N. Great Again"?
Dr. Danilo Türk
Nationality: Slovenia (Eastern Europe)
Past Jobs: President of Slovenia (2007-2012), Ambassador to the United Nations (1991-2000)
Candidacy: Though Eastern European, Dr. Türk was the first candidate to come out and say that merit, rather than rotation, should be the primary reason for appointment for senior U.N. Officials, stating that underrepresented small countries should "Come with good candidates".
His message has focused heavily on communication between the U.N. and the public, criticizing the use of "UN-ese" jargon, calling the meetings "boring", and calling for better storytelling by the United Nations. Türk also supports U.N. Security Council reform.
Irina Bokova
Nationality: Bulgaria (Eastern Europe)
Past Jobs: Director General of UNESCO (2009-Present), Ambassador to France and Monaco (2005-2009), Acting Minister of Foreign Affairs (1996-1997)
Candidacy: Dr. Bokova has stated publicly that she supports Regional Rotation for senior U.N. positions, and this rotation is what led to her current role at UNESCO. Bokova is the current candidate most supported by Russia, which is crucial both in consolidating the support of Eastern European countries and in obtaining the support of a veto-wielding country.
However, either because of Russia's support for her candidacy or other reasons unknown, it seems that Bokova has made enemies of the British delegation, which also yields a veto. During a question-and-answer session, the British Ambassador to the United Nations asked Bokova which U.N. Agencies or Programs she would shut down for efficiency; Bokova dodged the question, however any answer would be unpopular among Member States and U.N. officials associated with these programs. The British Ambassador to UNESCO also recently triggered a corruption investigation into her appointment of a supposedly under qualified official at UNESCO, though it is unclear if this will yield any results.
Natalia Gherman
Nationality: Republic of Moldova (Eastern Europe)
Past Jobs: Acting Prime Minister of Moldova (June-July 2015), Minister of Foreign Affairs and European Integration (2013-2016), Deputy Prime Minister (2013-2016)
Candidacy: Gherman has called for greater transparency at the United Nations, and more accountability within different agencies and over the Member States to follow through on their commitments. Gherman has also called for the United Nations to make reforms to act more rapidly in response to crises, and well as to achieve greater gender parity throughout its offices.
António Guterres
Nationality: Portugal (Western Europe and Other)
Past Jobs: United Nations High Commissioner for Refugees (2005-2015), Prime Minister of Portugal (1995-2002), President of the Socialist International (1999-2005)
Candidacy: Guterres was the first candidate not from Eastern Europe to declare candidacy, a controversial move that has reportedly earned some criticism from Eastern European countries and others that support the regional rotation model. Guterres' candidacy is being funded by the Portuguese government.
Guterres has announced that he would make sure that the United Nations staff has a perfect 50/50 gender balance. Guterres has also claimed that he would also exercise article 99 of the United Nations Charter, which allows the Secretary0-General to bring brings matters of Peace and Security before the Security Council (rather than the Security Council setting this agenda themselves). Current SG Ban has never exercised this right.
Helen Clark
Nationality: New Zealand (Western Europe and Other)
Past Jobs: Administrator of the United Nations Development Programme (2009-Present), Prime Minister of New Zealand (1999-2008)
Candidacy: Declaring immediately before briefing schedules were announced, Helen Clark is arguably the highest-profile candidate to declare candidacy for Secretary-General, and only the second candidate that isn't from Eastern Europe. Clark believes that a merit basis, rather than regional rotation should be the basis for appointments of senior U.N. officials. She has also expressed support for expansion of the Security Council.
It appears that Clark has the support of the United Kingdom so far, and possibly France. This led a journalist to ask Clark is she was the "establishment" candidate, in another allusion to the current U.S. election. She of course denied this. However, in a blow to Clark's candidacy, former Australian Prime Minister (and potential SG candidate) Kevin Rudd has stated that while he respects Clark's work, he believes the Secretary-General should be selected from Eastern Europe.
Vuk Jeremić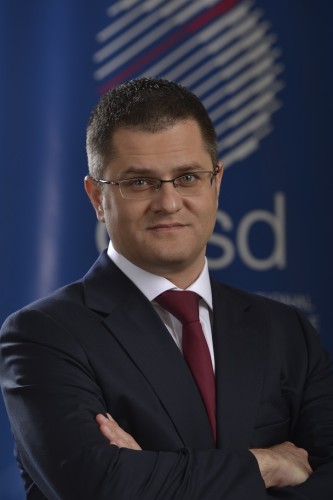 Nationality: Republic of Serbia (Eastern Europe)
Past Jobs: President of the UN General Assembly (2012-2013), Minister of Foreign Affairs (2007-2012)
Candidacy: One of the most recent Presidents of the General Assembly and with formidable ties to the various Member State delegations at the United Nations, Jeremić declared his candidacy the day before interviews began for the role. Jeremić stated that he would guarantee perfect gender parity in his Under-Secretaries-General from "day one", and that he would also appoint a female Deputy. In regards to regional representation, however, Jeremić has stated that merit should be prioritized.
Jeremić has stated that his campaign will be funded through donations and his personal finances rather than from any government. One thing that could stand in the way of his selection, however, is that while he was Minister of Foreign Affairs of Serbia, he jetted around the globe to lead the charge to oppose international recognition of Kosovo as an independent country, while over 100 Member States today recognize Kosovo. However, it was ultimately his idea to work through the U.N. System by submitting to the International Court of Justice for an advisory statement on the matter, even though that backfired for Serbia. However, this issue didn't stop him from being elected as President of the General Assembly, so it may not be an issue for Secretary-General either.