Last fall, I had the amazing opportunity to live, study, and work in Washington, D.C. As someone who grew up in Syracuse, N.Y. and goes to school in Ithaca, N.Y., I was incredibly excited to be in a bustling city full of new experiences and opportunities. My program was unique in that it required students to complete an internship in addition to regular classes.
During my time in our nation's capital, I was verylucky to work as an intern at the United States Agency for International Development (USAID), which is an agency of the federal government. I had an incredible experience working there, and I was astounded to find that participating in Model United Nations had prepared me for working as an intern in ways I never would have imagined.
1. Professional environment
We all know the drill – western business attire, legal pads, and binders full of research. Model UN conferences are not only fun, but they also provide students with the opportunity to act within a professional environment. This is a crucial skill that many students never have the chance to attain. Because high school and college environments are focused on academics and peer communication, many students don't have the opportunity to work in a truly professional and career-focused environment.
Model UN is an exception to that phenomenon, however. Where else can you find thousands of teenagers and young adults throwing around phrases such as, "comprehensive solution," and "multilateral approach?" Because Model UN had taught me how to function in a professional environment, assimilating into the work environment of a federal agency was a much smoother process than it might have been without the influence of Model UN.
2. Research
The role that research plays in Model UN is indisputable. We've all assembled multiple binders filled with hundreds upon hundreds of pages of facts, figures, and analyses. Researching our countries and topics allows us to become fully immersed and invested in our committee experience during a conference. Unfortunately, many students don't get the opportunity to learn how to conduct this kind of intensive research in academic settings. Students who participate in Model UN gain the experience of researching completely new and unfamiliar topics, and also learn how to effectively organize this research into an educational tool to use during conferences.
While working at USAID, my responsibilities mainly included conducting research that was used to brief members of Congress and other officials regarding foreign aid outcomes, international affairs, and the economic situations of specific countries. Because I have been learning how to research through Model UN for the past seven years, I was able to perform my duties as an intern effectively and efficiently.
3. Confidence 
When I first started participating in Model UN, I was a timid freshman in high school with no idea how to speak in public without my hands shaking. Now, seven years later, I have gained much more confidence in myself and in my abilities just by being involved with Model UN.
Now, I have spoken in front of one thousand people, and I have learned how to stand my ground in support of my countries' policies. Model UN has taught thousands of other students around the world how to exude confidence and be sure of themselves in the midst of debate and discussion.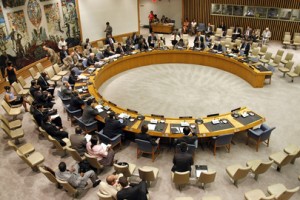 While working at USAID, I had to have enough confidence in myself to reassure my supervisors that I would be able to complete all of my tasks on time. I also had to be confident enough to ask for more projects, as well as ask questions regarding work, life, and everything else. Model UN helped me to become a more confident person, and this trait helped me immensely during my internship.
4. Networking
During a conference, delegates spend an incredible amount of time working with one another other to come up with solutions, negotiate controversial clauses, and eventually pass a resolution. Without even realizing it, delegates have to use networking skills to talk and work with students from other schools. Additionally, delegates attend many different conferences all over the high school and college circuits, allowing former committee members to see each other in new conference settings. Meeting people and working with them to achieve a goal is one of the most important aspects of Model UN.
This is also a key part of working in a professional environment. Meeting new people and learning how to work with them to solve problems and finish tasks together is one of the most important parts of a job or internship. Model UN gives students the people skills necessary to excel in the social and communication aspects of a professional work environment.
All in all…

During my internship last fall at USAID, I never realized how much the skills that Model UN taught me would allow me to have such an incredible experience. Learning how to function in a professional environment, gaining research skills, having confidence, and learning how to network all helped me succeed in my internship, and these skills will undoubtedly be able to help you as well.