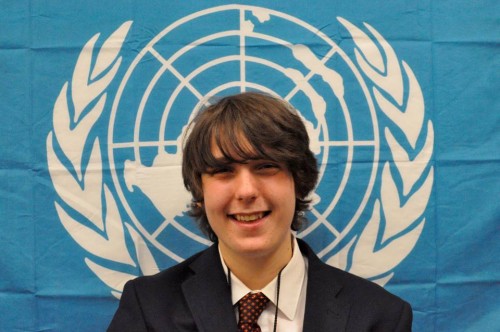 "I love Model UN and I wanted to gain more experience.
Best Delegate presented a program that does just that."
– Templeton K., New York
Best Delegate Summer Programs help delegates improve their Model UN skills by giving them more Model UN experience. We feature Model UN simulations throughout each week-long program.
The beginning of the program kicks off with a one-hour Model UN simulation using a fun and easy practice topic like "Fruits and Vegetables." It's a great way to break the ice, with hilarious speeches and arguments, that helps delegates get to know one another as soon as they arrive at the program. At the same time, we can teach Model UN right away and help delegates get started with improving their Model UN skills from the very beginning of the program. And even with delegates with no prior Model UN experience, we use this approach to delegates the basics of Model UN in one hour — or less!
During each day of the program, delegates learn Model UN skills such as public speaking, negotiation, and research, and at the end of the day, delegates participate in a "practice committee" where they can immediately apply what they've learned. For example, delegates learn how to research a topic, write a position paper, and prepare an opening speech in just a few hours. Then, they walk into a two-hour "practice committee," where they get to practice public speaking, negotiation, and resolution writing techniques they learned earlier in the day. And afterwards, delegates get personal feedback from our Diplomacy Fellows — the best delegates on the college MUN circuit — who help them understand what they did well and what they need to improve the next day.
Finally, the program ends with an all-day Model UN conference where students can apply all the skills they've learned. Delegates prepare for it like they would for any other Model UN conference — getting their country assignments, researching and writing their position papers, preparing their opening speeches and possible solutions — and they dress up in Western Business Attire for the day of the conference. During the conference, delegates apply all of the public speaking, negotiation, social dynamics, and resolution writing skills that they've learned throughout the week. And our Diplomacy Fellows take notes of how each delegate is performing in order to give them final feedback at the end of the conference and the end of the program. Ending with an all-day Model UN conference makes delegates more likely to remember what they've learned after the program is over and more likely to apply their new and improved skills at the biggest and most competitive Model UN conferences during the schoolyear.
By the end of the program, delegates have gained a lot of Model UN experience, which significantly improves their Model UN skills, and in the process — delegates have a lot of fun!
Learn more about Best Delegate Summer Programs