Bids for WorldMUN 2013 have been submitted and Harvard is currently reviewing them. Our sources tell us that besides Melbourne, other cities that are bidding are from Spain, France, and Turkey. Here's an interview with Sam Loni from the WorldMUN Melbourne 2013 Bid Team.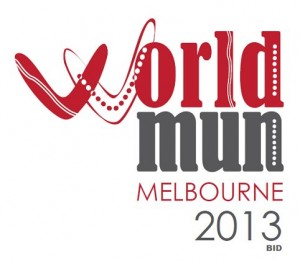 Why did you decide to be part of the bidding process?
Deciding to prepare a bid to host WorldMUN 2013 was, after attending WorldMUN 2011 in Singapore and WorldMUN 2012 in Vancouver, an easy decision. After experiencing the WorldMUN Spirit and realising its role in empowering the World's future leaders, the Melbourne Bid Team recognised the significance of the Conference and decided to bid in order to extend its reach to the last continent that it is yet to visit. Regarded by Ban Ki Moon as a role model for the world in relation to its involvement in the global community, the Melbourne Bid Team is endeavouring to foster the WorldMUN spirit in Australia and expose delegates to a country founded on mateship and cultural diversity.

What's the bidding process like and what do you have to prepare?

The bidding process is an unparalleled experience that requires extensive organisation, communication and leadership skills, patience, persistence and, most importantly, teamwork. By no means easy, members of the Melbourne Bid Team sacrificed their time and personal commitments in order to prepare Melbourne's comprehensive bid document that is regarded by the Team as being its 'intellectual child'.
Over the course of a year, the Melbourne Bid Team was required to prepare a comprehensive document that encompassed every aspect of its proposed bid and satisfied the criteria for hosting an event of this calibre. For months, the Bid Team contacted venues, private and public entities, politicians, airlines, distinguished individuals and schools as it arranged the logistics and sourced the financial support that forms the foundation of our bid. Assigned to portfolios, ranging from Directors of Finance to Directors of Social Events, members of the Bid Team had a number of tasks to complete before the deadline. The challenging bid process, however, was made easy (and some times fun?) by a dedicated CEO and a Team that became somewhat of a family. If anything, the bonds that were formed among the members of the Bid Team are enough to counteract the pressure experienced as undertook our respective duties.
As a team, we were required to obtain financial support, organise six social events, arrange a conference venue, obtain transport discounts, plan pre and post conference trips and think of ways to make WorldMUN 2013 unique and unforgettable, whilst simultaneously preserving the WorldMUN Spirit and creating an environment that will allow delegates to experience Melbourne as much as possible. Characterised by endless phone calls, email chains that make the Lord of the Rings seem like light reading, sleepless nights, venue assessments, and, admittedly, Red Bull, the bidding process is incredibly challenging and commands an unrivalled level of commitment. However, although the process can, at times, be described as gruelling, the euphoria and overwhelming sense of pride experienced upon viewing the final copy of our bid document was an experience like no other.
What makes Melbourne an ideal host for WorldMUN 2013?

To date, no Australian city has had the privilege of hosting WorldMUN and the Melbourne Bid Team hopes to bring the conference 'Down Under', and to expose delegates to the city that it is proud to call home. Constantly being transformed by the population's insatiable appetite for global culture, Melbourne promises to delight delegates as they experience a unique amalgamation of cultures, interact with the friendly locals and adopt the Melbourne lifestyle.
Melbourne, voted the' World's Most Liveable City', is the vivid charm of Australia's most southeast state, Victoria. Situated at the estuary of the magnificent Yarra River, and caressed by the gentle waves of Port Phillip Bay, the exciting hub of Melbourne city offers great urban and natural spectaculars. Flourishing with a diverse assortment of stylish bars, cafes and restaurants, unique laneways, galleries and theatres, festivals and sporting events. Boasting a plethora of cultures, Melbourne promises to offer delegates one of the most unforgettable experiences of their lives.
For More Information:
Support Melbourne's Bid to host WorldMUN in 2013