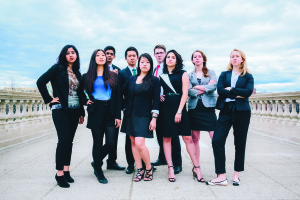 Planing on attending WorldMUN 2016? Check out our interview with WorldMUN's Secretary General Joseph Hall!
First of all, can you tell us a little bit about yourself and how you came to be SG of WorldMUN 2016?
I've been doing Model UN since high school, and I was co-Head Delegate of Harvard's competitive team for 2014-2015. I've been a part of over 30 MUN conferences as a delegate and staff member. WorldMUN has always been one of the most exciting conferences Harvard students get to staff, and I seized the opportunity as soon as I could. There's something very powerful and unique about WorldMUN, more so than any other conference I had ever been to. The passion, energy, and commitment of the delegates coming from all over the world make it more of a celebration on young leaders worldwide than just a MUN competition. I've never met more earnest and inspiring delegates than at WorldMUN, and this is why I think I and all members of the community decide to give all we can to the Olympics of Model UN.
How does it feels to have a figure such as Pope Francis as keynote at WorldMUN 2016? And how did you manage to bring in such a prestigious keynote speaker?
We couldn't be more honored to be hearing from such an important leader as Pope Francis, nor one whose work is more relevant to our mission as a conference. He has used the papacy to talk about deep issues in our global society like inequality and environmental protection in ways that most would have thought unimaginable. Personally, I am an enormous admirer of Pope Francis and meeting him will be a dream come true for me and for my family.
We often hear this conference referred to as the "Olympics of MUN"-  how does the bidding process work for WorldMUN?
WorldMUN is truly the Olympics of Model UN for many reasons: The level of substantive debate, the diversity of delegates, attention it gets from government and media in host countries amongst other things. And one of the most important aspects is the bidding process, where teams from around the world who believe in WorldMUN spirit will get a chance to host WorldMUN and welcome delegates to their home country.
Teams interested in bidding usually first learn about the process at the information session during conference. The best bids are usually developed over the course of more than a year, and involve collaboration between universities, MUN societies, sponsors and government agencies–it takes a lot of work by a lot of people to make a spectacle like WorldMUN happen!
WorldMUN is always on the hunt for promising new host cities for future conferences, so if you are reading this and think your city might be a good host for WorldMUN, send an inquiry to secretarygeneral@nullworldmun.org–we have examples of past bids and step-by-step walkthroughs on how to put together a competitive bid.
Everybody knows that WorldMUN changes its location each year, but just how global is WorldMUN? How do you put the "World" in "WorldMUN"?
WorldMUN is the final word in internationalism in world of MUN. We bring together delegates from over 110 different countries and regions, and our conference has been in more than 20 cities on 5 continents. The WorldMUN community grows every time we host a conference in a new city, as delegates discover WorldMUN when it comes to their native region and come back year after year.
This year, we have also launched a Global Enrichment Initiative to encourage WorldMUN delegates and community members to bring the opportunity to delegates from historically underrepresented countries in WorldMUN by leveraging their connections and wealth of experiences. You can check it out here: http://goo.gl/forms/nnF1QHj2cG
What is the main challenge for you as WorldMUN 2016 Secretary General?
I'd say my main focus as Secretary-General is strategically positioning WorldMUN to continue leading the MUN community throughout the next 25 years. WorldMUN 2016: Rome is the 25th edition of our conference, and our conference theme this year is #Future25, a recognition that WorldMUN is a conference focused on learning from the past to change the future. As young and growing leaders in our respective countries, people in the WorldMUN community are at our conference to develop their leadership skills and learn about how to tackle our generation's biggest international challenges with cooperation and multilateralism. To stay true to our mission, we need to constantly stay on the cutting edge of MUN by leveraging social media, first-rate conference management technology, and the substantive excellence of our chairs.
Any fun committees you can tell us about for the conference this year?
All the committees at WorldMUN are fun! Given recent events, though, I imagine chair Nicholas Abbott has some particularly exciting crises planned for the FIFA Executive Committee!!
Rome, as one of the large European capitals, is a fun city- any fun plans for this year's social events?
You can check out our full schedule of social events at worldmun.org!!! We have 6 social events from Night Zero to the Farewell Party. I have to say that personally, I'm most excited for the Toga Party.
Last but not least, why to attend WorldMUN 2016?
WorldMUN is a unique conference and the epitome of everything that makes Model UN a worthwhile and life-changing activity. You'll learn about a crucial world issue, make friends from countries you only knew existed because of MUN, and wander the streets of Rome late at night. Most importantly, you'll learn what we mean when we talk about WorldMUN Spirit, the force that motivates WorldMUNners to work hard all day, play hard all night, and go back home with new insights about the world.
***
Special thanks to Harvard World Model United Nations Joseph Hall for taking the time to speak to us.