At Best Delegate, we are passionate about Model United Nations. Today we are proud to announce the Summer 2015 dates of our Model United Nations training programs.
The Model United Nations Institute By Best Delegate features high-quality educational programs designed to prepare future leaders through Model United Nations. Our programs help students learn international politics and diplomacy, improve their leadership and communication skills, and join a passionate global community of future leaders.
We offer programs for high school and middle school students of all MUN experience levels, from no prior experience to the most advanced delegates. Our programs are offered all summer at world-class universities, including Harvard, Columbia, Georgetown, UC Berkeley, and UCLA.
And the MUN Institute is taught by a passionate team of professional educators (and life-long MUNers!) and the Diplomacy Fellows — the best delegates in college-level MUN.
You can learn more about the MUN Institute on our new website. Also, follow us on Facebook and Twitter!
The MUN Institute features the following programs for high school and middle school delegates:
The Diplomat and Junior Diplomat Programs for beginning-level delegates who want to get started and have fun learning Model United Nations!
The Ambassador Program for intermediate and advanced delegates who want to learn the strategies and secrets to becoming an award-winning delegate.
The Secretary-General Program for advanced high school delegates who want to chair committees and start their own MUN conference.
The Crisis Program for intermediate and advanced high school delegates who want to participate in exciting and fast-paced crisis simulations, which is a growing trend in high school and college MUN.
The UN Studies Program for high school delegates who are interested in studying history, politics, and international relations in college. This is a special program offered only at Columbia that features visits to the UN and simulations using the new UN4MUN guidelines recommended by the United Nations.
We are currently running our Early Registration discount until February 1! Sign up now and you will automatically receive $50 off all of our programs!
Feel free to email me at mun@nullbestdelegate.com to let me know if you have any questions or thoughts about the MUN Institute, including our new website and registration system. I read every email!
I hope to see you this summer!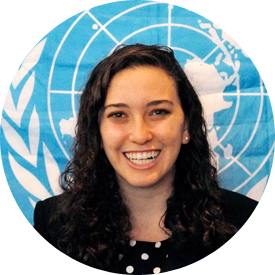 Best,
Laurabeth
Program Manager