Lahore University Model United Nations (LUMUN) is not just another MUN conference.
LUMUN aims to bring together people with different cultures and viewpoints, to spread the message of tolerance and unity. In it's efforts to do so, LUMUN and its members have touched lives all around the globe. International participation in the LUMUN conference is common, and the society also organizes EurasiaMUN in Germany, in collaboration with the University of Passau. LUMUN delegations have also distinguished themselves in international conferences. It has been honored with the 'Best Delegation' award at the Harvard WorldMUN for the last five years, and its delegations have also done astoundingly well at conferences in Turkey, India, Austria and Switzerland.
Where most Model UN Conferences compete for rankings and see themselves as the social hub of educational events for students and the youth to attend. LUMUN sees itself as the pioneer of introducing Model UN simulations in Pakistan. It has continued to outperform Model UN culture in Pakistan, as the brand ' LUMUN' has played a pivotal role in making students today more politically and socially conscious, and in empowering them to step up and take charge of their world and their future, by providing them with a platform to think and speak out.
One of many great things at LUMUN is the scope, scale and diversity of students not just competing for Best Delegate awards but are socially and politically aware and are willing to contribute to the society. The fabric of creating a vibrant society is thus held together by cooperation and awareness which LUMUN has taught since last ten years by contributing positively to the Pakistan and Asian's Model UN Community.
The Conference and the City
With over 1000 delegates attending the 9th LUMUN conference this year, the conference has become a household name for the youth in Pakistan already while also attracting delegates as far as India, Sri Lanka and many other Asian countries in the continent. The conference held in Lahore University of Management Sciences (LUMS) from December 25th-29th.  The Conference was led by Secretary General Qaseem Abidi and his team of All-star MUN-ers of LUMS Model United Nations Society (LUMUN).
Although Lahore city is my home town but still this was my first time visiting LUMUN. With a rich history dating back over a millennium, Lahore is a main cultural centre of Punjab Province and Pakistan. They say Lahore is life, Lahore is noise, Lahore is color and Lahore is love; and by the end of the weekend I could say why.
Three major takeaways from LUMUN which really impressed me and distinguishes it from many of the other Model UN Conferences:
The way it sets its educational mission and how well they kept the legacy of their all-stars alumni MUN-ers by improving and expanding it each year.
Its approach to running the conference like a business and looking at students and schools as customers and clients by delivering them the quality they value; and last but not least,
How well they act as a bridge between the youth and the highly trained professionals and leading personalities in Pakistan by inviting them during the 5 days conference event so that the delegates could grasp the most out of the LUMUN experience.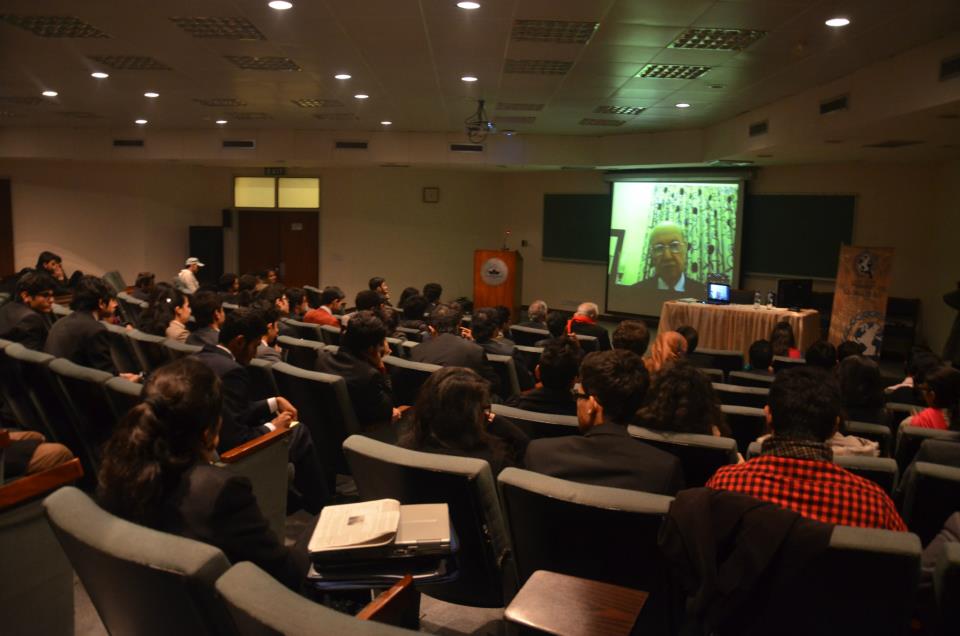 Committees and its diversity
LUMUN aims to provide diversity in committee choices as they focus heavily on training delegates for understanding the international affairs and the beauty of diplomacy to settle down disputes in real terms. They have adopted a much realist approach in order to cater much needed international affairs awareness among the delegates. And this could be seen in its committee selection for this year's conference, which featured many international bodies such as General Assembly committees, ECOSOC & Regional bodies, and specialized agencies to foster the interests and improve the delegate's experience this year.
LUMUN also aims in creating a 'realistic' Model of UN simulation to enhance the abilities of individuals by challenging their decision making abilities and by giving them the ability to make decisions that affect the environment within the parameters of powers and authority. At this year's LUMUN, 1o committees took place in the present day while 3 committees simulated the events of 1942 and 1959 respectively. Every committee had a projector, monitor or screens running for delegates to view their working papers, draft resolutions or any news update from the dais members.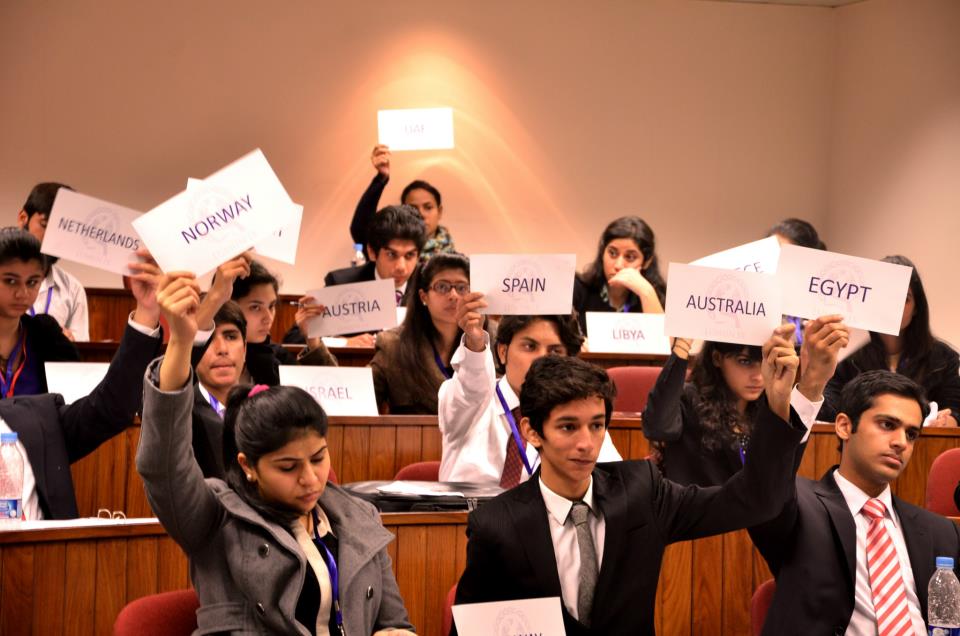 You know you're in DISEC, and it's crazy when 170 hungry delegates are waiting for the Chair to commence the proceedings so they can shove their diplomacy down on each others throats. They may as well be having the Hunger Games (Press Corps) — this only happens in LUMUN which is pretty awesome.
Meanwhile in the Pakistan National Assembly (PNA) arguments were raised to pass a clause on Bill 1.1 to whether promote provincial languages or have Urdu as the sole curriculum language. Delegates were also very enthusiastic when they brought up a debate to strengthen Pakistan – India relationship and suggested policies like confidence building measures for demilitarization of areas such as Siachen and Kashmir, increase trade opportunities and the No First Use (NFU) policy to increase mutual corporation between the two countries.
Arcadia Conference 1942 emphasized that the unconditional surrender on the part of Nazi Germany and Fascist Italy will be the only acceptable conclusion of the European threatre of war. At one point, the Chair recognized me to debate on a moderate caucus when I raised my hand to pass on a note to chair to introduce myself — that was hilarious as I was asked about my personality  and I was like I'm Fozan Ghalib.
One of my personal favourite committees were Historical Security Council and DISEC as this year for the first time, LUMUN simulated these two committee as double delegation committees which doubled the fun. Double delegation simply meant that it shall consist of two people from one team representing one country. Both representatives must be on the same page in terms of their country's policies with regard to the topics being discussed. The members of a double delegation act as a cohesive unit in term of their policies, action, and discussions with other delegations. — This change was a bit challenging and interesting as it tested how well they can negotiate, debate and work as a team with their counterparts to represent a common country's position on the committee topics.
Delegates as Customers and Clients
One of the ways LUMUN was distinguished from many typical conferences was the way they treat their delegates and schools which keeps them coming back for  more every year.
Events like Pakistan Vs India Cricket Match screening, Texas Ranch Carnival, Concert night with imminent Pakistani singer Shehzad Roy and a Bollywood themed dinner were all organized  for home and outstation delegates to enjoy their time at LUMUN during the course of 5 days event. All of the social pack was designed for delegates which aims to enhance other skills like confidence, representation and teamwork, whilst alongside providing a fun time for all.
Build and Sustained Relationships
One of the special feature of LUMUN is how well they act as a bridge between the youth and the highly trained professionals and leading personalities in Pakistan by inviting them during the 5 days conference event so that the delegates could grasp the most out of the LUMUN experience.
Personalities like Asma Jahangir (President Supreme Court Bar Association of Pakistan and human rights activist) and Hina Rabbani Khar (Foreign Minister Pakistan) were invited as guest of honor and key note speakers during the opening and closing ceremonies to address the delegates. Asma Jahangir was also the United Nations Special Rapporteur on Freedom of Religion or Belief from August 2004 to July 2010 and gave an inspirational address at LUMUN on Justice, Democracy, Rights, Freedom, Tolerance & Change which was quite appreciated by the young diplomats.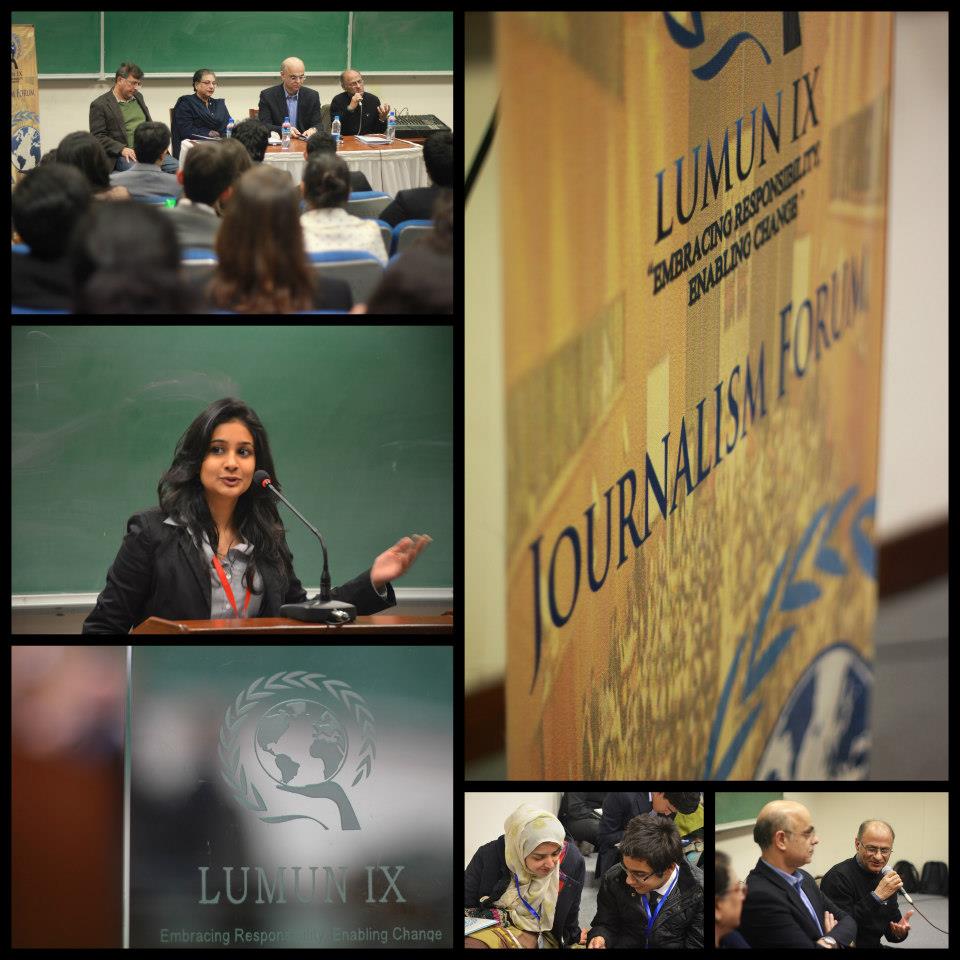 LUMUN Day 2: The Journalism Forum had the unprecedented theme of 'Ethical Journalism' with a renowned panel of Pakistani journalists (Hina Jilani, Muhammad Malick and Javaid Nazir to speak and talk to the young diplomats about the ethics in media. Delegates were quite keen to question their favorite TV anchors and talk show stars regarding the international affairs and one of the most pressing issues concerning the global communities. Some of the questions were committee specific by the delegates as in to absorb more knowledge to polish their country research for day three committee sessions. A few key takeaways of the forum were what ethics in media are, its applicability in Pakistan and how important it is to report responsibly.
LUMUN Day 3: Every year LUMUN staff also organizes Social Responsibility Program (SRP) and conduct different activities with children from Care and the delegates to bridge the gap. Some of the activities included painting their dream Pakistan and I was impressed by the level of creativity and leadership qualities projected by those individuals from the Care. When being asked, one of them confidently answered that students from LUMS not only held such events for one or two days but they have summer camps for them as well where they're taught in English. 'I am part of LUMUN family now, I come every year to debate at LUMUN conference and work with them to improve my communication skills" he said.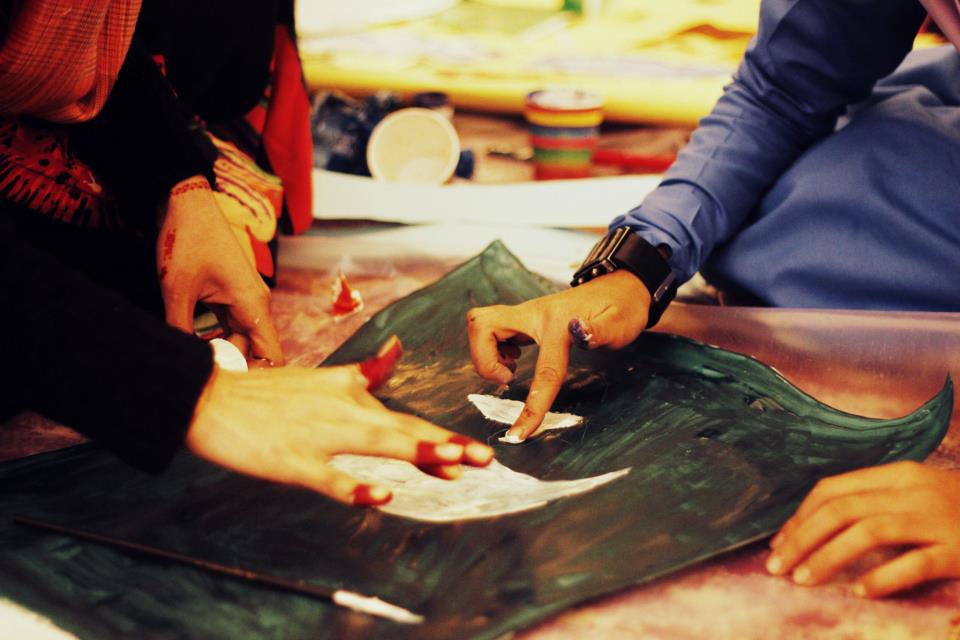 Day 3 of LUMUN ended with the Diplomatic Meeting where many ex Pakistani ambassadors, as well as current foreign ambassadors representing their countries in Pakistan were gathered under one roof to share their professional and personal experiences with the delegates as dignified representatives of their country abroad. This was an applaud able  initiative as it provides the aspiring diplomats with the insights on how to get to where these diplomats have worked for years and what it means to be a diplomat or ambassador of their country.
LUMUN Day 4: The day 4 of the conference shall be cherished for the Global Zero Chapter at LUMUN which marked by high attendance and wise eyes of the young diplomats. The initiative aims to spread awareness in Pakistan about the international movement that is striving to rid the world of its nuclear arsenal.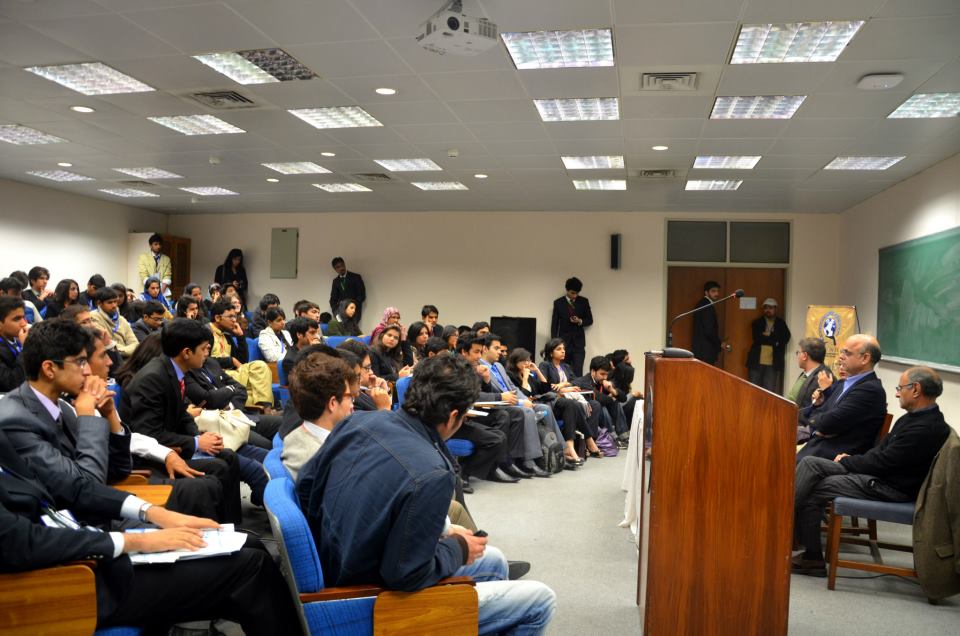 Best Delegation Awards and Best Team's LUMUN Trophy
The final day, where all the handwork of conference staffers and delegates at their respective committees was to be praised.
Here are the the Top 5 Delegations at LUMUN this year. The names of the institutions followed by the number of Outstanding Diplomacy Awards are given below.
(1) Lahore School of Economics (9 Awards)
(1) Karachi Grammar School Team A (9 Awards)
(3) Aitchison College Team A (6 Awards)
(3) Nixor College (6 Awards)
(5) Lyceum (5 Awards)
(5) Karachi Grammar School Team B (5 Awards)
Special thank you's to Nisa Paracha and Saim Sadiq for welcoming me to LUMUN and assisting me throughout the conference. Congratulations to all delegates, and staff on a successful conference!
Here is the closing ceremony video of LUMUN IX presented by the LUMUN press and media team:  http://vimeo.com/56549207
Tag yourself and your friends in our LUMUN 2012 Facebook photo album! And let us know what you thought of the conference in the comments below!