This article was provided by Dennis K.A. Penu, Director of Programs at Life-Link in Ghana.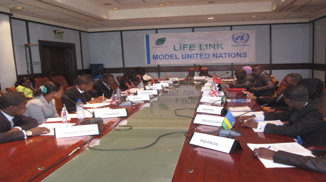 The stage is set for yet another discussion of a security issue in the Life-link Model UN TV show, dubbed "The Diplomat".  The show is a 13-week episode program that will focus on the Syrian Crisis and how the Security Council can help solve the impasse between the government and rebel forces for the benefit of Syrian and world peace.
Participants in this show are 17 selected tertiary-level youth from varied backgrounds who have developed strong skills in public speaking, leadership and negotiations, especially having gone through the Tertiary Model United Nations conference organized by Life-link Friendship Schools, Ghana, a youth leadership development organization focused on leadership training through Model United Nations. These participants will be representing the current member states on the real UN Security Council and 2 other observer states.
This show seeks to produce "The Diplomat"; the ultimate prize for the adjudged winner of the show who will have the opportunity for vast international and leadership exposure. The simulation seeks to challenge the participants to their wits end in trying to apply diplomatic negotiations and tact in seaming the broken political environment in Syria. After successfully hosting its maiden version, "The Delegate" show in 2012, Life-link Ghana is prepared to take the challenge yet again to help in developing youth leadership. Get a recap of "The Delegate" show on http://www.youtube.com/user/egyimah26?feature=watch
"The Diplomat" show is the second, in the continuous effort by Life-link Ghana to promote youth leadership development, using the unique model of the United Nations to produce youth who are capable of taking up high level leadership roles. The show is scheduled to start airing on Ghanaian TV stations in February and will eventually produce and youth diplomat who will be on the Ghana government delegation to the United Nations to represent the interest of Ghanaian youth.