This guest article was written by  Maria José Pinto Guillen from LiMUN 2015 Team.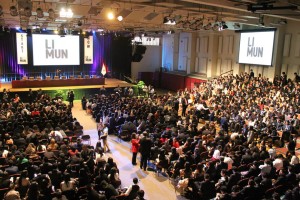 I have to admit: I've never seen an auditorium be filled with such excitement as I did in the Opening Ceremony for the Lima Model  United Nations 2015, what has turned into the biggest MUN Conference for high school
students in Peru. LiMUN is organized by AENU Perú, a non – profit Organization, which aims to connect Peruvian youth with educational experiences, through debate and soft skills teaching, that generate impact in their lives, making them and AENU, better leaders for the Peruvian Society. AENU Perú also manages the Peruvian Universities MUN team, which I am proud to be part of for four years now. LiMUN 2015 was the fourth edition of this Conference, and I can truly say this year's, was our most successful edition so far: with the MyWorld results being delivered to the Ministry of Transportation and Communication, José Gallardo, in our Closing Ceremony as a perfect ending for what was an incredible Conference.
We, the Secretariat, had a big dream that could also be seen as a huge challenge: to double the number of participants, committees and quality of last year's Conference. 700 delegates was our goal, and when the registration process began, I personally felt this was going to be harder to achieve than we all thought. Nevertheless, we worked enough to not only achieve our goal but to do three things neither of us expected to do: extending our delegates limit and increasing our committees' number with three more General Assemblies. And so the final results were 1026 registered delegates from 41 schools within Peru – both private and public institutions – participating in 16 committees, three of them in Spanish.
As fast as a blink of an eye, mid-August was already here. Between the workshops both in Spanish and English for students and teachers; logistics management among other administrative tasks, we, the staff of LiMUN 2015, woke up with both happiness and excitement on Thursday, August 20th. After registering all 41 schools and having all delegations taking pictures in our LiMUN red carpet, the ZUM Auditorium was filled along with background music specifically picked up for the occasion, to boost the mood for the three days that were coming by. As 2015 is the deadline for the Millenium Development Goals (MDGs), it was almost a must for us to have them as a cross cutting theme for LiMUN, and so MDGs eight logos were part of the decoration for our Opening Ceremony. Our keynote speaker: Mariana Sánchez – Aizcorbe, Peruvian Al Jazeera's war correspondent, which speech, along with our Secretary General's reminded the attendees that passion must be the key for every single thing we aim to achieve in life. And so, LiMUN's 4th edition was opened.
Our sixteen committees strolled around a wide variety of international and historical issues: from Drug trafficking to Space Sovereignty; from The Green Economy and Development to Access to Water. I must say, the success of our Committees was brought by our Substantial Affairs team who not only managed to include high quality academic content into the debate, but some of them took it one step further by dressing up with jumpsuits for a Disease Outbreak in the Emergency Health Summit Committee, or having a Risk board game for members of the Tsar Nicolas II Cabinet to discuss how Europe was going to be divided. Nevertheless, the flow of debate was achieved by the constant and numerous updates the Press team managed to do. Our Press Director and her team managed to bring Malala to UNESCO; Marilyn Monroe in the search for JFK in the Historical Security Council, and act as doctors to talk about what drug addiction does to the human body, in the WHO. It is thanks to all of this that I am sure all of our delegates were engaged into the discussion of their topics, every single moment of the Conference.
Before this year's LiMUN, I hadn't really imagined how much work organizing a MUN Conference at first hand takes. Admiration was my feeling all along, for every single member of the 100% dedicated Secretariat, leaded by Francesca Rodriguez, LiMUN 2015 Secretary General. And so on, I would mention every single member of our seventy people Staff if I could, because it was only due to them that this MUN will be recorded in all of our delegates' hearts; not only so, but LiMUN 2015 was one more proof that Peruvian Universities is more than a team, it is a family. I like to believe that this Conference was a starting point for the next Peruvian generation of leaders who do not fear the future, they strive to shape it.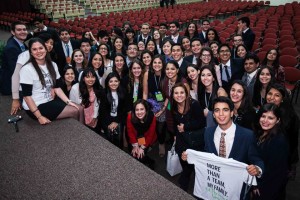 It is very often that people ask us why do we do this. Why is it that we spend so much time in organizing this sort of events? Well, my only answer relies on the reaction of the kids who take part of this adventure with us; to look at their faces of amusement when hearing about the critic aspects of our world's situation; listening to their laughs in the Closing Ceremony video and hearing what they talk about after the Conference – about how they will definitely return to next year's LiMUN, because at the end of the day, this, to them, was what we aimed it to be: a once in a life time experience.
Also, you can check out LiMUN's highlights video here: https://www.youtube.com/watch?v=mzEJ4o6S_YU&feature=youtu.be