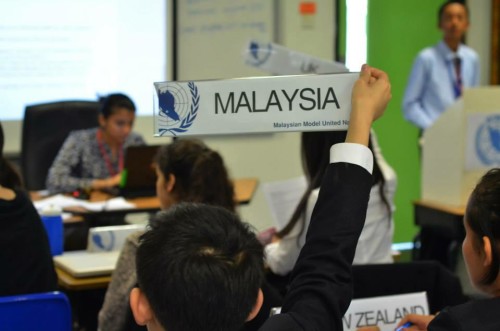 This guest post was written by Chea-Mun Tan, from Malaysia as part of a series on global MUN procedures. 
Throughout the world, Model United Nations (MUN) is an extremely enriching activity for improving your knowledge on world issues, your oratory skills, your research skills, and for making new friends! Specifically in Malaysia, Model UN is continuously growing in popularity and institution-run conferences are working to enhance these attributes for all members involved.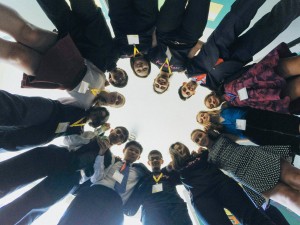 There are a variety of conferences in Malaysia, most especially targeted at middle school students, high school students and college students. Whether experienced or new, delegates are likely to find diversity among the many individuals partaking in any Model UN conference in Malaysia. These conferences are held in institutions such as Kuala Lumpur, Penang, Melaka, etc. and are always student-run.
Most conferences in Malaysia usually run for three days in total, starting on Friday and ending on Sunday.
Conferences follow either The Hague International Model United Nations (THIMUN) style, or Harvard Model United Nations (HMUN) style. THIMUN styled debate is a style of Model UN procedure originating from The Hague, Netherlands, but is popularly used throughout the world. As for HMUN styled debate, it is the standard North American style of Model UN procedure, but is also popularly used throughout conferences across the globe. It is common to find conferences in Malaysia run their conferences using either THIMUN or HMUN style; however, in order to appease all types of individuals in favor of one procedural style over the other, many local conferences in Malaysia incorporate both procedures into their conferences based on the committee.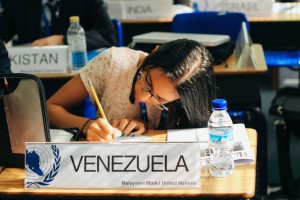 Conferences in Malaysia tend to have committees such as the General Assemblies commonly found in the United Nations, like the Disarmament, Environmental, Human Rights Committees. There are also specialized committees such as the Security Council, Advisory Panel, International Court of Justice, and Special Conference. Local conferences in Malaysia often include committees like the Dewan Rakyat, the Malaysian Parliament, in order to liven up discussion on issues pertaining to Malaysia. Based on the conference, the Dewan Rakyat would follow THIMUN or HMUN procedure, but issues being debated in the committee would be specific to issues regarding Malaysia. Throughout debate, incorporating crises in the committee session is common in order keep delegates interested during the committee session. These crises issues would be when the secretariat or chairs give the committee a situation regarding the topics already being debated; by doing this, it livens up committee sessions.
The annual Malaysian Model United Nations Conference (MYMUN), held at Mont Kiara International School in April, is an international THIMUN-affiliated conference in Kuala Lumpur, Malaysia. MYMUN had their first conference thirteen years ago, and is a few of the many Model UN conferences in Malaysia that aim to "provide a stimulating MUN expereince for middle school students." This is accomplished through a year of organization by carefully deciding the most pertinent issues to be discussed in committee sessions, hand picking the most qualified student officers from all over Asia, and ensuring everything in the conference runs smoothly.
With the growing popularity of Model UN in Malaysia, institutions are beginning to start their own conferences and continue the Model UN spirit amongst students all across the country. With an aim to enrich delegates with a wonderful Model UN experience, the growing conference count in the nation is providing all members involved with a growing enjoyment and passion for Model United Nations!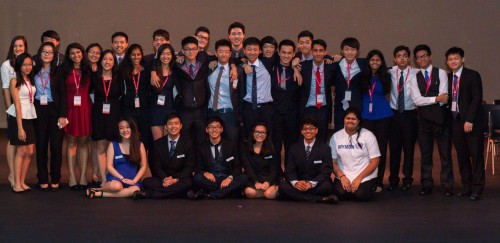 Chea-Mun Tan is currently a junior studying at Mont Kiara International School in Kuala Lumpur, Malaysia. Chea-Mun Tan will be attending the Model UN Institute at Harvard during Summer 2016.