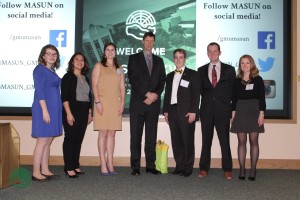 The Mid-Atlantic Simulation of the United Nations (MASUN) hosted its twenty-sixth conference this past weekend of February 26-28, 2016. Delegates from across the country joined the George Mason University Model United Nations club for three days full of committee action and philanthropy.
The opening ceremonies highlighted everything that makes MASUN unique: the extremely accomplished Secretariat, innovative approaches to fundraising, and the proximity to the nation's capital, with the State Department's Andrew Hyde delivering the keynote address. In his opening speech, Secretary General Zachary Wood channeled President Kennedy when he said, "Delegates, let us work together for the freedom of the human race. We are the next generation of leadership. Our practice here this weekend will shed light on the global future."
With 7 committees to choose from, delegates had the opportunity to create their own individual MUN weekend. From a large Fourth Committee to an extremely specialized and challenging Ad-Hoc, no two committees were alike. The never-ending onslaught of crisis updates, such as battle plans during a 15th century Iberian war or a committee full of fictional villains, ensured that delegates were always on their toes coming up with new and novel solutions.
Chairs, made up of GMU students armed with extensive committee binders and years of MUN experience, made it their priority to provide a competitive, fair, and exciting experience.
The second day of the conference ended with a new addition to MASUN: MASUN Madness. A movie night and dance combined into one fun-filled evening, delegates were given an opportunity to socialize outside of committee and enjoy the finest television episode that the 21st century has to offer: the MUN episode of Parks and Recreation.
Another important aspect of MASUN was its philanthropic efforts, which aimed to raise enough money to purchase a medical cart in Project Bumwalukani in rural Uganda through the Foundation for International Medical Relief for Children (FIMRC). Through proceeds from the snack and sticker table, the club's pizza fundraiser, and the committee Miracle Minute, the conference surpassed its goal by almost $450, and the extra funds will go towards the new birthing center in Project Bumwalukani.
A special congratulations to the delegation winners!
Best Small Delegation
Bishop Ireton High School
Best Large Delegation
Kettle Run High School
George Mason Award
Joey Moore – Kettle Run High School
With 169 delegates, 8 chairs, 15 hours of committee, and 7 members of the Secretariat, MASUN XXVI was a huge success. Delegates left the conference with new skills, friends, and memories, and GMU MUN celebrated the fruits of hard work.