Greetings Model UN lovers,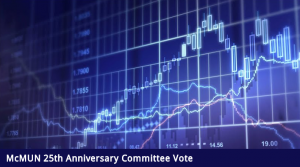 This coming year will be the 25th anniversary of McGill Model United Nations. McMUN prides itself over leaving a legacy of innovation, and in the spirit of creativity, we would like to invite delegates from all over to share in our legacy.
Recognizing that the delegate experience is the most important aspect of any conference, we (again!) desire your input in order to decide the future of one of the committees that we will be simulating next January. McMUN is dedicated to simulating committees that engage delegates in the exciting real-world events that serve to affect the course of history.
If you hold an interest in having your say in what McMUN could look like, whether or not you plan to attend, we hope you will voice your opinion and VOTE  on the 26th committee of McMUN 2014!
Please note that, in consideration of our committee-staff preparations, the deadline to complete this survey is March 30th at 11:59pm. On behalf of McMUN 2014, I would like to thank you in advance for your valuable answers.
Loreena Percy
Chargée d'Affaires
McMUN 2014
chargee@nullmcmun.org