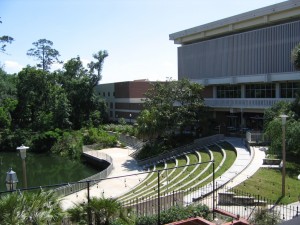 Our Southeast summer program will take place at University of Florida in Gainesville from July 7-13, 2013. The program is open to high school delegates entering grades 10-12 in Fall 2013.
Delegates will develop their Model UN and leadership skills throughout the one-week program. They will undertake daily exercises in research, public speaking, caucusing, and resolution-writing. They will experience multiple Model UN simulations throughout the week, culminating with a final all-day simulation. And delegates will learn project management, teamwork, and leadership by working together on an innovative group project — launching a social media campaign for a non-governmental organization (NGO).
In addition to skills building, delegates also explore the program theme, "Shelter from the Storm." Topics for lectures, seminars, and Model UN simulations will revolve around issues in international conflicts and crisis management, ranging from security situations in the Middle East and humanitarian aid to climate change and disaster relief.
The program's lead trainers will be Best Delegate co-founders Ryan Villanueva and Kevin Felix Chan, who have attended 200+ Model UN conferences over the past 12 years. Ryan and Kevin are globally recognized experts in Model UN who have taught thousands of students and teachers around the world.
Curriculum Highlights
MUN Research Made Easy: Research is the foundation of success in Model UN. We'll share college-level research methods and resources so that delegates can do their research quickly yet thoroughly. Delegates will learn exactly where to go to find past international actions, country policies, and possible solutions.
Daily Public Speaking: It's not enough to just make a speech about your topic and your country's policies. Effective speeches have powerful content, clear framing, and smooth delivery. Our daily public speaking workshops will give delegates delegates the theory, experience, and practice they need to become confident public speakers.
Caucusing and Negotiation: Delegates will discover their negotiation style and how to effectively use it during caucusing, lobbying, and resolution writing. Delegates will also study caucusing strategies, game theory, and foundations in social dynamics.
NGO Leadership Project: Delegates will participate in a unique and challenging opportunity to create a social media campaign for an NGO. Students will learn leadership skills, project management, and teamwork in theory and then put it into practice. The NGO project culminates in a 360 Feedback session, where delegates will help each other explore their personal strengths and weaknesses, and reflect on how to become better leaders at school and in their communities.
Model UN Simulations: Delegates will put their newly-improved Model UN skills to the test with multiple Model UN simulations throughout the program, including a final all-day simulation. Simulations will be intense, as delegates will have to prepare a new country and a new topic for each simulation. At the end of each simulation, delegates will receive feedback on how they can improve.
College Preparation: Model UN can help delegates get into college. We'll show delegates how to share their Model UN experience on college applications and personal essays. We will also feature an information session on college admissions and campus life.
Sample Schedule
The Best Delegate Summer Program at the University of Florida will be held from July 7-13, 2013. Students will arrive in the afternoon on July 7 and depart at noon on July 13. Students will take classes during the day on Model UN, international politics, leadership, and college preparation. As a residential program, students will also have social activities and free time to relax, make new friends, and enjoy being at a world-class university.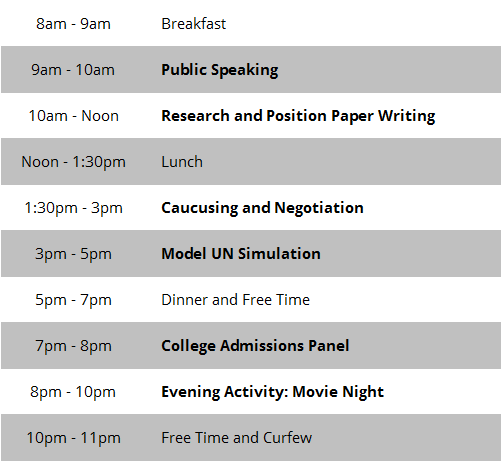 Campus Experience
The University of Florida is the flagship research university in the state of Florida and offers strong programs in law, political science, business, sustainable energy, and the sciences. Its alumni include Nobel Prize winners, governors, members of Congress, and ambassadors. The University of Florida offers the quintessential Southeastern Conference college experience with Gainesville as its college town. As part of the program, students will study on campus, eat in the dining halls, and live in the residence halls. The program will also include a campus tour and an information session about college admissions and college life.
Application
Admission to the Best Delegate Summer Programs is highly selective and students must apply using our Application. Early Decision applicants will be given priority in admission and Regular Decision applicants will be admitted depending on availability. The Early Decision deadline is March 1; the Regular Decision deadline is April 1.
Tuition for the residential program at the University of Florida $850. Delegates who are accepted into the program must pay the full balance by the tuition deadline of May 1 or else they forfeit their place in the program. Delegates may apply for financial aid on our Application.
Click here to apply now for Best Delegate Summer Programs
Click the links below to learn more about each Best Delegate Summer Program:
High School
Middle School