Shannon Lee is a student at Gahr High School in Southern California and she has been an active participant in the Gahr MUN Program. Shannon attended the Best Delegate Summer Program at UC Irvine last year, and in this post, she shares her experience at the program. Shannon is also a Best Delegate Associate.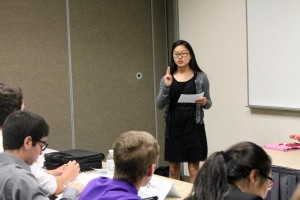 Walking into my final year of Model UN at the high school level, last summer, I wanted to get in the inside scoop of how to become the "best" delegate. I mainly decided to sign up for this program because I knew that both Ryan Villanueva and Kevin Felix Chan were professional and experienced MUNers who could help me understand the tips to becoming a "best" delegate.
Although I, at the time, had been involved in MUN for three years, I was aware that I was still shy during caucus and shaky while speaking in front of large crowds. Despite the fact that I only had one year left, I wanted to make my last year count because I was well aware that I could possibly only have one year of MUN left, depending on the college I attend. Alongside my desire to do well with one year remaining, I, also, wanted more experience in public speaking. Public speaking is important in both Model UN and life because it shows the confidence within an individual, and I yearned to have that confidence within myself. With that said, I, enthusiastically and hopeful of what might come about, signed up.
Through the one-week session I learned about techniques to improve public speaking. Public speaking was definitely covered within the one week I spent at the Best Delegate Summer MUN Program. An advanced delegate with three year under my belt, I enhanced my public speaking throughout the countless practice conference that we had. The numerous public speaking sessions allowed for me to watch how my peers performed and the mechanisms that they used to become potent yet impartial. The few techniques, demonstrated by both Ryan and Kevin, were used within every conference I attended this school year, as I am well aware that they are vital in executing a great speech to reach my audience.
Another way to reach an audience is through mass media. Alongside a few of my fellow delegates, I was able to help create more awareness for an NGO called Nothing But Nets. Nothing But Nets is an organization that provided nets to people in nations that are greatly affected by malaria. With that said, our group created both a Facebook page and a short video to spread awareness about this rising medical issue and what you can do to help.
* * *
With seven summer programs to address both the high school and middle school level, the Best Delegate team has worked hard to create the ultimate package for your success in Model United Nations.
If you are a new delegate, this program will not only teach you the steps of what occurs in an MUN Conference, but also allot time for you to practice your skills in actual MUN topics.
The summer programs are great tools for new MUNers because these programs will allow you to understand what Model UN really is and learn about how to become an effective delegate.
If you are an advanced delegate, this program can help you enhance certain weak spots, allow you get questions answered, and practice for the following year.
I, furthermore, encourage you to take part within the Best Delegate Summer Programs because they are fun because MUN is FUN!
The April 1 deadline for Best Delegate Summer Programs is tomorrow!
That's the final deadline to apply for our residential programs at Georgetown University and University of Florida. It's also the early deadline for our high school residential programs at UCLA and UC Berkeley, as well as our high school and middle school commuter programs at Georgetown University.
Click here to apply now for Best Delegate Summer Programs