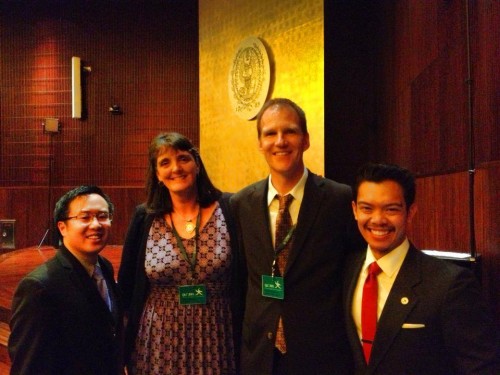 For almost everyone at last month's Qatar Leadership Conference, the last day of the conference was the end of a long (amazing) weekend of travel and teaching before they finally went home. But for Kevin and me, it was just the beginning.
After last month's QLC, Kevin and I embarked on a whirlwind tour around the Middle East to teach Model United Nations, visiting 17 schools across 6 countries. The tour was sponsored and organized by THIMUN Qatar with support from local partners, including THIMUN O-MUN, AMIDEAST Oman, and our very generous hosts in each country.
At each school, we ran 3-hour workshops that introduced new delegates to Model United Nations and helped experienced delegates hone their skills. The 3-hour format was perfect for giving delegates a taste of MUN and a chance to practice research, public speaking, and the rules of procedure. And we provided delegates and directors with training materials to help them continue learning MUN.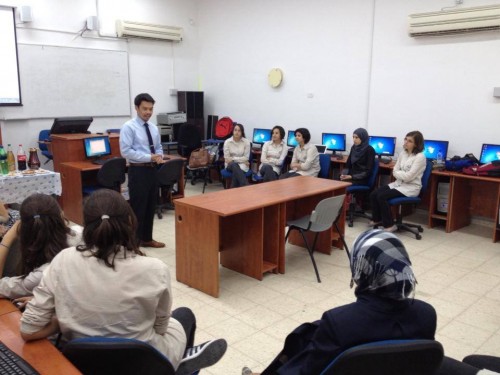 Kevin and I were already in Doha for the QLC, and that's where our tour stated. We separately visited 8 schools, including Al Wakra, Doha Academy, Qatar Acadmy, Sherborne Qatar School, the Lebanese School, Amna Bint Wahab, ACS International, and Al-Bayan Preparatory School.
It was really interested visiting so many different schools in the same city with such a diverse range of personal backgrounds and education systems. One day I found myself teaching all girls who were International Baccalaureate candidates; the next day I was teaching a group of girls preparing for British A-Levels; and then I taught a mixed group of boys and girls studying under the Lebanese system. But no matter their background and education, delegates were very interested in learning about the world and how to participate in MUN.
After Doha, Kevin and I split up to cover more countries. Kevin first traveled to Bahrain to teach at St. Christopher's School, Bayan School Bahrain, and Ibn Khuldoon National School. This was Kevin's second time working with Ibn Khuldoon after visiting them right before last year's QLC. Then, Kevin traveled to Oman to meet Jesse Atkins, Youths Program Coordinator for AMIDEAST Oman, who connected him with the Al Sahwa Schools and British School Muscat.
I traveled next to Amman, where I connected with THIMUN O-MUN Executive Director Lisa Martin and led workshops at King's Academy and International Academy Amman.
The day I left Doha was actually my birthday. I barely had enough time for breakfast before leaving for my flight, but the Movenpick staff made me stay 1 extra minute to very kindly make me a birthday cake! I left Doha for Amman, Jordan, to meet with THIMUN O-MUN Director Lisa Martin. Lisa and her family showered me with more cake! And after all that cake, I decided to take a nap, and failed to wake up in time for any more birthday celebrations — I felt like an old man!
But teaching all those MUN workshops before and after my birthday made me realize something. I started doing MUN when I was 13, and at my ripe old age of 27, I can say that MUN has been a big part of who I am for over half my life.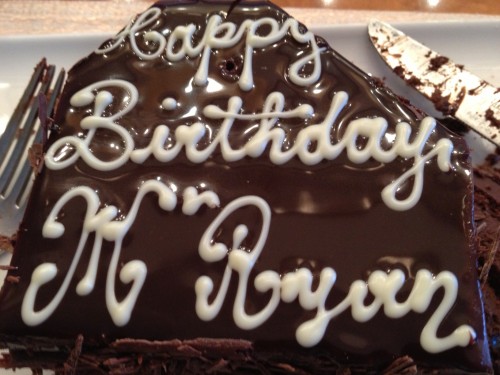 Lisa and I traveled together to Palestine and Israel. After a tedious border crossing from Jordan into the West Bank, we connected with one of our delegates, Salam Keadan (see Salam's story from the Qatar Leadership Conference). The three of us, along with Salam's dad, drove to their hometown of Baqa Al-Gharbiyye, which was delayed by a harrowing stop at an Israeli checkpoint. Lisa and I shook off the events from earlier that day, and we had a fantastic workshop at Salam's alma mater, Al-Qasemi High School. After taking the next day to tour Jerusalem and Tel Aviv with Salam and her mom, Lisa and I traveled to Ramallah to visit the Friends School.
The Israeli-Palestinian Conflict was one of the first topics that I researched in Model United Nations as a delegate in the Security Council. My first MUN advisor was Israeli, who would lecture my classmates and I on the history of the conflict (MUN was a class at my school), and add her personal experiences and observations. Israel-Palestine was an issue that I would continue to study in university as a political science major. I've had both Jewish Israelis and Arab Palestinians — and even Israeli Palestinians — as delegates and as students. Never did I think that I would actually get a chance to visit Israel and Palestine. The Israeli-Palestinian conflict has always been described to me as "complicated" — but it wasn't until visiting that I could realize how complicated it could be.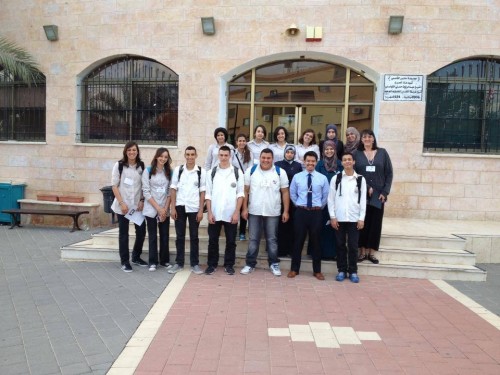 Kevin and I witnessed such diversity across schools and countries that we visited. We were impressed with the delegates we worked with and how much they grew during our workshop, and we marveled at their appetite to learn more MUN. But what was really humbling was what MUN meant to each of our delegates, as a way of learning more about the world, building their confidence about their place in it, and being able to see things for different perspectives — the very reasons why I've been doing MUN for over half my life.
My takeaway from teaching MUN in the Middle East was that, no matter where you're from, no matter what you study — no matter which side you're on — Model United Nations can be a way to bring people together. Events like the Qatar Leadership Conference and this Training Tour are just a few ways to do that. And my birthday wish is that we do more.
Interested in hosting an MUN workshop at your school? Email THIMUN Qatar for more information.