*The Following Recap was provided by delegates Amanda Gibson and Chris Evans from Mattawan High School*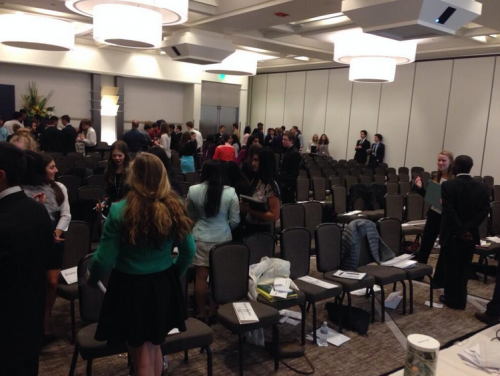 March 14th-16th, Michigan State University hosted its 14th annual Model United Nations conference, MSUMUN XIV. 714 delegates joined together to debate important global issues in numerous committees. Additionally, these delegates banded together to support The Nyaka AIDS Orphan Project of Uganda. Students were moved by opening speaker Twesigye Jackson Kaguri's remarks, and over the course of the weekend the conference raised over $5,000 dollars through penny wars, basket sales, and always entertaining "Candy-Grams.". Delegates raised enough money to send more than 20 Ugandan students to school for a year.
Though MSUMUN featured the traditional General Assembly committees, it also provided delegates with many other unique opportunities. Many specialized committees focused on reform, with delegates debating education, immigration, and even the format of the United Nations itself. Additionally, one committee addressed animal ethics and conservation, while another crisis committee gave students the chance to explore American politics with the National Security Task Force.
The conference also provided multiple historic committees, allowing delegates to reach back and change the course of history. From the Constitutional Convention of 1787 and the 1967 Detroit Riot Task Force to the Brazilian Revolutionary Youth Coalition and an Ad-Hoc committee on World War II, delegates sought to break the constraints of history to find creative solutions to these dramatic world events. The crisis staff challenged delegates with two futuristic committees: The Center for Disease Control in the year 2020 and the International Consortium of Petroleum Producing Companies set in 2030.
A particularly innovative committee was MSUMUN's first ever Ad-Hoc committee. Delegates were given a limited background guide, which only contained a brief history of the events leading up to World War II and a short description of committee positions. They had no knowledge of their country or the goal of the committee prior to entering the first session. At various points throughout the weekend, the committee represented the French, Soviet, Italian, and American governments. Naval, Army, and Air Force Generals worked together with Intelligence Officials and Ministers of Finance, Transportation, and Press in order to comprehensively address all aspects of a warring nation. Plans were often disrupted by frequent crisis drops and role-playing crisis staff members. Delegates never knew what to expect during a session of this Ad-Hoc committee.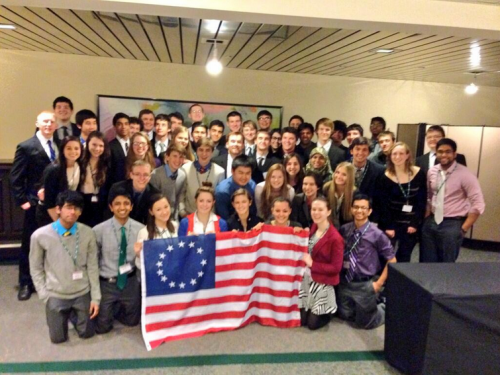 MSUMUN also featured for the second year the unique aspect of an Non-Governmental Organization Forum.  This small committee of four experienced double-delegations worked among the three General Assemblies: SOCHUM, UNEP, and DISEC.  It was these delegates' role to represent the mission of a specific NGO: Mercy Corps, Landesa, Partners in Health, and Barefoot College. These NGOs had immense influence in the committees, and utilized it by introducing new ideas through Shadow Reports, and endorsing resolutions.  Shadow Reports, formal agendas of how a NGO would like to address an issue, allowed the NGOs to direct and fuel debate. Furthermore, by endorsing a resolution that it supported, an NGO was able to speak on its behalf alongside the sponsors and express its specialization in certain areas.  Of the delegations, Mercy Corps, from Mattawan High School, was awarded Best NGO, while Landesa, from Holt High School, was also recognized for its excellent work.  The incorporation of Non-Governmental Organizations into the General Assemblies lead to a complex and comprehensive approach to each one of the issues discussed, which was a truly unique and outstanding aspect of this year's MSUMUN.
Delegations who were recognized at closing ceremonies included Bloomfield Hills High School as Best Large Delegation and St. Ignatius High School as Outstanding Large Delegation. Best Small Delegation was awarded to Detroit Country Day High School, and Outstanding Small Delegation was received by Pewaukee High School. Other top performers included Mattawan High School, Penn High School, and Stoney Creek High School.