We have recaps from our liveblogging at NCSC and from NMUN DC and BUMUN. Make sure to keep following our teachers and strategy articles series — this week featured How to Teach Model UN: 5 Discussion Questions on the UN Charter and Model UN Made Easy: How to Write a Resolution. Also stay caught up on all the upcoming conferences with Best Delegate's Model United Nations Conference Database: 2011-12!
Conference Recaps
National Collegiate Security Conference (NCSC)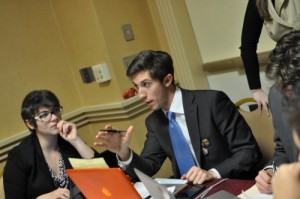 Georgetown held its 39th annual National Collegiate Security Conference (NCSC) this weekend. We have highlights from Opening Ceremonies, a massive photo and video blog that captured the dynamic crises and delegates in action from every committee, and an awards analysis and some team photos in our Awards article.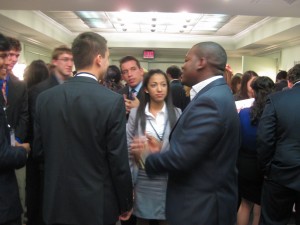 Bringing together over 500 students from 10+ countries, National Model UN's fall conference took place in the heart of Washington, DC, on October 21-23 and was sponsored by the National Collegiate Conference Association and the Osgood Center of International Studies. The US capitol, a city of international importance, provided an excellent backdrop to the diplomacy and discussion of international issues that occurred over the weekend.
Baylor Model United Nations (BUMUN) Recap
WACO, TEXAS – On October 8, 2011, Baylor University held its 16th annual High School Model United Nations Conference (BUMUN). With 15 schools and more than 250 students participating from across central Texas, the conference was one of the largest Baylor has hosted. Secretary-General Katy Johnson challenged the delegates with a lofty aspiration: "Our goal is to pass all resolutions by acclimation at this year's conference."
Conferences may submit recaps (article & photo) by emailing Emily at emily@nullbestdelegate.com. 
Conference Previews: West Coast Showdown
We have a West Coast Showdown this weekend! Best Delegate's Ryan Villanueva will be liveblogging at SMUNC and Kevin Felix Chan will be speaking and liveblogging at CCCMUN. In addition, we'll have guest blogging action from SBIMUN!
Stanford Model United Nations Conference (SMUNC)
Secretary-General Konstantine Buhler wrote in his invitation letter "SMUNC is characterized by its small and intense committees and crises, and we are very excited to continue to offer compelling committees and engaging crises with this year's conference. Our goal is to convey a more rigorous and nuanced understanding of politics and international issues to all our delegates, and, along the way, to show delegates the fun and excitement of debate and collaboration firsthand."
Gunn High School won Best Delegation last year on what is basically their home turf. Will they repeat this year against a challenge across the Bay from California High School and from the increasingly national teams that attend?
Contra Costa County Model United Nations (CCCMUN)
The Contra Costa County Model United Nations program is one of several academic programs organized by the Contra Costa Office of Education and is an exciting, educational way for high school students to learn about global issues. Best Delegate's Kevin Felix Chan and a team of UC Davis volunteers led by Secretary-General Kirstin Turney will organize this 300+ delegate novice conference that is attended primarily by teams in the Contra Costa County school districts.
There will definitely be a new Best Delegation since both Gunn and California high schools both opted to attend Stanford's conference on the same weekend. Which team will stand out?
Santa Barbara Invitational Model United Nations (SBIMUN)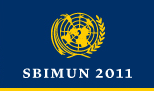 Only in its second year, SBIMUN has grown to be a dynamic and exciting part of the fall conference circuit, attracting over 300 students from across the West Coast to meet and engage in diplomatic discussion on issues at the forefront of international relations. The Secretary-General is Alex Hammer–Barulich.
This will be an interesting matchup between what we describe as the "World Division" teams (schools that primarily attend university-hosted conferences with crisis committees) and the "National Division" teams (schools that primarily attend organization-based conferences with UN committees). Which West Coast team will claim an early — and big — victory?
Upcoming Conferences
Community News
Best Delegate News
Model U.N. News