This weekend Best Delegate was busy liveblogging from Security Council Simulation at Yale (SCSY). Make sure to check out all the action of committee and photos! The liveblogging tour will continue this weekend at Edison High School Model United Nations (EHSMUN), and we'll also feature the Boston Area Model United Nations (BarMUN) and the Delhi University Model United Nations (DUMUN) in India!
Conference Recaps
Security Council Simulation at Yale (SCSY)
Best Delegate covered the thirty-fourth annual session of the Security Council Simulation at Yale (SCSY) this past weekend. The conference featured fast-paced, innovative crises. The University of Pennsylvania took home the Best Large Delegation and Georgetown won Outstanding Large Delegation. Columbia won Best Small Delegation and Colgate took home the Outstanding Small Delegation. Check out our liveblog articles below!
Orange County Model United Nations (OCMUN)
Over 300 students attended the second annual OCMUN. The conference fills a void left by the now defunct PAXMUN conferences and allows college students in Southern California to prepare for larger conferences ahead.
Baylor Model United Nations
Baylor University hosted its seventeenth conference for high school students on October 8th. Many awards were won by the home-school group Strada and by Ronald Reagan High School.
Conference Previews
Boston Area Model United Nations (BarMUN)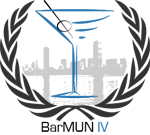 BarMUN is a relatively new conference, but it has nonetheless distinguished itself as one of the premier crisis simulations on the circuit because of its unique take on full integration. BarMUN offers two tracks, one modern and one historical (this year set in 1931), and all delegates in all committees on each track are able to interact with one another. This alone might make for a heady experience, but BarMUN is also the only fully integrated conference to incorporate committees of different types from different regions. At BarMUN, multinational corporations, non-governmental organizations, state agencies and political parties from all over the globe exist on the same network of integration. Hence, BarMUN recreates the dynamism of real life and the interconnectedness of global affairs.
Delhi University Model United Nations (DUMUN)
Delhi University Model United Nations, more famously known as DUMUN, is India's First Central University Model UN conference organized under the aegis of University of Delhi. The University of Delhi is a premier university of the country and is known for its high standards in teaching & research and attracts eminent scholars to its faculty. True to the mission of the United Nations, DUMUN provides a framework to participants to facilitate cooperation in international law, international security, economic development, social progress, human rights, and achievement of world peace. With the MUN concept gaining momentum in India, DUMUN aims to provide its participants an experience that is unexampled. Being the only Central University MUN in India till date, the conference brings together a plethora of distinguished minds from all over India who debate on the agendas to reach a consensus.
Editor's note: We'll have a more in-depth preview this week! 
EHSMUN
Edison High School in Huntington Beach will be hosting its EHSMUN conference this weekend. After novice conferences at Santa Margarita and Cerritos, advanced delegates in Southern California get into action at the first advanced conference of the season. There will be 16 traditional UN committees. All of them will be non-docket style meaning delegates write resolutions at the conference, except for the World Bank which requires loan proposals.
Upcoming Conferences This Week


Community News
Best Delegate
Model UN News