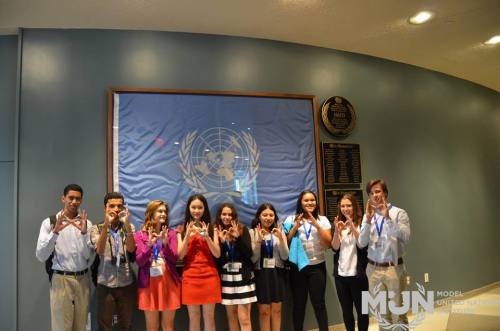 Throughout the week of July 6-10, the Model United Nations Institute (MUNI) hosted students from around the world at the inaugural MUNI UN Studies program at Columbia University. Throughout the program, students benefited from in-depth courses about the history, structure, and functions of the United Nations system, as well as the very real issues behind finding international cooperation on Food Security and Renewable Energy Development. Students also participated in the first ever United Nations for Model United Nations (UN4MUN) procedure conference to be held on U.S. soil. UN4MUN is a Model UN framework designed by the UN Department of Public Information (UNDPI) focused on accurately simulating the United Nations through equality of Member States, a policy focus, and holding consensus on resolutions as a goal for international cooperation.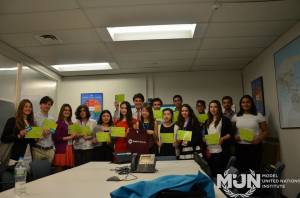 During the program, MUNI students also took a field trip out to UN Plaza and the United Nations Headquarters to meet with some of the big players in the United Nations and Model U.N. community.  First, MUNI students visited the offices of the World Federation of United Nations Associations (WFUNA), where they held a briefing in the conference spaces of the U.N. Office for the Coordination of Humanitarian Affairs (UNOCHA).  Frances Lee, the Model UN Fellow at WFUNA, briefed students on their work with the United Nations across policy areas, especially Youth Empowerment. Through the WFUNA International Model United Nations Conference (WIMUN), WFUNA partners with Best Delegate and UNDPI to deliver the largest UN4MUN conference in the world, and will be hosting WIMUN this year at the UN Headquarters from November 10-14.
Following their briefing with WFUNA, students went into the United Nations Headquarters for another briefing, as well as to check out the exhibits and sites at the UN. At the UN students met with Bill Yotive, the Director of the Global Teaching and Learning Project in the UN Department of Public Information, and a member of the U.N. Secretariat. Mr. Yotive spoke to students about the work of the United Nations, their growing role with Model U.N., and how students can get involved with the U.N. as volunteers or even someday as members of the Secretariat.
Thank you to UNDPI, WFUNA, and the United Nations Group Programmes Unit for demonstrating to our students how youth can actively engage with the United Nations.