In advance of my visit to NAIMUN this weekend, I had asked Aaron Lewis, the Executive Director of NAIMUN LII, to explain what makes the conference unique. In particular, I was interested to learn how NAIMUN is able to use its unique location in Washington DC as a classroom and provide educational programming outside the conference. Here's Aaron: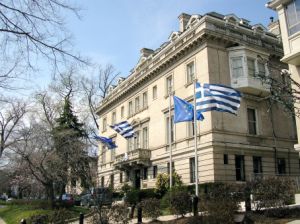 Situated at the traditional boundary between the North and South, seat of the United States' government, and home to a ever changing population dynamic, Washington, D.C. is a city which offers unparalleled opportunities. It are these sentiments that the annual North American Invitationals Model United Nations (NAIMUN) Conference, a non-profit organization run by the Georgetown International Relations Association (GIRA), seek to offer the delegates.
NAIMUN draws its delegates from high school students from around the United States and the world, capitalizing on increased global connectivity to bring a truly international perspective to committee debate. In bringing together such a diverse group, the NAIMUN staff seeks to offer the delegates experiences in D.C. outside of the speeches and politicking of committee. Taking advantage of its location, one of NAIMUN's most notable highlights are the tours it organizes across our nation's capital. Uniquely positioned among other institutions on the high school Model UN (MUN) circuit, only NAIMUN allows delegates to spend their committee time assuming the identity of a United States senator or a member of the Supreme Court before touring the buildings where their characters work, bargain, and influence policy.
Of course, no trip to D.C. could be completed without touring post-card staples. This year, the footsteps of NAIMUN delegates will echo across the marble of the White House, Pentagon, Supreme Court, Capitol, along the tranquil edge of the National Mall, and within the scholastic halls of the Smithsonian museums.
Honoring its global focus, NAIMUN further seizes on its location a few blocks away from Embassy Row to bring delegates into the embassies of nations from across the Earth. This year, delegates will be visiting the Norwegian, Turkish, and Saudi embassies among various others.
As NAIMUN begins its fifty-second conference, with a more diverse constituency than ever before, it will mark the occasion by offering its delegates the chance for good debate, good memories, and a great opportunity to explore Washington, D.C.