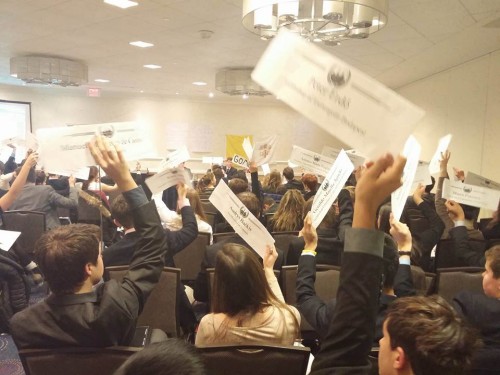 It was a very successful weekend at one of the largest high school Model UN conferences in the world, the North American Invitational Model United Nations Conference hosted by Georgetown University. The Washington Hilton was buzzing the weekend of February 11th to the 14th, with delegates participating in 39 innovative committees.
The conference began with over 3,200 high school delegates and secretariat gathering in the ballroom of the Washington Hilton for Opening Ceremonies. Secretary General Aaron Wen introduced the keynote speaker, Ambassador Barbara Stephenson. Ambassador Stephenson served as a foreign service officer for the U.S. Department of State for over thirty years as Ambassador to Panama and President of the American Foreign Service Association.
Georgetown students also organized many fun activities at the fifty-third year of NAIMUN, with delegates engaging in the political DC landscape with tours to the Mexican, Saudi Arabian, Russian, and Afghan Embassies, Capitol Hill, and the Pentagon.  However, it was the charitable campaign, substantive committees, and staffers' "NAIMUN stories" that really made NAIMUN LIII stand out.
NAIMUN Fundraiser
A long-standing NAIMUN tradition has been giving back. This year, the Georgetown staff chose to dedicate their fundraising towards PolioPlus, an effort by Rotary International to vaccinate for the Polio Virus globally. After four days of collections, delegates raised $13,872.01 for Polio Vaccinations from delegates and merchandise sales, a sum that will be matched 2-to-1 for $41,616.03 by the Bill and Melinda Gates Foundation. This is the largest amount the conference has raised in all fifty-three years of NAIMUN history.
The "NAIMUN Story"
At Georgetown, staffing NAIMUN is an unforgettable experience individuals look forward to yearly. Many chairs, staffers, and secretariat – some, whom were also delegates at NAIMUN during high school – have what they call a "NAIMUN" story that they love to share.
For NAIMUN Secretary General Aaron Wen, NAIMUN hits close to home. "I actually came to NAIMUN as a high school student. I was so impressed with the conference that it became a deciding factor when I was picking between colleges the spring of my senior year." Wen rose up through the NAIMUN ranks throughout his college career, and now looks back on his experience as Secretary General, "It's been a long ride, but I'm glad I did it; I heard so much positive feedback from both delegates and moderators. That, and knowing that people feel like they got their money's worth, validates all the long hours and hard work I put in."
The Chair of this year's DISEC committee and Georgetown University senior, Yasmin Faruki, looked upon her last NAIMUN fondly, "One of the most special takeaways from NAIMUN is watching the students' growth in confidence. There are few opportunities that enable a college student to witness and concretely contribute to someone else's growth over the course of four days."
Reflecting on her weekend, Grace Gyuyeun Kim, Chair of SOCHUM, added, "NAIMUN LIII was without a doubt a logistical triumph, a substantive game changer, and a weekend to remember for all delegates and staffers involved. It was an honor and privilege to have chaired SOCHUM at such a historical and quality conference in the heart of the nation's capital."
Committee Substance
There is no doubt that delegates were challenged over the weekend at NAIMUN in all 39 committees. The African Union sought solutions to enhance industrial and education programs throughout the continent. The United Nations Security Council (UNSC) oversaw a slew of conflicts, such as ISIS accessing dangerous amounts of plutonium, or the Revolutionary Armed Forces of Colombia threatening the security of South America. The UN High Commissioner for Refugees (UNHCR) combatted the widespread Syrian Refugee crisis, and the International Atomic Energy Agency (IAEA) confronted the implications of weapons proliferation.
In the British House of Commons, delegates shouted, "hear-hear!" to propositions of an exit strategy from the European Union, and the Disarmament and International Security Committee (DISEC) sought to eradicate the overwhelming threat of terrorism. NAIMUN designed their committees to enable delegates to both grapple with the complex crises assigned, but to also expand their understanding of them throughout the weekend.
Secretary General Aaron Wen had a certain vision in mind this 53rd year of NAIMUN. He wanted to approach committees in two manners: first, unique topics never done before at NAIMUN, and second, "setting the example for how the high school Model UN circuit evolves." Aaron said that "we feel that we hit the first point very well — the committees certainly were unique (as was reflected on the feedback), and delegates enjoyed debating optics they had never seen anywhere else." But Aaron also said that it was setting precedent for the High School circuit that was most challenging. "Creating a culture where Model UN is both competitive yet firmly rooted in its goals of youth education in international affairs is one of the most daunting tasks I believe any conference executive will face."
At the closing of NAIMUN, the following schools were recognized for their efforts:
Best Large Delegation: Horace Mann
Outstanding Large Delegation: West Windsor Plainsboro High School South
Best Small Delegation: The All-American Model UN Delegation
Outstanding Small Delegation: West Windsor Plainsboro High School North
Congratulations to all the delegates, advisors, and staff of NAIMUN LIII, and thank you to the NAIMUN staff for hosting us throughout the weekend!