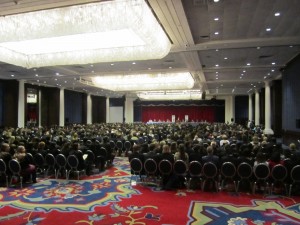 The 2011 National Model United Nations Conference (NMUN) kicked off yesterday!
Over 5,700 students are in NYC this week to attend the conference, which is so big that it's split up into two venues with two separate schedules — April 17-21 at the Sheraton and April 19-23 at the Marriott — and each schedule features two closing ceremonies, held at the UN General Assembly Hall, so that every delegate has a chance to get into the UN — intense!
Check out the opening speech by Secretary-General Ronny Heintz below!