DelegatePal is a new Model UN research database. The following article was provided by its founder, Bassim Eledath. 
---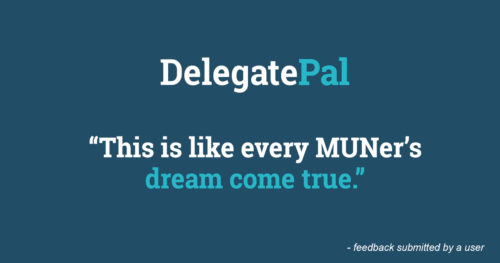 What inspired DelegatePal?
The internet has made an unprecedented amount of information available. Google has made this information more accessible. While such a framework has worked well for simple queries like "how do I make pasta", for more complex queries, like those concerning MUN research, Google's feed like presentation is far from sufficient. In fact, it is limiting.
Less than 10% of those who perform Google searches advance to the second page of search results. Delegates (and sometimes chairs) subject to this are left with a one dimensional perspective of their topic of research. Those who willing push their research forward are left with the tedious job of spending hours, even weeks, searching for information let alone interpreting and effectively using it.
This is what DelegatePal aims to resolve. We make information presentable for MUN researchers – by serving as a mega database with links to UN documents, credible news sources, NGOs and much much more. DelegatePal is also a dynamic database that provides information based on the what you type or pick.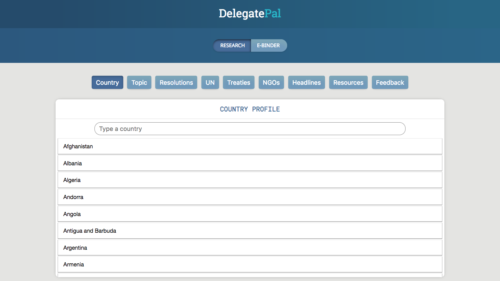 What can you do with DelegatePal?
DelegatePal has two main tools – the research tool and the E-binder tool. The research tool consists of 8 "cards" (features):
Country Profile – Using this card, you can get key facts on a country, useful links directing you to credible sources, and latest headlines on the chosen country. A lot of our users open this card on a daily basis to keep up with the latest news on the country they represent.
Topic Background – This is our most popular feature. You can type in any topic (usually the issue you are presented with in a conference) and get a summary, keywords associated with the topic, latest headlines, related videos and other useful categorized links. Be sure to restrict your search to keywords to get more accurate results. You can even find your country's relationship with the topic by simply typing country name + topic (example – "India and illicit drugs").
Resolution search – This is an instant search feature where you can type in any topic and immediately see related resolutions from the General Assembly, Security Council and reports of the Secretary General. If no results show up, then there are no resolutions or reports that have the words you typed in, in their title. Try different keywords related to your topic and see if resolutions match. Fun fact – we had to design our own search algorithm for this card because the UN's search feature was not effective enough in finding related resolutions.
UN directory – Simply a directory with links to everything under the UN
Treaties and Conventions – This card has a directory of all international treaties and conventions categorized by topic. By clicking a treaty/convention, you can get a brief summary as well as key details (on most treaties) like number of signatories. By clicking the "alliances" topic, you can find out military and bilateral/multilateral trade alliances. Knowing what treaties and conventions your country is involved with is of crucial importance in upholding foreign policy.
NGO directory – A list of NGOs grouped by area of specialization. Every NGO in this directory has some form of consultative status with the UN. You may reference them when framing solutions for your topic.
Latest Headlines – The latest international political headlines brought to you by Google News, Reuters and the UN. A lot of committees discuss solutions in real time so you may take advantage by referencing ongoing events related to your topic.
Tips and strategies – A database linking to articles, including bestdelegate articles, that will help you improve your performance in committee.
With the E-binder feature, you can create folders and files. You can drag and drop web links that you may require later on. We also have an "essentials" folder in the e-binder containing important documents such as the UN charter, rules of procedure, amendment sheets etc. These are very handy to have at your disposal when you go to conferences.
What's next for DelegatePal?
DelegatePal is expanding rapidly – we've had 15,000+ users in less than 2 months. The question we get asked most often is "Will it always be free?" Yes. As we believe easy access to information is a fundamental human right, DelegatePal will always remain a free resource. We are currently involved in adding more functionality and features to out website. To keep up with these updates and exciting opportunities, you may follow us on facebook and/or twitter.
For now, we encourage you to play around with the website.